Are Chinese outbound travelers interested in, or even aware of, wellness tourism? The answer depends largely on how we define wellness, a concept which is understood in myriad ways depending on both the supplier and the consumer. We've put together a guide to help wellness tourism providers know what potential they have to attract Chinese tourists and what this market is looking for, including some top advice from industry insiders.
What Is Wellness?
Wellness tourism largely falls into two categories: "There's general wellness and spiritual awakening wellness," explains Maggie Wu, a travel KOL and life coach based in Shanghai, who runs Fly With Maggie. "For one group of people, they want to explore deeper into themselves, because they're lost in the modern word. For another group of people, they just want to go to a spa with their loved ones."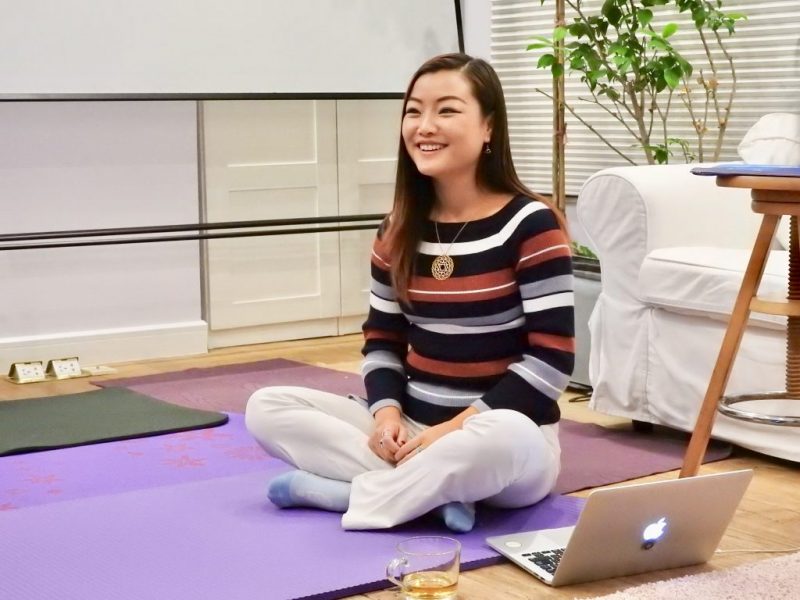 Shanghai-based travel KOL and life coach, Maggie Wu promotes spiritually-focused wellness tourism and stresses the importance of connecting to nature (Photo: Flywithmaggie.com)
Even within "general wellness," there are variations – massage and relaxing spa treatments vs. more intensive treatments like cryotherapy, for example. And there are a number of products and experiences that fall somewhere along the broad "wellness" spectrum between a 10-day silent retreat and a facial, including yoga, dietary cleanses, and saunas. "Every time we go to a new country, we experience a new kind of wellness," says Wu.
Are Chinese Tourists Interested in Wellness?
Generally speaking, the market is still in a developmental stage, and most Chinese travelers, especially those aged 40 or older, are more interested in one-off spa experiences than longer programs or retreats. "They would not like to go for total wellness retreats for now. They prefer some pampering and relaxing at islands with visits to the spa in the hotel," says Sangeeta Sadarangani, founder of Crossing Travel, a UK-based conscious-travel firm.
Even the spa experience may not be something that fits in with Chinese tourism to every destination. François Delahaye, COO of the Dorchester Collection, says that in luxury Parisian hotels, Chinese guests focus more on "well-being" than wellness, with keen interest in fine dining and French pastries rather than the high-end spas.
In a city like Paris, wellness products may not be a top priority, but for luxury Chinese travelers on more adventurous and active journeys, massage is a must. Benjamin Garcia Cantolla from Nomade Unique Experiences explains that for the luxury market, tours of Chile need to balance sightseeing with time to enjoy the hotel facilities and spa treatments. At One Nature Hotels & Resorts in Tanzania, Hospitality Director Dido Assaad says "They always like to spoil themselves after a game drive with a signature massage, private in [their] room."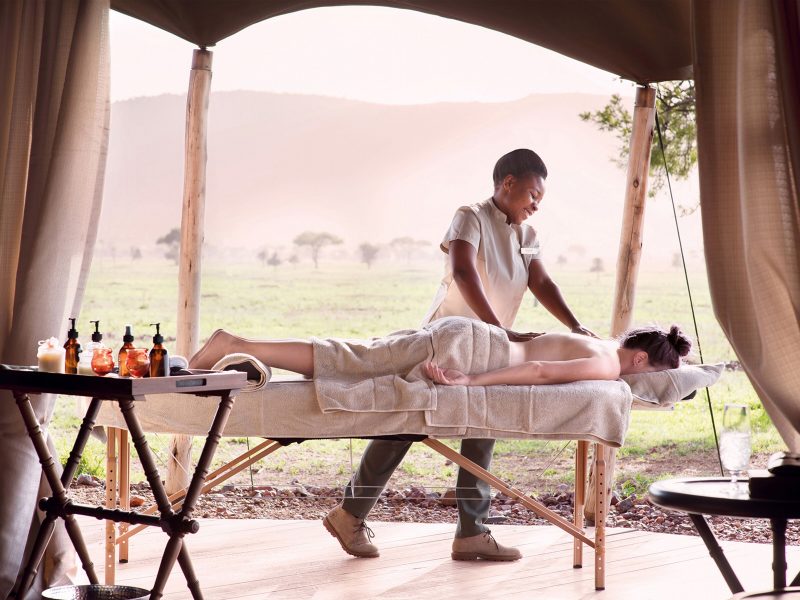 A signature massage is a must for Chinese visitors to One Nature Hotels & Resorts in Tanzania (Photo courtesy of One Nature Hotels & Resorts)
What about the other kind of wellness, including meditation, yoga retreats, and ashrams? "It's not for the mass market, but I see huge growth," says Wu. "I see so much interest from Chinese people, especially Chinese ladies, who want to go with a like-minded group of ladies to the Himalayas, Nepal, Africa, The Amazon." This kind of spiritual wellness appeals most strongly to younger Chinese working in high-anxiety urban environments, who are looking for a way to unwind and experience a different kind of travel.
"Exploring the world is my way of self-healing and self-exploration," says Wu, who stresses that while wellness tourism is not about sightseeing, traveling abroad adds to the experience by getting people outside their comfort zones and exposing them to different belief systems and lifestyles.
How Can Wellness Tourism Providers Best Appeal to the Chinese Market?
There is one area where spiritual wellness, spa wellness, and general Chinese tourism all overlap, and this is the importance of nature and environment. Even without any kind of wellness-specific product, this is relevant. "Food and climate is also real wellness and real luxury," says Fokion Drossos, co-founder and CEO of My Odyssey Travel, a tour operator in Greece.
"In terms of wellness, Chinese culture has a long history in terms of massage and treatments. The main difference is the location," says Garcia Cantolla. "[In Chile] you can experience a spa experience looking at the driest desert in the world in Atacama, or looking onto the Moai in Easter Island. That combination is what makes the experience so appealing. In Patagonia, you've been able to see one of the top national parks in the world, and then relax looking at the Pacific Ocean from our hotel."
Location is very important to Wu, too. "Nature is very healing, especially when you go to India, Nepal, The Amazon. I say I need my 'vitamin sea.'" She adds that she hopes to develop a "wellness and wilderness" travel package for her followers.
Does this mean there's no hope for urban properties? Not necessarily, but integrating the location with the wellness experience will be key for Chinese travelers who already live in a country with a strong culture of massage and traditional health treatments.
What's the Growth Potential?
At present, Chinese tourism, even independent and luxury travel, tends to be fast and action-packed, without a lot of time for relaxation or focus on wellness. Drossos shares the example of a Greek hotel where wellness treatments require a minimum stay of three or four days, but Chinese guests only want to stay for one or two. It may take some time for a market hungry to fill limited vacation time with as many experiences as possible, to want to slow down and embrace any kind of wellness product beyond a simple massage.
On the other hand, the high-pressure working environment and ailments of urban living experienced by so many Chinese, make wellness particularly relevant for this market. If there's anything we've learned in the past two decades, it's that Chinese outbound tourism develops very quickly, constantly creating new opportunities. "I'm sure that maybe in a year of two, they would be looking for wellness retreats," says Sadarangani.