China's national holidays, especially the weeklong breaks of October's Golden Week and late winter's Chinese New Year, are known for being periods of busy travel for both domestic and outbound tourism. But summer outbound travel shouldn't be overlooked. With 30 million Chinese projected to travel abroad in the summer of 2017, accounting for nearly a quarter of all outbound trips, the potential here is significant. For travel companies and destinations hoping to target summer vacationers from China, it's important to understand exactly who is traveling and which destinations are most popular.
Who is traveling? 
Based on interviews conducted by Dragon Trail Interactive at Beijing Capital Airport, summer travelers comprise a wide range of ages, from retirees on a package tour to Moscow, to a family headed to Hong Kong Disney, to recent graduates traveling to Japan with friends, and a student on his way to university in Ireland but with plans to travel around Europe.
However, according to a representative from UTour that we spoke to this June in Beijing, families tend to travel most during the summer months, when their children are off from school, whereas older people normally avoid peak seasons and prefer traveling when the prices are lower.
According to a report by Chinese online travel agency (OTA) LY.com and an online portal for mothers mama.cn, about 75% of parents want to take their children on a family trip overseas, with 70% of children going abroad with their parents aged between 3 to 10 years old. The report estimates the potential of this segment at 80 million families, so there are many opportunities for attracting family travel. Currently, the top five destinations for families are all in Asia: Japan, Hong Kong, Thailand, South Korea and Singapore, though New Zealand, Canada and Australia also made the top 10.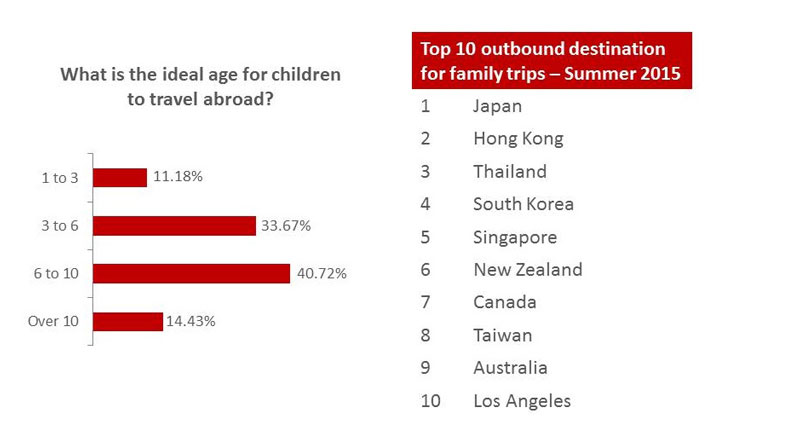 It's not just families, but young people in general who are traveling at this time. Ctrip's recent report claimed that most of the 30 million summer travelers in 2017 will be students born in the 1990s and 2000s. Students aged 17 to 19 will have just completed China's notoriously stressful and difficult college entrance examinations, and 50 percent will be leaving China for the first time. According to a recent report on students and graduation travel conducted by Chinese travel website Mafengwo, 85% of students said they would like to travel as a way to relax after their high school or university graduations. One tourist on his way to Japan from Beijing with friends explained, "We just graduated university, so now we have some free time to travel". Of the students in the Mafengwo poll that wanted to travel, more than half preferred a foreign destination.

Students also travel abroad with plans for future education. Travel agency Caissa offers study overseas packages to students between 12-18 years old, to study English in the USA, Canada, UK or Australia. Visiting university campuses is also popular among some prospective students, and some travel agencies specialize in this segment.
Where are they going? 
Europe does get its largest influx of Chinese tourists during the Dragon Boat Festival in June, and Russia draws a good amount of summer visitors, but the July-August period is in fact dominated by travel to Asia. Summer travel allows for a greater range in destination, says the Mafengwo report, without so much worry about finding a place to visit that's not overcrowded – like during the October Holiday. Still, Asia is the front-runner for all demographics in the Chinese outbound travel market.
Mafengwo found that Asia was the choice of nearly 60% of high school and university students for their graduation trips. The top five destinations were Thailand, Japan, Vietnam, Malaysia, and Nepal. Ctrip also found a focus on Asia, with cities and islands both included. Their list included Tokyo, Osaka, Bangkok, Singapore, Phuket and Bali. Mafengwo's report on summer travel overall found that this season was particularly popular for short-haul destinations, especially Thailand, Japan and Hong Kong. In this respect, luxury travelers are very similar. The Hurun Report's 2017 'The Chinese Luxury Traveller' revealed a stress on Asian islands, with the most popular outbound destinations for luxury travelers being the Maldives, Thailand, Hawaii, Fiji, Bali, Saipan and Malaysia.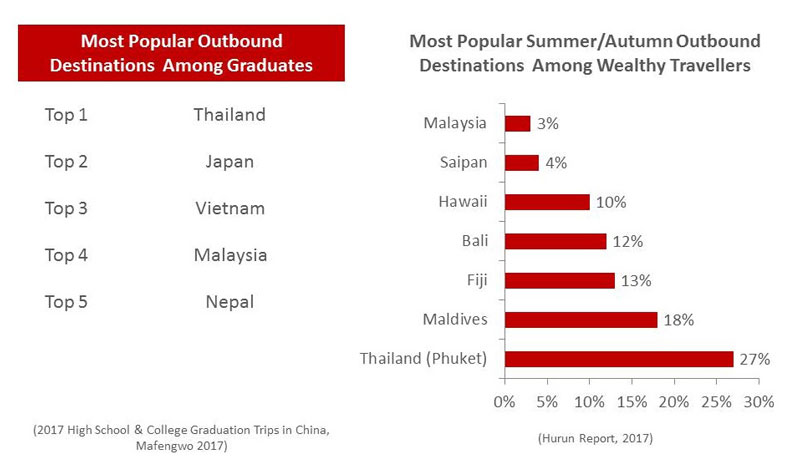 Based on our interviews, there is a lot of potential for northern destinations with colder climates in the summer, as well. While some people said that they rather not travel in the summer at all because of the hot weather, those headed to cooler climates specifically mentioned the weather as a primary reason to travel at this time. An older couple on their way to Russia explained that the weather was best and scenery most beautiful at this time of year, a woman headed to Germany said she liked being able to pack lightly in the summer, and a young man traveling to Seattle noted that winters there are cold and rainy, but that the temperature in summer is good. Another woman also said that the last time she'd been to Canada it was during winter, and she found it too cold, so this time she had decided to visit in summer.
Opportunities for destinations
The trends of graduate travel and family travel are likely to continue, so these are very good areas to focus for any destination hoping to attract more Chinese tourists in summer. Specifically marketing child-friendly activities and amenities may bring future rewards – a pregnant woman we interviewed in a high-end shopping mall in Beijing explained that she was already creating a travel plan for her baby, and planned to start traveling with him or her around the age of 3.
Asian destinations, especially islands, might be most popular now, but our interviews indicate that there is also quite a lot of interest in northern destinations for summer travel. Marketing that plays up the fact that summer is the most comfortable time to visit a certain destination, or that the destination offers respite from the very hot summers experienced in most parts of China, could resonate very well.