China's online travel market is changing at breakneck speed, both in the way that Chinese outbound travelers are using online tools and in how online travel agencies (OTAs) function, compete and relate to one another. Based on information discussed in Dragon Trail's August 23 webinar on China's OTAs, this overview will bring you up to speed on the most important recent developments, what to expect from China's online outbound travel landscape in the future, and how you can successfully work together with the Chinese online travel market. 

1. China's online travel landscape is constantly evolving
At present, the percentage of travel in China that is booked online is still anywhere from 25% to even less that 20%. As we will see, Ctrip is the OTA that dominates the online travel market in China, but their CEO estimates that they still only make up less than 30% of the total Chinese travel market.
But while offline bookings through traditional travel agencies are still by far the most common way for Chinese to book their travel, this is going to change very quickly. For one thing, online bookings have been expanding at three times the rate of the total travel market, and penetration is predicted to reach 50% by 2020. Another huge change has been the transition of online travel booking from desktop or laptop computers to mobile in recent years. In 2011, just 1.1% of digital travel sales were made by mobile phone. By 2014, this number had grown to 44.6%, and it is expected to reach 76.5% in 2017. Imagine change even half as dramatic as this in the overall digital travel market, and you'll understand how important it is to understand and start working with OTAs sooner rather than later.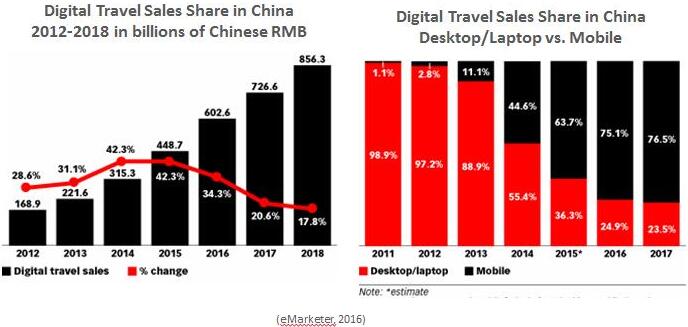 2. BATs are deeply invested in travel and OTAs
BAT stands for Baidu, Alibaba and Tencent, China's three internet giants. All three own shares in OTAs and are invested in Chinese outbound travel in other ways as well. For example, Baidu owns 25% of Ctrip, which is currently dominating the Chinese digital travel market. Ctrip also owns 45% of its number one competitor Qunar, as well as 36% of former competitor, Tongcheng-eLong (formerly eLong before the two OTAs merged at the end of 2017). But Tencent also owns 15% of Tongcheng-eLong (which is integrated into WeChat Wallet's travel booking functions) and is invested in other OTAs LY.com, Tuniu and Meituan as well. So the landscape is very complicated, with lots of overlap, and fierce competition. The situation could evolve in any number of ways, given that each BAT company has its own advantages. "The trio's biggest weapons – Baidu's search dominance, Alibaba's payment platform and e-commerce scale, and Tencent's ownership of a rich ecosystem made for the mobile age – [means] each has a unique and powerful role in online travel," wrote research firm Phocuswright at the start of 2016.
Another way that BAT companies are involved in travel is with payment programs. The two big ones are Alibaba's Alipay and Tencent's WeChat Pay. The latter is built into China's most popular social media platform, WeChat, which has over 1 billion users. Alipay has a larger market share, and reported a user base of 900 million at the end of 2018, compared to WeChat Pay's 800 million (June, 2018), but most Chinese consumers who use mobile payments will have both. These payment systems expanded aggressively overseas in 2017 and 2018, covering new territory and businesses in most of the world. Both payment systems require working with local gateway providers, such as Strip or Wirecard, rather than directly with the Chinese company. Read more about Chinese mobile payments here.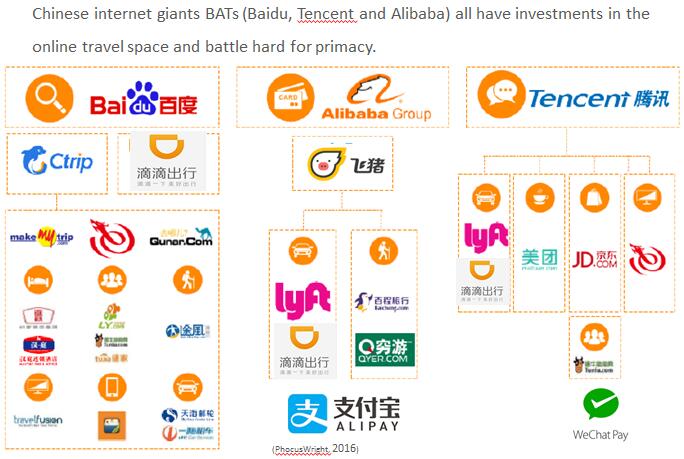 3. The OTA marketplace has consolidated considerably
The OTA marketplace is highly competitive, but it is presently dominated by Ctrip after a number of acquisitions and consolidations in recent years. Ctrip now has 85% of the OTA market share, and has done a lot to squelch the competition. It was previously involved in price wars with the second-biggest OTA, Qunar, but now Ctrip owns 45% of Qunar, and the two OTAs have redefined their focuses – with Ctrip doing more upscale and outbound travel, and Qunar specializing in domestic and group travel – to be complementary. One of the other major players in the early days of Chinese OTAs, eLong has lost market share along with its previous backing by Expedia, and the majority shares were bought out by Ctrip in 2015. Ctrip also has shares in other OTAs, Tuniu and LY.com, and in 2016 it acquired the world's biggest travel search platform, Skyscanner.
4. Travel review websites are becoming more like OTAs 
The Chinese digital travel market was traditionally divided into OTAs, review sites, search engines and marketplaces, but these distinctions are becoming increasingly blurred. Alibaba's travel marketplace, Fliggy, is designed to drive traffic to various travel brands, but now Ctrip has marketplace solutions as well. Review sites like Mafengwo and Qyer.com are still focused on content and reviews, but they are now selling through partnerships with other online companies like Booking.com. New, mobile-focused personalized planning programs allow users to research and create travel itineraries and then book them. It makes sense for travel review websites to start offering booking services as well – right now, these expert guide sites are particularly popular with the 25-44 age group, which is the most sophisticated travel demographic. As China's population ages and the country's travelers become more mature in terms of both age and travel experience, online solutions will also need to change to best cater to the market.
5. How can companies engage with Chinese OTAs and review sites?
Foreign brands like Expedia still have a tiny market share and reduced capabilities within China, and they are generally only recognized and used for outbound travel by a very sophisticated, niche audience who has lived or traveled abroad previously. Therefore, it is important to understand how to work together with the dominant Chinese digital travel brands. The main player, Ctrip, offers lots of advertising opportunities. They can send out SMS advertising to their large client base, or include coupons at the bottom of confirmation emails, based on the itineraries booked. They also have a special system to mark 'Chinese preferred hotels' on their overseas listings – this label is earned by hotels that have made special efforts to accommodate Chinese guests, with things like Chinese breakfast or Chinese-language service, and Ctrip users can filter by this classification when searching hotels.
For the digital travel market in general, you can partner with a website to do advertising and banners, or to be featured on bespoke destination landing pages or niche sections of the website for specific kinds of travel products, such as adventure travel or family travel. You can also get involved in partnerships that involve providing content – for instance, Fliggy has dozens of partnerships with airlines, hotels and other travel brands, and has promoted travel tips supplied directly from the Danish embassy.
When it comes to travel review websites, the best way to start is simply by reading and tracking your own reviews. Learn from your reviews, and engage with them through creating a business profile so that you can respond to reviews and answer enquiries. Reading other reviews about your destination will help you to understand what's most popular in your city, and this can then inform your Chinese marketing strategy. It's also helpful to ask your customers to write reviews – although TripAdvisor, also known as Maotuying in China, translates reviews in other languages into Chinese, there is a strong preference among Chinese travelers for reviews written by other Chinese. Restaurant and attraction review website Dianping, which is well established and wildly popular in Chinese cities, is starting to make a name for itself overseas, and you could post a Dianping sticker in the same place you promote your presence on TripAdvisor or other Western review sites/apps.
Review sites like Qyer actually employ travel key opinion leaders (KOLs) and commission them to write about certain destinations or go on FAM trips, so this is another option for soft advertising. Of course, these websites also offer traditional online advertising opportunities, as well as distribution, so that users can read about a destination and then click on a link or button at the end of the article that allows them to buy the product, with a portion of the price given back as commission to the website. Finally, review websites also run offline events that are live-streamed, and they have established large communities in many Chinese cities, so this is another good way to raise awareness and promote a travel destination or product.
Send us an email to communications@dragontrail.com to request a copy of the presentation.