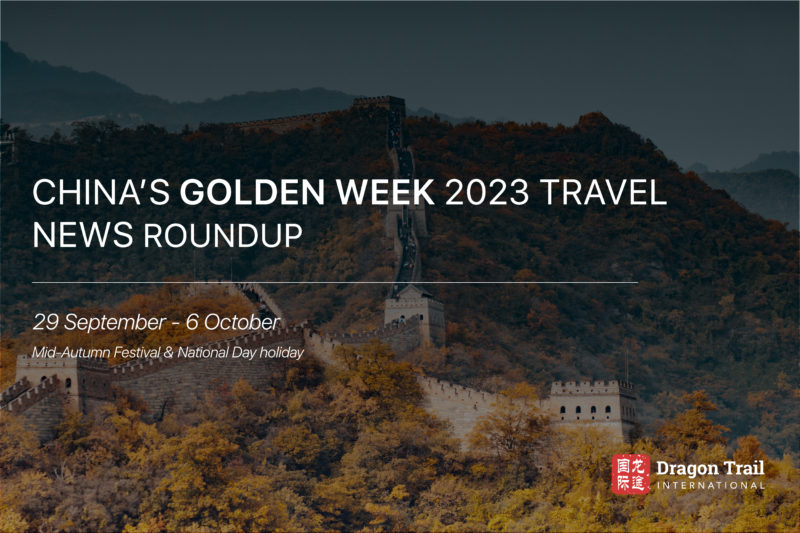 To provide an update on the Golden Week, we have rounded up the initial data on domestic/international trips, travel spending, and tourism trends, from 29 September – 6 October.
Photo by Hanson Lu on Unsplash
Domestic Travel: 
The eight-day "Golden Week", combining the Mid-Autumn Festival and National Day came to a solid conclusion, underscoring the potential of the tourism industry. The Mid-Autumn and National Day Travel Summary Report by Trip.com, released on October 6th, disclosed that domestic travel bookings nearly doubled compared to the previous year, with a 10% increase compared to the May Day holiday earlier this year.
Leading up to the National Day holiday, the Ministry of Transport had projected significant cross-regional population movement during the Mid-Autumn Festival and National Day holiday. This included various modes of transport, commercial passenger travel, highway usage, and small vehicle travel. This brought the daily average to 257 million individuals, which represents an 11.5% increase compared to 2019, and a 58.8% increase compared to 2022.
According to China's Ministry of Culture and Tourism, the Golden Week saw 826 million domestic tourists, reflecting a 71.3% YoY increase and a 4.1% increase compared to 2019. Spending by tourists increased by 1.5% from 2019 levels, reaching 753.43 billion yuan. However, both domestic travel and tourist spending fell short of the government's expectations, which had anticipated 896 million trips and 782.5 billion yuan in spending. The actual figures slightly fell below these expectations.
Outbound Travel: 
During China's 8-day Golden Week holiday, Trip.com Group witnessed a significant growth in outbound travel demand, surpassing eightfold the figures from 2022. Younger travelers, particularly those belonging to the post-90s generation, represented almost 30% of the total outbound tourists. Notably, long-haul destinations such as Switzerland, Spain, the UK, and France experienced the most rapid growth. Moreover, the cruise tourism sector is anticipated to flourish in 2024, marked by the debut of a domestically manufactured large-scale cruise ship and heightened ticket sales for international cruise journeys.
The National Immigration Administration reported that, on average, 1.48 million individuals crossed the border daily during the Golden Week holiday. This number represented 85.1% of the volume seen in 2019, falling short of the agency's earlier forecast of 1.58 million border crossings.
On October 2nd, the total number of inbound and outbound travelers surpassed 1.67 million, establishing a new single-day record for the holiday period.
Travel Trends:
The Golden Week highlights a shift towards quality travel, with an emphasis on unique experiences and well-being. The post-90s and post-00s generations are increasingly inclined toward "experiential travel" over traditional leisure vacations, stimulating demand for personalized and innovative travel products. Travelers are now more willing to invest in high-quality services and immersive experiences, moving from a focus on value for money to value for emotions. Hot spring hotels, vacation rentals, and countryside accommodations gained popularity, with searches for keywords like "hot spring hotels" and "vacation rentals" growing by over 50% YoY.
The trend of exploring lesser-known destinations grew, driven by a desire to avoid crowded tourist spots and seek unique experiences. Off-the-beaten-path locations like Inner Mongolia's Xing'an League, Fujian's Sanming, and Sichuan's Mianyang gained prominence as "reverse travel" destinations, providing scenic beauty with fewer tourists. Many travelers opted to depart a few days after the holiday's start to avoid the initial wave of travelers and benefit from discounted tickets. The shift reflects diversified travel motivations and a demand for tailored travel products.
Self-driving car rentals saw remarkable growth, with bookings during the Golden Week more than doubling compared to the previous year. Long-distance car rentals, specifically intercity ridesharing services on the Tongcheng Travel Platform, constituted 79% of total bookings, with trips exceeding 300 kilometers accounting for 33% of the total.
Destinations:
Trip.com's data ranked the top five domestic destinations during the Golden Week as Beijing, Shanghai, Chengdu, Guangzhou, and Chongqing. Distant border regions such as Xinjinag and Yunnan also experienced increasing popularity in travelers, with tour group bookings nearly doubling compared to last year's National Day holiday.
In terms of outbound travel, Hong Kong, Macau, and various Asian countries like Singapore and Malaysia were the top choices for Chinese travelers. Hong Kong hosted a fireworks show at Victoria Harbour on October 1st, attracting over 430,000 visitors, surpassing its usual visitor count of just over 200,000. Contrasting the May Day holiday, long-haul international destinations such as Switzerland, Spain, Turkey, Russia, the UK, and France experienced the most rapid growth. Notably, Turkey surged in popularity by 225%, making it the top choice for long-haul international travel, second only to Singapore.
Transportation:
Civil aviation exhibited the highest growth at 195.0% (1.90 billion passengers), followed by railways at 158.0% (1.41 billion passengers), water transportation at 106.1% (1.02 billion passengers), and road transportation at 28.1 (2.9 billion passengers). National expressways witnessed a total of 483 million vehicles on the road, with a daily average of 60.43 million vehicles.
Accommodation:
Hotel bookings for popular domestic destinations surged by 514% compared to 2019, with locations like Beijing, Hangzhou, Wuhan, and Shanghai witnessing hotel booking volumes more than triple of the same period in 2019. Beijing experienced an impressive 5.4-fold increase.
Spending:
During the 8-day holiday period, the Ministry of Culture and Tourism's Data Center reported an increase in domestic tourism revenue, reaching 754.43 billion yuan, signifying a 129.5% YoY increase and a 1.5% increase compared to the same period in 2019.
As of October 7th, 25 provinces unveiled their holiday culture and tourism consumption data. Among them, Jiangsu stood out, reporting a total revenue of 90.759 billion yuan, marking a 151.9% increase and a noteworthy 25.8% growth compared to the same period in 2019. UnionPay Business data further highlighted Jiangsu's significant contribution, with its culture and tourism spending reaching 17.56 billion yuan in the seven days before the holiday, constituting 10.62% of the national total.
Jiangsu's Culture and Tourism Department reported that 45 provincial-level nighttime culture and tourism consumption clusters attracted 10.51 million visitors. These visitors collectively spent 5.56 billion yuan, marking a YoY growth of 208.19% and an 214.72% increase compared to 2022, respectively.
Notably, Ele.me's consumption trends revealed a 30% increase in the daily average of tourist food delivery orders compared to the previous year, doubling compared to 2019. In tourist-heavy areas and hotels, takeaway orders grew by over 20% compared to the period preceding the holidays.
Attractions:
Music festivals took the spotlight during the holiday period, with over 60 festivals occurring nationwide. The Hainan Tongcheng Music Life Festival garnered significant attention, resulting in an 84% increase in tourism searches for Hainan.
Furthermore, concerts, notably Jay Chou's concert in Bangkok, drew considerable interest, with flight and ticket packages selling out within minutes.
Museums across the country also experienced a thriving holiday season, with popularity surging over fourfold. Historical and cultural attractions, such as The Forbidden City and the Longmen Grottoes, captivated young visitors. In Henan, over 50% of the top 30 popular attractions were related to history and culture, with three historical and cultural attractions accounting for nearly half of all visitors to Henan's tourist spots.
Sources
《中秋及"十一"旅游消费趋势数据报告》发布
消费降级?这个十一黄金周,爆表了
携程:十一超级黄金周旅游订单增长近2倍
行业动态 | 途牛《2023中秋国庆旅游消费盘点》:黄金周"含金量"十足,5天及以上行程出游人次占比过半
马蜂窝十一出行观察:"赶晚不赶早",年轻人错峰旅行出新招
抖音2023中秋国庆出游图鉴
同程旅行《2023中秋国庆假期旅行消费报告》
五年来最旺,"十一"假期服务零售消费规模增长153%
文旅三方观察丨2023中秋国庆假期成绩单公布:江苏吸金907亿元 河南揽客超8000万人次
《2023出境游行业发展报告》:"十一"是爆发式复苏起点,市场竞争"两超多强"
2023年中秋节、国庆节假期国内旅游出游8.26亿人次,国内旅游收入7534.3亿元
2023年中秋国庆假期全国发送旅客总量累计4.58亿人次
China was hoping for a Golden Week consumption boom. It didn't happen