The China Tourism Academy released its "2021 Chinese Outbound Travel Development Year-End Report" on 22 November, 2021. Click here to read the original report in Chinese, or read on for some of the highlights in English.
In 2020, Chinese outbound travel dropped by 86.9% compared to 2019, following the start of the COVID-19 epidemic and travel restrictions in China from the end of January. In 2021, it's projected that there will be 25.62 million outbound trips from mainland China, representing a 27% increase compared to 2020, but just 17% of 2019's numbers.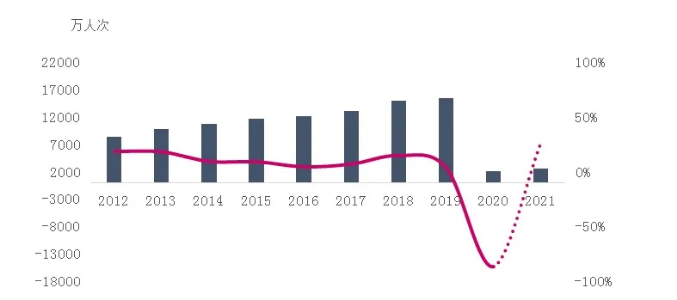 Outbound travel numbers in 2021 are expected to be 27% higher than in 2020 (Source: China Tourism Academy, 2021)
The top 15 destinations for outbound tourism (presumably in 2020 and 2021, though the report does not specify) are: Macau, Hong Kong, Vietnam, South Korea, Japan, Thailand, Cambodia, USA, Singapore, Taiwan, Malaysia, UK, Australia, Canada, and Indonesia. While Macau has seen notable recovery, the number of mainland Chinese travelers to these top destinations are all down by 66%-98% compared to 2019, with countries in Oceania seeing the biggest decline. 95.45% of outbound travel has been within Asia.
According to the China Tourism Academy's polling, 82.8% of Chinese travelers said they would only go to an outbound destination with no cases of COVID. 81.6% said that in the near-term, they would choose to travel domestically rather than overseas. 71.7% said they were uncomfortable with taking international flights while the pandemic continues.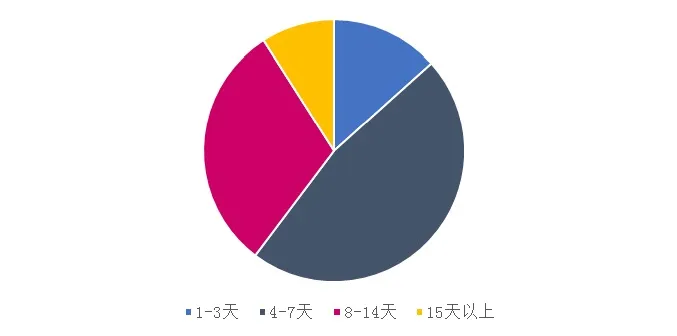 Nearly half of respondents said their next outbound trip would last for 4-7 days (Source: China Tourism Academy, 2021)

Nearly half of respondents said they planned for their next outbound trip to be between 4-7 days, with less than 10% planning a trip of 15 days or longer.
When asked about travel companions for their next overseas trip, the most popular choice was to travel with family, with fewer respondents saying they would travel alone or with people they didn't know.
Digital information sources stood out for learning about overseas travel and destinations. Social media and travel websites were survey respondents' top sources for outbound travel information.
The China Tourism Academy survey also found that there was a 37.79% decline in respondents saying they would travel with a tour operator on their next outbound trip, compared to 2019. Just over a quarter of respondents said they would travel together with a tour operator.