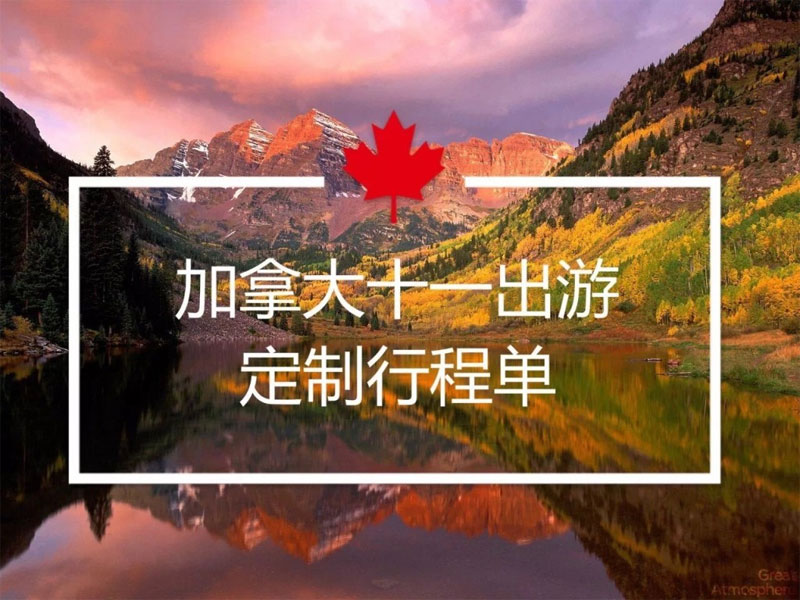 With 610,000 arrivals from China in 2016, representing 24% year on year growth, Canada is enjoying significant success in attracting the Chinese outbound tourism market. Driving this success is a number of factors – including bureaucratic, logistical and environmental – but the ongoing growth of Chinese tourism to Canada is also strongly supported by the country's proactive approach to digital marketing.
Favorable conditions
As mentioned in a recent Skift article, Chinese tourism to Canada has benefited significantly from new direct flights, such as a Beijing to Calgary service launched in 2016, as well as a 10-year multiple entry visa introduced in 2015. However, these are not the only factors creating the surge in Chinese tourism to Canada. The US also added many new direct flights from China in 2016, including a Beijing to Las Vegas route, and also offers 10-year multiple-entry visa, yet in contrast to Canada, they saw a decline in Chinese tourism numbers in early 2017.
WeChat marketing
Destination Canada has ranked in the top three official WeChat accounts for National Tourism Organizations (NTOs) for all of H1 in 2017. Most Canadian provinces also have their own WeChat accounts, and these Destination Marketing Organizations (DMOs) have also performed very well throughout 2017.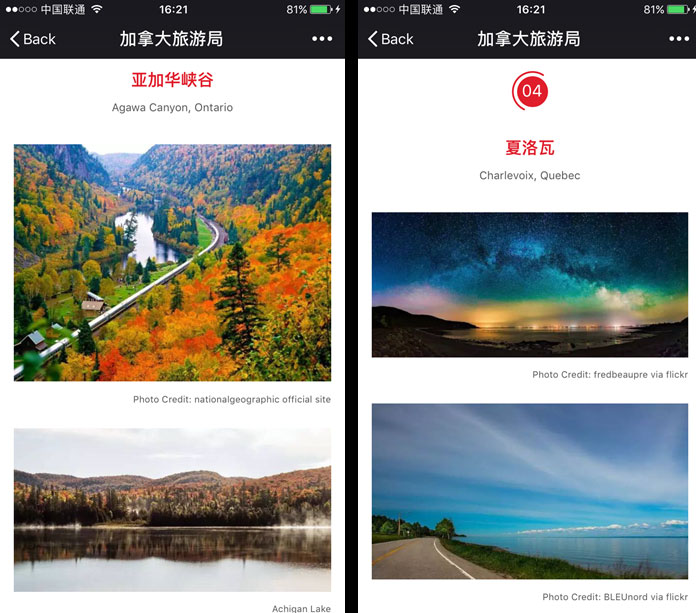 In Q1, Destination Canada took advantage of the increase in Chinese interest in adventure and outdoors tourism to promote its beautiful natural scenery, with high performing posts on the Northern Lights, Canadian national parks and a National Geographic article on must-see Canadian destinations. In Q2, Destination Canada and Canadian DMOs rose to the top of the WeChat rankings for posts on celebrations for Canada's 150th and Montreal's 375th anniversaries.
Canada is not the only country with beautiful nature or anniversaries – for example, Moscow celebrated its 870th anniversary on September 5, 2017, but neither Moscow nor Russia made it into the top 20 WeChat accounts for DMOs or NTOs that week. What sets Canada's marketing apart is the understanding of how to use these assets to its advantage on WeChat, paired up with vibrant images and engaging language.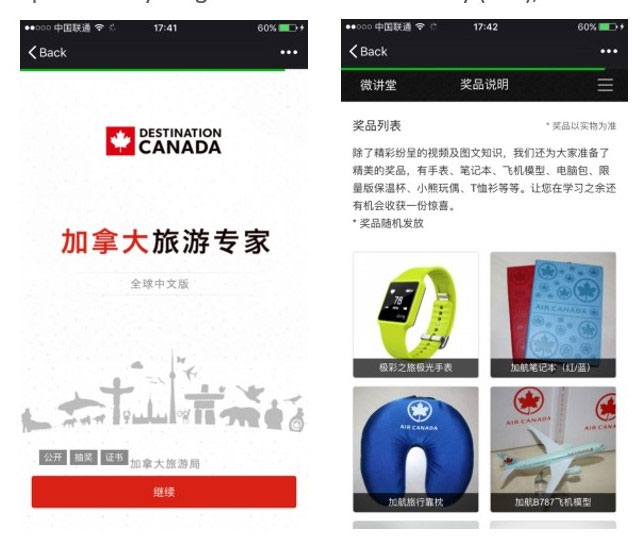 Destination Canada also has a dedicated B2B WeChat account for the Chinese travel trade. This is an important complement to the B2C account, since as of 2016, just over half of Chinese travelers had used a travel agent to help plan their most recent trip to Canada. The B2B account updates travel agents on Canada's newest products, trade events, visa regulations and other topics that might assist travel agents in China to better sell Canada's products to consumers. Canada also offers two editions of China Travel Academy, a WeChat-based online training course for travel agents in China to learn more about Canada and how to sell it as a travel destination.
WeChat mini-program
WeChat launched its mini-programs in January 2017, and while they've been slow to catch on and so far used most successfully by the retail sector, Canada's oldest national park showed innovative, forward thinking by becoming one of the first overseas travel destinations to launch a mini-program in July. Banff & Lake Louise Tourism's mini-program serves as an interactive, digital brochure to help visitors keep up to date with the park's activities, and it is promoted on Banff's WeChat account. Users have access to a directory with links to activities, restaurants, accommodation, shopping, attractions and more useful information, and they can also create and save itineraries. An LBS function provides location-based recommendations for visitors at the destination, which helps local providers to reach a Chinese audience. An interactive map and photos of attractions, restaurants and other destinations allows visitors to visualize and plan their time at Banff and Lake Louise most effectively.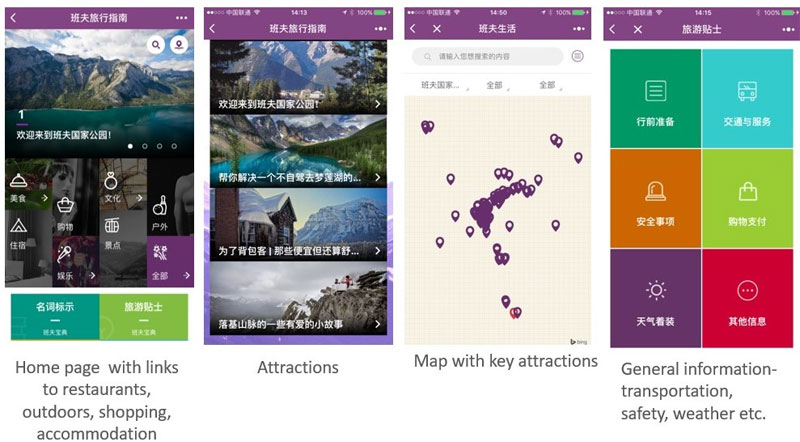 National parks are a big draw for Chinese tourists all over North America, and being an early adopter of new Chinese technology is an excellent way for Banff National Park to stand out from the rest as particularly attractive, welcoming and easy to navigate.
Video content
According to eMarketer, 41.5% of China's population will consume online video content by the end of 2017, with short video platforms seeing the most growth. Again an early adopter of new technology, Destination Canada was one of first NTOs to leverage the potential of video marketing, back in 2013. The Travel Around Canada (later called Jia You) series took viewers to different parts of Canada, with long-form videos hosted by travel bloggers, artists and celebrities.
Embracing the popularity of short-form video, the NTO launched a bi-weekly 5-minute video series this year, called Canada Station, with topics including Beijing residents' impressions of Canada; Canada's Discovery Pass, which gives free access to Canada's parks in 2017; and the celebrations for Canada's 150th anniversary. The videos are shot in China, then promoted through WeChat and Weibo, and distributed on video platforms Youku and Tencent Video, and short video platforms Miaopai and Meipai. These videos create a particularly good channel for targeting younger demographics, as 70% of Chinese short video users are under 34 years of age.
Destination Canada also produces some video content specifically for B2B promotion, and has also caught on to the current live streaming trend in China – for example, they live streamed the Canadian Embassy in Beijing's 150th anniversary celebrations and promoted this through Weibo.
Canada does benefit from structural advantages in terms of transportation links and what kinds of attractions it has to offer. But rather than relying on these to be incentive enough for Chinese travelers to visit, the country's tourism marketing offices have been quick to embrace and explore new digital technology to promote and enhance their image in China. This early adoption has been rewarded with excellent social media reach, as well as robust tourism numbers, and Canada is well on track for a successful Year of China-Canada Tourism in 2018.
Disclaimer: Dragon Trail Interactive is involved in the creation and management of Destination Canada's WeChat and Chinese video marketing content.