With a growing number of Chinese tourists who have experience travelling abroad and now prefer Fully Independent Travel (FIT) to traditional large tour groups comes new opportunities for those in the tourism sector to cater to an increasingly diverse and sophisticated market. British-based Beiwei 55° (www.beiwei55.co.uk) is one such tour operator that has identified a gap in the growing market and jumped to fill it early – the company offers city tours given by local British guides in Mandarin.
Founded in October 2014 by two Brits with experience living and working in China, Eve Baker and Jay Smith, Beiwei 55° now offers private tours of 10 different British cities, as well as Paris, with regular public tours of London, Edinburgh and York. The company's best-seller is the Classic London walking tour, but the Cambridge and Oxford tours are also very popular. The company was a finalist in the 2017 Visit England awards in the 'Great China Welcome Campaign' category, in recognition of its work with Chinese tourists visiting the UK.
One of Beiwei 55°'s selling points is its small group size. Beiwei 55° co-founder Eve Baker explains that her company's public tours are capped at 15 per guide. Furthermore, the average Beiwei 55° group is only four people. Although clients come from all across China and are of all ages, Baker says that "usually all are semi-independent travellers, mid to high income small groups – a family or two families traveling together is quite common, often with parents who don't speak English and children who are learning it."
"A private tour is the best way to get a deep understanding of the UK," says Beiwei 55° client Chen Yongling, as to why she chose to tour with the company. "This is something you can't get from traveling with a large group." Chen, her husband and another friend, all recent retirees from Beijing, toured London, Oxford, Windsor, Cambridge and Bath with Beiwei 55° guides during their first trip to the UK in April 2017. Many of the company's 43 five-star reviews on Trip Advisor's Chinese-language site also praise the especially deep understanding of England that they got from their experience.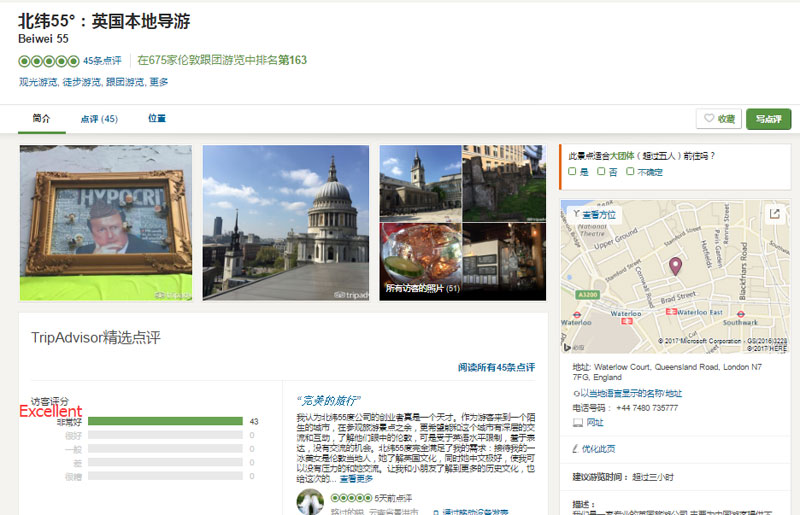 Beiwei 55°'s Trip Advisor Reviews
In addition to the appeal of the intimate group size, especially in contrast to the large, rushed bus tours that are the traditional way for Chinese travelers to visit Europe, Baker maintains that "it's the British people and their insight that make the tour – our guides are our greatest asset. Although some people do choose us for the private tour/intimate group size aspect, I think ultimately everyone goes back to China loving the British guide element the most." Of course, part of this appeal is the gimmick – having a local guide who speaks Mandarin is a unique experience that comes with unique photo opportunities and bragging rights back in China. However, there's also the fact that a local guide will be able to offer deeper and more interesting information, personal stories and insights that tourists couldn't expect from a Chinese guide, and even secret spots and shortcuts around a city.
Many of those who have reviewed Beiwei 55° on Trip Advisor mention that it is more relaxing for them to go on a Chinese-language rather than an English-language tour, given by a native guide. "Site-seeing as a tourist in a new and unknown city, I wanted to communicate with people who deeply understand the city, to see London through their eyes, but as my English is limited and I'm shy about expressing myself in it, I didn't have any opportunities to interact [with locals]. Beiwei 55° totally fulfilled my needs. Eve is a local Londoner, she understands British culture, but at the same time, her Chinese is so good, I could communicate with her without feeling any pressure," wrote one tourist from Yunnan Province. "It was so relaxing not worrying about understanding different accents," wrote another client from Suzhou.
How do Beiwei 55°'s clients find such a small and niche tour operator? At this point, says Baker, "more and more are hearing about us through word of mouth from friends or family who have already toured with us and then share their experience [on WeChat]. Others have found us on a Baidu search or via OTAs like Zhuyouyou in China. They're great because they really target semi-independent travelers looking for unique, local experiences in the UK." To put themselves on the radars of these OTAs and travel agents in China, Beiwei 55° has attended tradeshow events and made contact through email to be featured on their platforms. The company also has Official WeChat and Weibo social media channels, run by native Chinese-speaking staff, as well as a more light-hearted Weibo channel featuring content by the company's guides.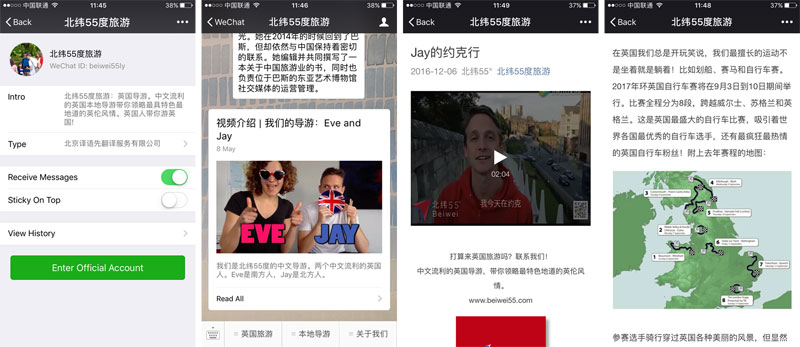 Beiwei 55° WeChat account
Beiwei 55° does pay attention to SEO rankings on Baidu, the Chinese search engine, which generates some of their business, but they do not disregard Google, either. "Google is great for British corporate clients who are hosting Chinese delegations and looking for guides to entertain them," says Baker.
Chen, who discovered the company from China through an online search, booked her group's tours via email. She decided on the itinerary of her England trip by reading through the information on the Chinese-language version of Beiwei 55°'s website (www.beiwei55.com) and based on their personalized advice. Before the tours begin, Beiwei 55°'s guides also communicate with the Chinese clients over WeChat to confirm meeting times and locations.
In addition to the tours, Beiwei 55° offers some other services as needed, quite often arranging transport transfers, particularly airport pickups. At the start, they also offered accommodation booking, but found that this created quite a lot of work and that most clients were independent enough to book their own lodging, so they now only offer suggestions rather than a booking service.
"As far as we are aware, we are the only operator in the UK and elsewhere who offer native local Mandarin-speaking guides," says Baker. With such a unique, niche approach, Beiwei 55°'s clientele remains small compared to the volume of Chinese tourism to the UK. But the fact that Beiwei 55°'s service is so specialized and that it is getting established before any other tour operator attempts something similar, puts it on very steady ground for future development.
Disclosure: contributing editor Sienna Parulis-Cook works as a part time guide for Beiwei 55°.