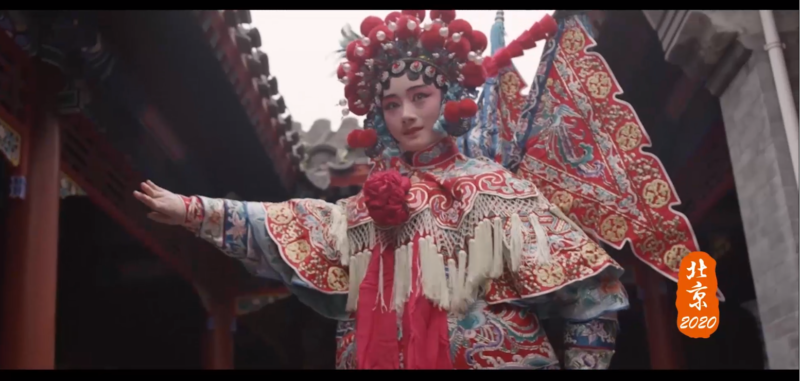 From 22-23 September, 2020, the Beijing Municipal Bureau of Culture and Tourism held a two-part online forum series, aimed at overseas travel agencies and the global travel industry. "Beijing Culture and Tourism Global Online Strategic Forum – Restart Travel, Together with Beijing," the Beijing Municipal Bureau of Culture and Tourism's first-ever online event, brought together speakers from around the world on a digital platform. With discussions and presentations about the biggest questions facing tourism today, as well as Beijing's rich reserves of cultural and tourism products, the event gave global audiences an understanding of the current situation of Beijing's travel industry, what important developments are on their way, and the recovery of inbound tourism to Beijing.
The forum was organized into two sessions over 22-23 September, with one targeting the Asian and EMEA regions, and the second scheduled for time zones in the Americas and Pacific region. The forum's main language was English, but the event also included presentations in Mandarin, Korean, and Japanese, with a choice of subtitles in simplified Chinese, English, Korean, Japanese or Spanish. An expert lineup of more than 30 speakers from throughout the tourism industry included industry leaders such as Airbnb, TripAdvisor, Lufthansa Group, TUI, PATA, WYSE Travel Confederation, Marriott, and many others.
Both forum sessions featured speeches and panel discussions on some of today's most important topics, addressing questions about global tourism and tourism to Beijing. These included "Beijing Winter Olympics, a Glimpse into the Future of Beijing"; "Rebuilding Tourism from the Ground Up: China Travel in a Post-COVID World"; "Answers to the Biggest Challenges in Selling China Tourism"; "The Return of the MICE Sector in Uncertain Times"; "Getting Travelers Back on the Road – How to Attract the Youth Travel Market"; "Post-COVID Leisure Travel Trends and Products for Beijing"; and "Research Report Release – Recovery Trends and Travel Sentiment in the Post Epidemic Period."
In his opening speech, Director General at Beijing Municipal Cultural and Tourism Bureau, Chen Dong discussed Beijing's experience fighting against COVID-19, and steps taken to revitalize the travel industry. While tourism in Beijing was shut down completely from the end of January in order to control the spread of COVID-19, by September, the industry has shown a strong recovery. Even with the setback of a second outbreak of coronavirus in Beijing in June, the city's tourism industry is now back to work, with more than 70% of sightseeing attractions, hotels, and tourism businesses having resumed operation. To help keep the tourism industry going, the local Ministry of Culture and Tourism introduced policies such as temporarily returning RMB10 billion in security deposits, reducing taxes by hundreds of millions of RMB, and investing RMB380 million of special funds to aid affected companies and keep them in business. This helped bring stability to the market and ensured that the tourism industry could continue to develop into the future.
As Mr. Chen introduced, to develop tourism in Beijing going forward and attract visitors in the post-COVID period, Beijing Municipal Bureau of Culture and Tourism has introduced three new action plans: Roam Beijing, Taste of Beijing Outskirts, and Light Up Beijing. These programs have been developed to match the post-COVID travel trends and help people discover new routes and new aspects of Beijing. They are intended to give visitors a taste of life today in China's capital, showcase new developments, and promote post-COVID travel that is healthy, safe, and sustainable.
With the Beijing 2022 Winter Olympics on the horizon, Gui Lin, Director of Master Planning Division, Venue Planning & Construction of the Beijing Organizing Committee for the Olympic Games (BOCOG) introduced the new facilities and infrastructure projects that are being developed within Beijing and its surrounding areas. Ms. Gui, who was also involved in the bidding and development for the 2008 Beijing Olympics, explained the long-lasting legacy of that important event in Beijing's recent history – with 80% of the 2008 Olympic venues in use today, Beijing boasts one of the best post-Olympic venue usage rates in the world. Likewise, development for the 2022 Games has focused on creating facilities that can be enjoyed for the long-term by Beijing locals and visitors alike. This includes the world's first permanent big air facility in Shougang Park, a regenerated former industrial complex that's become a trendy area for tourism and photography and will be transformed into a center for culture, sport, shopping, dining, and business, helping to develop the western part of Beijing and benefit the 3 million residents of the surrounding area.
Moderated by Chairman-Elect for the Pacific Asia Travel Association (PATA), Soon-Hwa Wong, the panel discussion, "Rebuilding Tourism from the Ground Up: China Travel in a Post-COVID World" brought together speakers from the Lufthansa Group, Accor Greater China, Thomas Cook China, and China Tourism Group. As the speakers pointed out, the recovery of the tourism sector post-COVID is a marathon, not a sprint, and it will require the patience and efforts of the entire industry. Sharing their own experiences while facing the COVID-19 crisis, the panelists expressed that in the post-COVID era, the industry must continuously seek understanding of and embrace new trends, and pay close attention to the changing needs of consumers, with flexibility and creativity.
Panels on the recovery of the MICE industry were moderated by President of SITE China Chapter and Founder of China Star Liu Ping. Communication and collaboration are some of the keys to getting the industry through this crisis, said Senthil Gopinath, CEO at International Congress and Convention Association (ICCA), explaining how the ICCA has started using digital platforms to update members on best practices and bring the industry together to learn, move forward, and restart business.
Young people are expected to be one of the first market segments to recover and have even been already heralded as the saviors of the tourism industry. But after COVID-19, will the traditionally resilient youth travel market still be interested in international travel? This was the main question posed in the forum sessions on "Getting Travelers Back on the Road." As Director General at WYSE Travel Confederation, David Chapman pointed out, "Don't discount the value of youth and student travelers. Our research has consistently shown that a young traveler will spend more on their trip than the traditional tourist does. And that is because they stay longer in a destination. They're cash poor, but they're time rich." These young travelers also tend to seek out authentic local experiences that direct more travel spending towards local communities, he said, making them particularly valuable tourists, and a market segment that usually bounces back first from a crisis.
Each forum session included a research report presentation from Steve Saxon, Partner at McKinsey & Company, looking at global consumer confidence around travel. These findings reveal that China is "starkly different" from many other countries surveyed in its high consumer confidence in the economy and future travel prospects. And although international travel is highly restricted at present, McKinsey's research shows latent demand from global markets, as well as a recent uptick in searches for inbound travel to China.
In her closing speech, Deputy Director General at Beijing Municipal Culture and Tourism Bureau, Pang Wei introduced the Bureau's plans following the conclusion of the forum, to launch the Beijing Tourism Expert program. This comprises online webinars and resources for the international travel trade to access essential information on Beijing tourism products and learn about new developments for travel in and around Beijing.
All presentations, panels, and speeches from both sessions of the Beijing Culture and Tourism Online Strategic Forum are available to watch any time at http://traveltrade.visitbeijing.com.cn/forum.