An effective Chinese outbound travel marketing strategy requires not only targeting Chinese travelers directly, but also cooperating with the Chinese travel industry. Although large group travel is waning, and 60% of Chinese outbound travelers are now FITs (fully independent travelers), this doesn't mean that there is no more need for travel agencies. Many of these FITs will still book their trips through travel agents, or at least use them to get information. This is particularly important for the wealthy, who are increasingly interested in personalized tour services – according to the 2017 Hurun Report on Chinese luxury travel, 40% of respondents intend to use custom-designed services in future, compared to 10% who will travel as part of a group.
Chinese consumers and trade are different, and marketing to them is the main challenge for new entrants into this market. For those attempting to navigate the Chinese B2B travel marketplace, we've put together a guide to industry events, digital tools, and working with Chinese partners both online and offline.
Travel Fairs in China
To really reach the Chinese travel trade, you'll need to attend trade fairs, and you'll need to go to China to do so – there are fairs that include the Chinese travel industry abroad, but these will only have a small number of Chinese agents.
These are the main fairs dealing with outbound travel in China:
• COTTM – Beijing, 16-18 April 2018
COTTM has been held since 2004 and is a well organized, trade-only China outbound travel exhibition, catering primarily for Beijing and north China agents. Over the course of the years COTTM has become a platform for emerging destinations.
• ITB China – Shanghai, 16-18 May 2018
ITB China is a new fair that just started in 2017 and is organized by Messe Berlin, ITB Berlin and Asia's main organizer. It's entirely B2B, and includes business and leisure travel. The fair started off a good foot and was well attended both by major travel destinations and brands as well as by the trade from the Shanghai area. If you only have budget to attend one fair, this is a good bet.
• ILTM China – Shanghai, 31 October-2 November 2018
ILTM Asia is established as the leading and most exclusive China-based luxury trade fair attended by high-level travel buyers. From 2018, ILTM will have a China-dedicated fair and bring ILTM Asia to Singapore. For many travel brands this will mean identifying where your budget is best spent.
• China International Travel Mart (CITM) – Kunming, 20-22 October 2017
CITM is China's most established travel exhibition, running since 1998, and organised by the China National Tourism Administration (CNTA). Held on alternate years in Shanghai and Kunming each November, it is regarded as the largest and most important fair in China. Though it focuses on domestic and inbound tourism, outbound travel makes up about 25% of the total space, and the fair is not well organized.
• 2017 TravelDaily Conference – Shanghai, 13-14 September 2017
This is not a travel fair, but a conference with key travel industry leaders sharing updates about the Chinese outbound travel market. If you are traveling to China during this time, the fair might be a good opportunity to learn about how the market is evolving and who are the emerging players.
There are smaller events in other cities that are cheaper to attend and will have some outbound travel. You don't necessarily need to go, as you can instead find the agents you want to speak to, and then do this online. However, going to fairs is valuable for raising brand awareness and making contact with the media and potential consumers.
To maximize your exposure, effectively market your products and reduce your costs, you should focus on one or two fairs that cater to your target market and plan your visits to China around them, including follow-up visits to potential clients. You'll also want to register early – about three months in advance to secure a discounted rate.
Having a Chinese-language interpreter is vital when dealing with the trade, as is Chinese-language marketing collateral. Use a localisation company to convert your brochures, website etc. to Chinese and employ an interpreter with travel industry experience. There are many exhibition and consulting services in China that can help to make arrangements for exhibiting at fairs. It's important to work with ones that have specific experience in travel fairs and no communication barriers. They will save you time and money and help you understand the needs of the local market.
These fairs can be exceedingly busy, so you'll want to make appointments in advance. Invite high-potential clients to lunch or dinner, stressing socializing rather than business talk. Keep in mind that Chinese are cautious with new business contacts and do not normally conclude business at fairs.
You'll also want to allow a few days after the fair ends for follow up. "Identify the people worth following up with and go see them in their office," advises Dragon Trail EMEA Managing Director Roy Graff. "You won't really know them from the fair. See how many staff are in the office, and this will give you a better sense of the company. Do research and due diligence. If an agent wants to work with you, find out more than just the company they're working with now. Often, agents take their clients with them when they move companies. Find out their reputation. If they move frequently, that's worrying."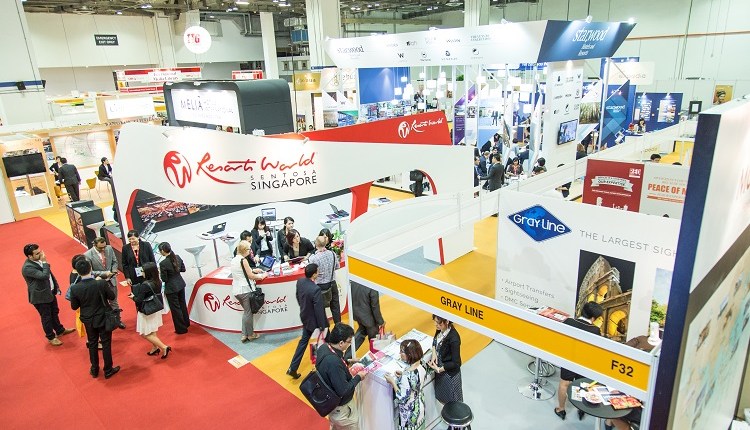 ITB China
Travel Agencies/Tour Operators
Around 1,600 agencies in China are licensed to operate outbound travel, and these travel agencies vary greatly in size. Some of them have branches nationwide while others operate in certain regions only. The division between wholesalers and travel agencies/tour operators in China is less distinct than in the USA market, with many operating as both a retailer and a wholesaler.
There are several well-known names within the travel industry. These are the travel agencies set up by different departments of the government in the days when all travel was controlled by the government. CTS, CITS, CYTS have offices all over China, but each of their offices is managed separately, so they're different in each city, and there are many franchises. Other nationally known brands include: China Comfort, CITIC and China Merchants, among others. There are also foreign-owned travel agencies like CTI (which is owned by Hong Kong CTS), TUI, American Express and JTB, and private companies with large coverage, including Caissa, which focuses on outbound, UTour, and online travel agencies (OTAs).
"Don't worry if the company has strange name you haven't heard of," advises Graff. Since travel agencies in China must handle inbound tourism in order to be allowed to do outbound, some outbound agents will simply pay to use an inbound company's name and license.
Conversely, an agency might have a big name like CYTS but actually be a small company operating under CYTS's license. Even with large agencies, you'll have to work directly with individual branches to build the relationship and get them to buy your product. So do not assume that by having a contract with CITS, your products will be available all across China. Identify the source market you are interested in, within China, and approach those regional travel agencies. Digital communication makes this a lot easier, but it's still important to meet them once you've identified that they're worth working with. "Nothing beats getting to know each other in person, but the digital platform helps facilitate and speed this up," says Graff.
In terms of working with big OTAs like Ctrip, Qunar, Elong and marketplace platform Fliggy, you'll need to make sure that you have a unique product, and preferably one that's already available in Chinese, as this make it less work for them. While these companies are big, they operate separate departments for different areas of the world, or different kinds of products, such as luxury, so you'll need to find the right person for your product.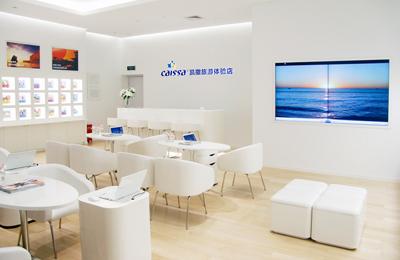 Caissa Travel Agency
FAM trips
Once you've found Chinese trade partners to work with, and provided you have the resources, arranging a FAM (familiarization) trip is a further step to educating the trade about your product and enlisting their help in promoting and selling it for you.
"If you're trying to organize a FAM trip, try to identify agents who are active and passionate, and reward them," says Graff. "Big companies might put up junior staff, but you want to get the main person. They're very busy and may be invited to many FAM tours, so you have to make it really attractive." To attract the right people, you'll need to cover all costs, even internal flights and accommodation. This will be worth it if you get an agent who is particularly passionate about your product, especially in a niche field, such as cruises. When arranging a FAM trip, in addition to B2B contacts, consider also including KOLs, who can post as they travel and generate buzz on the B2C side as well, before and after the trip.
Digital B2B marketing
While fairs are still an important way to meet and network with the Chinese travel industry, you'll also need to connect to them digitally. China's most popular social media platform, WeChat, is only growing in importance and cannot be neglected. Indeed, 90% of China's 938 million WeChat users now utilize the social media platform as a major work tool.
If you're a small company and your primary need is to maintain contact with partners in China, you can create a group on your personal WeChat account. These groups can include up to 500 people, and if you need to communicate with more than that, then you can create different groups for different cities. Partners can also direct-message you, and WeChat allows you to communicate easily at any time, which is especially useful when you're in different time zones. You can share files, images, itineraries and PDFs, and create small groups around specific projects. If you have a large following, you can share videos or photos with your contacts on your Moments feed. Working this way via WeChat is totally free, and a crucial way "to work closely with Chinese and get them to trust you," says Graff. There are impediments to working via WeChat, as some western companies don't allow social media in this office and are reluctant to work outside office hours – but this creates an issue, and it's important to be adaptable and make use of this incredibly useful and budget-friendly resource.
Larger companies have other ways of using WeChat. For example, working with a digital agency can allow you to send out an invitation to thousands of travel agents in their WeChat database. Peru recently worked together with Dragon Trail Interactive to launch a new outbound marketing strategy, including a WeChat-based interactive mobile training program aimed at professional travel agents, called China Travel Academy. They had view rate of 1,000 the first day, and after two days, 200 agents had completed the training.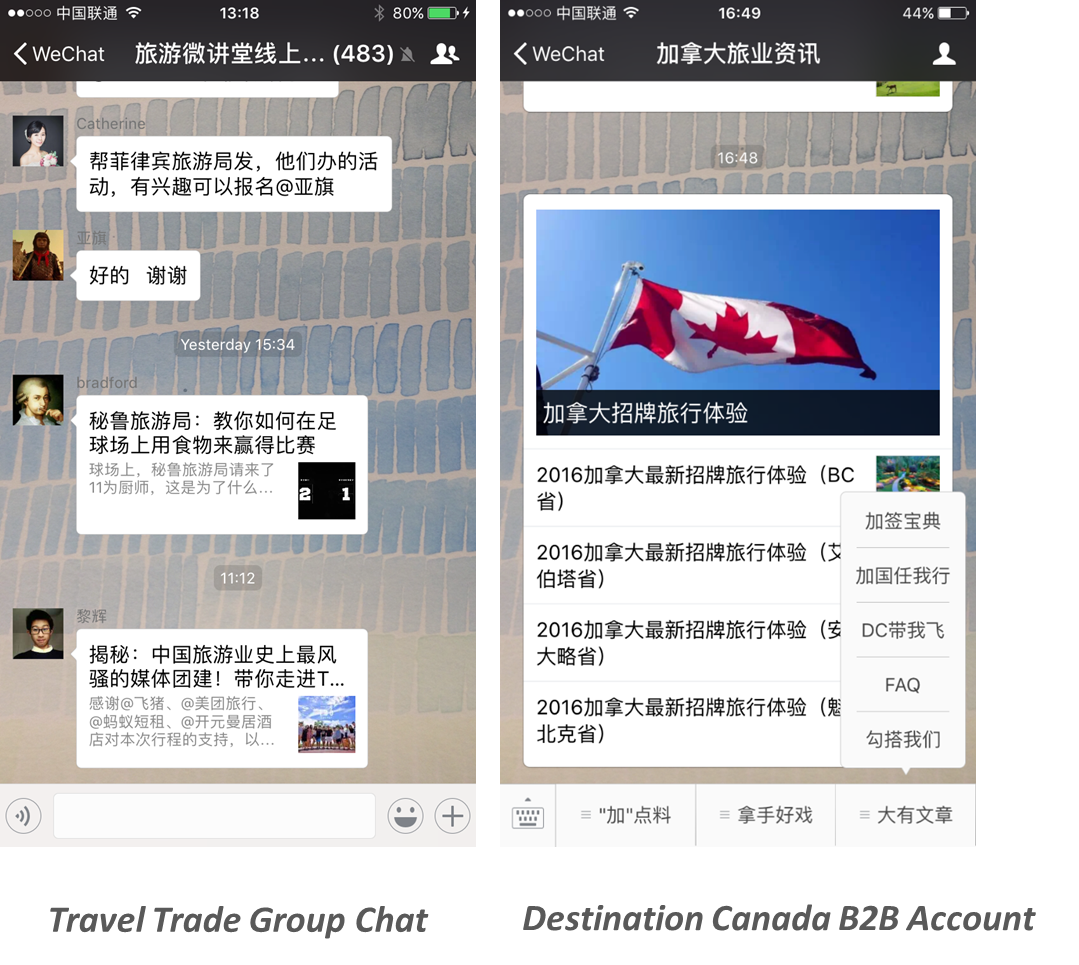 B2B WeChat
Big companies can also get a WeChat brand account, with a button linking to destination training, latest products, itineraries, road shows and a regular newsletter to communicate with followers – "In China, WeChat has replaced email newsletters," notes Graff, with 90 percent of WeChat users saying that WeChat has become a major communication tool for work. WeChat can also be used to reach the trade by sending invitations to physical events or pushing out press releases. You can even host a webinar on WeChat, and people can log in in real time to listen.
Also worth noting is that if you're on WeChat, you can use small group chats to keep in touch with tour guides, and deal with things that come up in real time. This helps with the time difference and can save the hassle of making numerous phone calls.
This article draws from information included in China, the Future of Travel by Roy Graff/Sienna Parulis-Cook.