Brands looking to promote themselves to a Chinese audience can reap significant rewards from partnering with a Key Opinion Leader (KOL) – someone with an influential social media presence and large following. KOLs are personalities that are both trusted and admired, and their endorsements can have powerful results. For example, in 2013, when Chinese model and actress Zhang Xinyu wrote on social media about a lavender-stuffed teddy bear she had bought in Tasmania, Australia, the producer was subsequently overwhelmed with busloads of Chinese tourists, and sold upwards of 45,000 of the bears.
Though tourist destinations can get a lot of exposure from recruiting celebrity brand ambassadors to visit and post about a destination – for example, actor Liu Ye is an official Chinese tourism ambassador for Israel – a niche travel KOL can reach a more engaged audience. "There is a huge difference" between celebrities and KOLs, explains Chinese photographer and travel blogger Ju Zhu, who has more than 300,000 followers on Weibo and other platforms. "As KOLs, we are expected to write interesting, informative and practical content, and usually we go on quite normal travel itineraries. The integrity and objectivity of our articles foster trust with our fans. Celebrities have a different function. They are great at gaining huge exposure, but their content is hardly informative or detailed." In addition to inspiration, travel KOLs provide their followers with practical tips on what to do and where to stay. Ju points out that KOLs can also use the high level of trust placed in them to successfully promote off-the-beaten-track travel destinations.
Because of the large fees they can charge for endorsements and their wide-ranging influence, becoming a KOL is a popular ambition – there are even official courses offered on how to become a KOL in Shanghai and Hong Kong.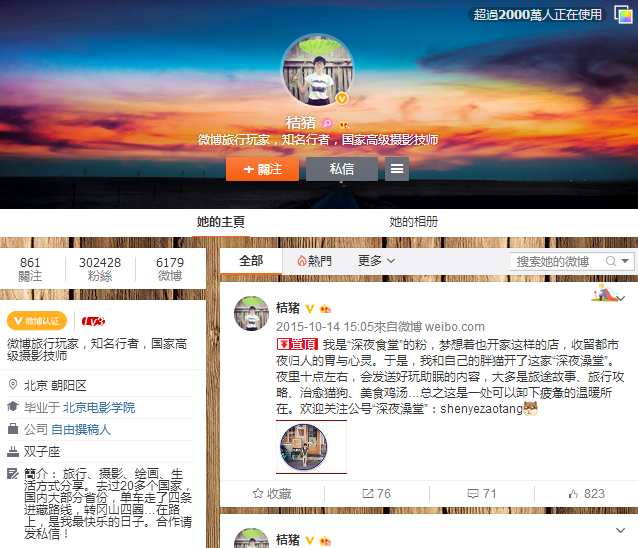 Ju Zhu's Weibo account
However, many of today's most influential and successful KOLs fell into and developed their online careers organically out of passion for their subject. Ju Zhu started out in 2004 as a freelance travel magazine writer. She set up blog accounts to share her articles, and through this became a full-time travel blogger. Luxury travel KOL Mei Li Shi Zu used to work for one of the largest internet companies in Beijing, but eventually left her job to blog full-time. She now focuses on luxury hotels and fine dining restaurants, with 580,000 followers on Weibo and an average of 15,000 views per post on WeChat. KDimage is a gay couple with approximately 970,000 followers on Weibo and an average of 30,000 views per post on WeChat. Kai and De's social media following exploded while they were on a career break in New Zealand in 2010, resulting in the New Zealand Tourism Board and local media engaging them for a campaign. They became full-time travel bloggers in 2013, offering photos, articles and videos, as well as LGBT-focused content.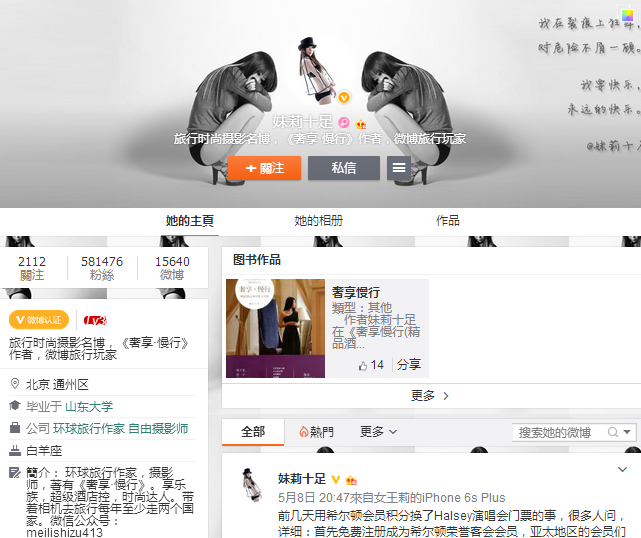 Mei Li Shi Zu's Weibo account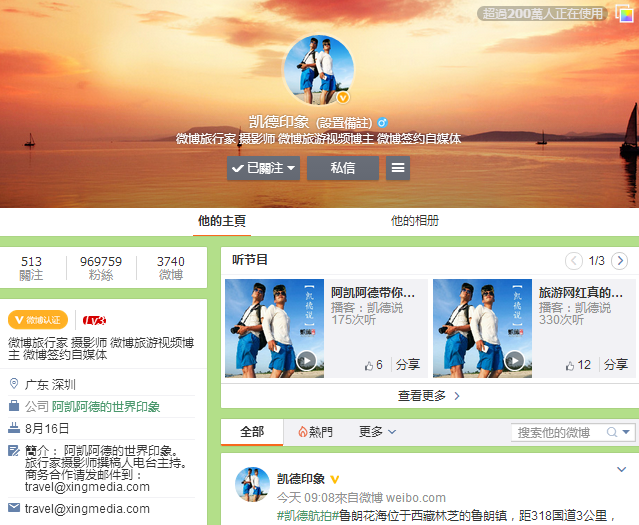 KDimage's Weibo account
Working with KOLs is especially important for winning over a Chinese audience that is more inclined to be inspired by and trust a blog or social media post from a well-known source than traditional advertising. But with KOLs a hot topic and newly popular career aspiration, it can be challenging to know how to choose the right one to work with and how to manage the relationship. Here are five tips for those in the travel industry to help harness the power of KOLs.
1) Beware of fakes. KOLs can charge a lot of money for their endorsements, and so naturally, some people are now pretending to be actual Key Opinion Leaders by buying large numbers of followers on social media. Before starting work with a KOL, look into the level of interaction on their account and their history. Real followers are much more likely to post comments and share, and real accounts will have built up a follower base over time – be suspicious of an account that is relatively new, with only a few original posts, but lots of followers.
2) Look for experts. One of the main differences between celebrities and successful KOLs is expertise. People trust KOLs who know what they're talking about, and this level of expertise will also make them better at promoting a destination or product they believe in. For example, Chinese fashion KOL 'Mr Bags' started out blogging about luxury bags because he is truly passionate and knowledgeable about them – as a student of International Relations at Columbia University at the time, his goal was not to become a famous, paid blogger, but rather to share his knowledge with friends and fellow enthusiasts.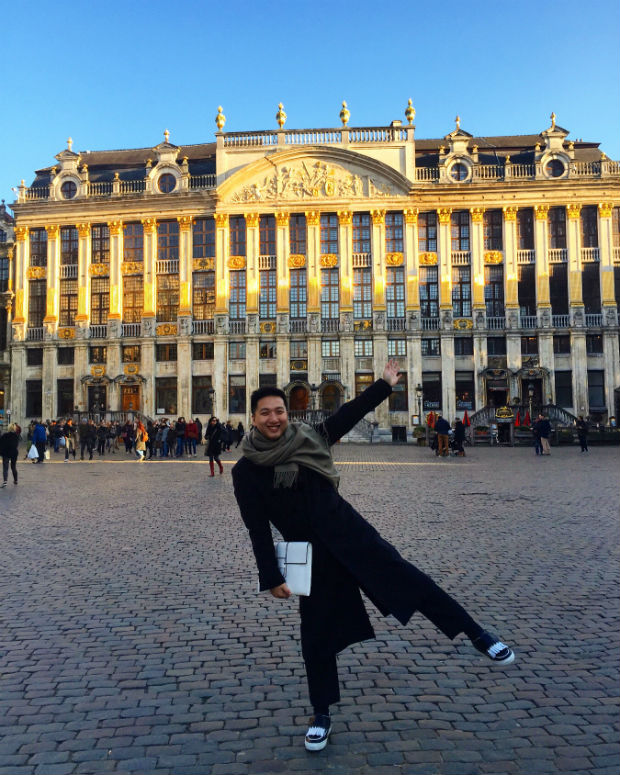 Mr. Bags
3) Focus on engagement. Rather than just looking for the bloggers or celebrities with the most number of followers, focus instead on engagement. Some of the most influential KOLs post about quite niche topics, such as wine or handbags, but this means that they will be followed by a highly engaged and loyal audience, and can generate more profound effects. "Some brands understand the power of KOLs' word of mouth. I did a WeChat promotion for a hotel group, and although the post only had 15,000 views, there was a high degree of interaction with fans, and this is sometimes a much more meaningful metric than exposure," says Ju Zhu. WeChat also feels more personal to users than Weibo, as there is more interaction, and its focus on friends and relationships leads users to trust it more.
4) Develop the relationship. Some KOLs might endorse a different product every day of the week. This ultimately leads to lower ROI and a lower level of trust from followers. Rather than thinking about your relationship with a KOL as merely paying for a certain number of posts, you should focus instead on helping them to really get to know you. This might mean giving them more freedom – Ju Zhu explains that her most successful partnerships have come when she is allowed to write about her true feelings rather than to push a certain agenda. Mr Bags has also commented that he prefers working with companies that trust his opinion and allow him to promote the bags that he truly thinks will be most popular with his audience, not just the designs that the company thinks will do well in China.
5) Go multi-media. In addition to written content and photos, videos are increasingly important for engaging audiences with digital marketing, and this is no less true with KOLs. Look for KOLs who have previously had success with videos, gifs and live streaming, as this can showcase your brand/destination in the most ways possible.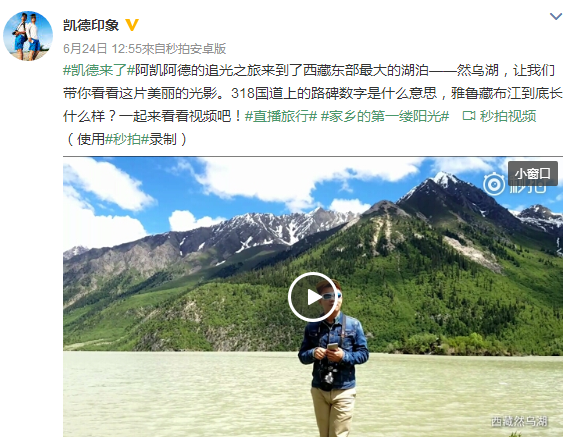 KDimage's short video post on Weibo
6) Choose your channel. The social media channel that a KOL uses can impact the effect they have and how easy it is for followers to connect to you. With WeChat, many KOLs will be reluctant to add in a brand's QR code, as they want to maintain their independent image. With Weibo, travel KOLs can more easily mention/@ the brand, ensuring more visibility for the brand's account and an increase in number of followers. However, Weibo has been capitalizing on the popularity of KOLs and has begun to ask brands to pay a fee to run KOL campaigns where there is an obvious call to action to mention a brand, thus increasing the user base.
7) Set clear goals. In order to make sure you're getting the exposure you've paid for, it's important for brands to set clear KPIs for the KOLs they work with. This can include agreeing on a certain number of articles to write, format, the timing of the posts and whether the brand can share the KOL's content on its channels.