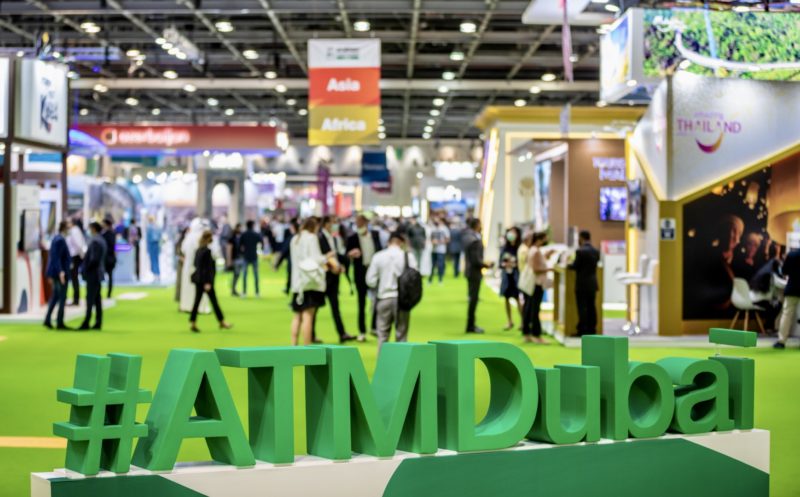 China's May Labor Day holiday has ended in a flood of new data and statistics about the country's outbound tourism recovery in 2023. But what's the experience on the ground? What do tourism businesses need to know about Chinese travelers abroad beyond their numbers? Has Chinese traveler behavior fundamentally changed since the pandemic? At Arabian Travel Market Dubai (1-4 May 2023) we spoke to 15 hotels and hospitality groups to find out what Chinese tourism recovery looks like now, and what's expected for the rest of the year.
1. Flight capacity is the big thing holding Chinese travel back, but it's improving
It's well known that flights connecting China with the rest of the world are lagging behind pre-pandemic levels, and that this is having a major impact on market recovery. Limited flights were the first thing that hotels throughout Thailand, the Maldives, and Indonesia brought up when asked about the return of Chinese travelers. But this situation is already improving as of Q2, with more flights on the way. Numerous Chinese carriers are now operating flights to the Maldives, with more and cheaper flights coming in June; in Thailand, a Chengdu-Krabi route is highly anticipated in June.
Beyond flight capacity, the biggest hold-ups are bureaucratic. One resort in the Philippines admitted that Chinese guests had recently canceled last minute because their visas didn't come through on time. The continued ban on the sale of group tourism products from China until February also held back Chinese New Year travel recovery, and is still impacting the balance between group vs. FIT.
2. When will more recovery come? It starts now.
Just a few months after China reopened, recovery of outbound tourism is gaining steam. Thai hotels are optimistic about the second half of the year. The Pimalai Resort and Spa in Krabi was nearly fully booked for the May Labor Day holiday, with many bookings already for July, when flights from China increase. "The Chinese guests are increasing and the trend is quite positive," says Rommayaporn Moleekul, Director of Sales & Marketing at Silavadee Resort in Samui.
When Dragon Trail last spoke to Graeme Lunn, Director of Sales & Marketing at Le Meridien Phuket Beach Resort, it was November 2022, and the hotel had no firm expectations for Chinese tourism recovery. Just six months later, Lunn says they're expecting 50-60% recovery of the Chinese market this year.
In the Maldives, the market is also picking up. Many hotels shared official tourism board data that China is now the 8th largest source market, up from 10th. There's still a way to go to recover to the no. 1 position China held pre-pandemic, but things are getting better, says Mohamed Mauroof, Cluster Sales Manager at the Pullman Maldives Maamutaa. The hotel is now "getting good bookings on a daily basis."
Similar to other island destinations, hoteliers in Bali are looking optimistically to Q3 and Q4. And they have reason to. Chinese consumers' plans for outbound travel in 2023 have always been concentrated in the second half of the year. In Dragon Trail's January 2022 Chinese Traveler Sentiment Survey, the numbers of people who said they would travel abroad during any of the holiday periods in the first half of the year were modest – only 14% picked the May holiday, for example. But 42% said they planned to travel outbound in July and August, and another 32% were planning an outbound trip during the National Day holiday from 29 September-6 October.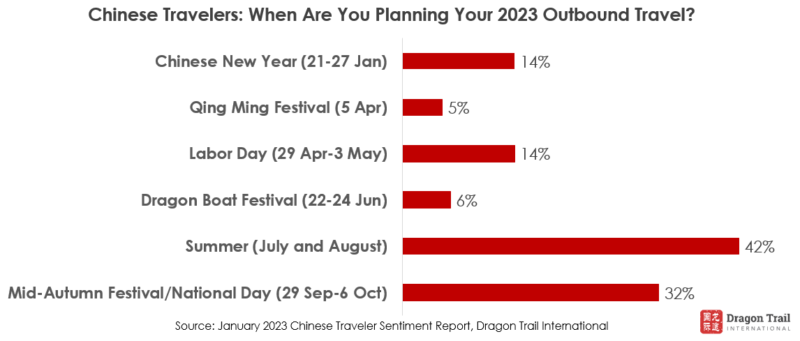 3. Chinese bookings are more last-minute than ever
Before the pandemic, the Chinese market was already known for last-minute bookings, but now the booking window has reduced even further. The Chinese market used to book around one month in advance, says the Pullman Maldives Maamutaa's Mohamed Mauroof; now it's down to two weeks. He says this is due to changing and uncertain flight schedules. At Thailand's Silavadee Resort, rooms are getting booked up by other nationalities with a longer booking window before Chinese guests get the chance.
4. Chinese guests are staying longer
Chinese hotel bookings might be very last minute in 2023, says Thexzen Budi Permata, Senior Sales Manager at the Kempinski Bali, but they are also longer. This trend was echoed by hoteliers throughout the region. Longer stays have been a major feature of Chinese travel in 2023, says Winnie Chiu, President of Dorsett Hospitality International – a hotel group with 53 properties in 23 cities throughout Asia, as well as Australia and the UK.
At Le Meridien Phuket Beach Resort, Chinese stays that used to average 1.1-1.2 nights, are up to 2.1-2.2. Manish Puri, Chief Operating Officer at Potato Head Bali says two nights is now the minimum for Chinese guest stays. At JA Resorts' Maldives properties, Chinese travel used to feature a packed, bucket-list itinerary to complete over two or three days at the most, says Group Director of Marketing Joanna Huang. These days, the travel is slower, with longer stays of four to five days.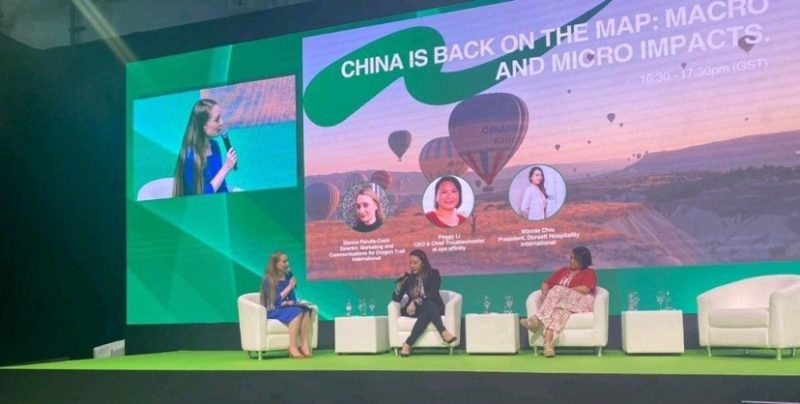 President of Dorsett Hospitality International, Winnie Chiu (center) joined Dragon Trail's Sienna Parulis-Cook (left) and sps:affinity's Peggy Li (right) at an ATM conference session about the recovery of the Chinese outbound travel market
5. The Chinese traveler profile has changed, but will this last?
From Dragon Trail's experience in 2023, the number one question that the travel industry wants the answer to, is how the Chinese traveler profile has changed since 2019. Based on feedback from the hospitality industry, we know that there are changes in 2023 – but not all of them will be permanent. Instead, it's better to take a big-picture look at how the Chinese market has evolved in the long-term, rather than simply comparing pre- and post-pandemic.
Although Thailand is on the list of approved destinations for the sale of outbound group tourism, every Thai hotel we spoke with said their Chinese guests are now mostly or all FITs. Silavadee Resort used to get group visitors, says Moleekul, but now they're young FITs aged 25-40. Another difference is that Chinese bookings are now online, when they used to be through travel agents. At Le Meridien Phuket Beach Resort, too, the Chinese groups have not yet returned, but the hotel is very happy to transition to an FIT-centered market, which stays longer and brings in higher rates.
So far in 2023, the Chinese market is more high-end and luxury than before, says Permata at the Kempinski Bali. "The Chinese market dominated the mid-tier pre-COVID. Post-COVID, it's the $1,000 per night market that's come back first," explains Mark Eletr, General Manager at Holiday Inn Resort – Kandooma Maldives. But the mass market is coming, he predicts, especially with an increase in cheaper flights via Southeast Asia.
Speaking about the experience of JA Resorts in the Maldives, Huang sees notable differences in how Chinese guests are traveling. They're opting for more wellness activities. Dining is more experimental. They're trying activities like Maldivian cooking classes. They're "making up for lost time" and spending more time with family and friends, including larger multi-generational groups, with extended family. Chinese guests also want to document their experience, she adds, with hired photography services. This kind of slowed-down, deeper travel can be seen as a response to the pandemic years. But it also reflects the long-term evolution of Chinese tourism that began many years ago and is more obvious now after three years' absence.
The Pullman Maldives Maamutaa's Mauroof says he doesn't think Chinese traveler behavior now is very different compared to pre-COVID. But compared to a decade ago, there has been a significant shift. "They don't bring their noodles anymore. That habit changed completely," he says, explaining that when Chinese travelers started traveling to the Maldives, they didn't know what to expect, and brought their own food just in case. Now that they know the destination and its food offerings, instant noodles are no longer on their packing lists.
In summary, some changes – like the total absence of group tours and dominance of the luxury market – are probably short-term and will even out as the year progresses and the mid-tier, mass market returns. But other changes in Chinese traveler behavior are long-term, with deeper travel and greater confidence now the norm.
6. The travel industry is excited!
Other global tourism markets may have recovered faster, but nothing replaces the gap left by the Chinese, and the industry is excited about what's to come. One major difference and advantage is seasonality. "The Maldives doesn't have a low season when Chinese are traveling," says Aminath Shareef, Sales & Reservations Manager at Maagiri Maldives. In Southeast Asia, the Chinese market is especially important in summer and autumn months when European visitation drops.
Mark Eletr at the Holiday Inn Resort – Kandooma Maldives describes Chinese travelers as "an easy market" compared to other nationalities. They don't expect the Maldives to be China, he says, and are open minded and accepting about differences in culture and cuisine.
This open-mindedness needs to go both ways, and Chinese travelers in 2023 will particularly be looking for destinations that are friendly and welcoming to them, says JA Resorts' Huang. In this way, Southeast Asia and the Middle East both have strong advantages, and are well positioned to benefit from the increase in Chinese outbound travel expected for the rest of the year.