Ctrip and the China Tourism Academy released a report on 4 July 2018 on Chinese summer travel, covering top destinations, travel motivations, demographics and more. We've translated the report to bring you the most interesting, relevant findings for outbound tourism.
1. Escaping the heat
Avoiding the summer heat is the most important motivation for summer travel, with August being the most popular month for summer travel. The Southern Hemisphere is an attractive destination for those looking to escape the heat wave, and according to Ctrip data, the number of sign ups for Australia-New Zealand tours has increased by 50%, while Nordic tours have significantly increased as well. Especially after Iceland's surprising qualification for the World Cup, the number of users searching for Iceland on Ctrip grew by nearly 600%.
2. Family Travel Is Key
The second biggest motivation for summer tourism is travel with children and study tours. The number of Chinese outbound tourists traveling with family over the summer is as high as 58%. Long vacations, visa relaxation, positive exchange rates, increased flights, travel agents' promotions and other factors have all stimulated the growth of summer outbound travel.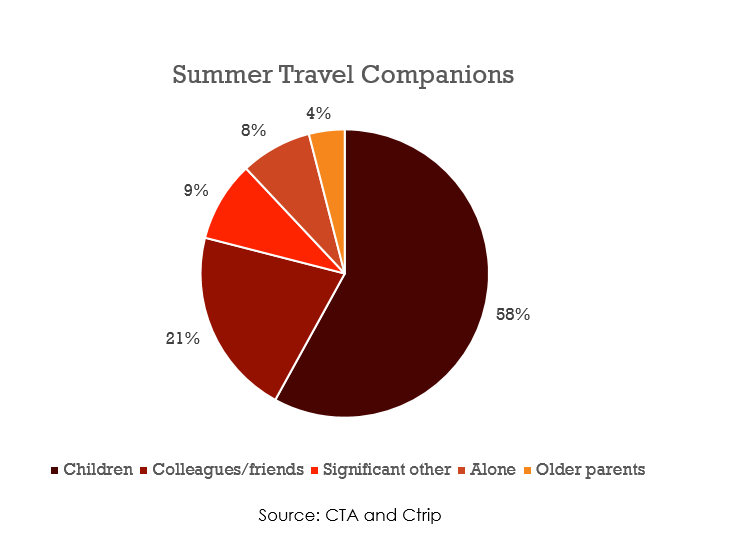 3. Summer Travel Is Young
The third largest reason for summer travel is the graduation trip. "Graduation tours" have become the most important way to celebrate the end of high school and university. Chinese outbound tourists are getting younger and younger, with 36% under the age of 18.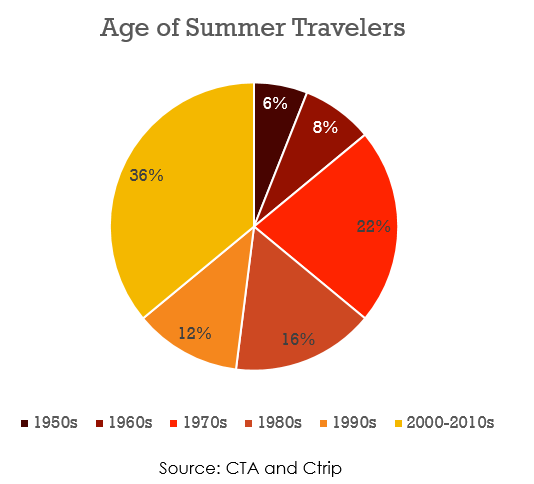 4. Top Destinations
According the report, the top 15 most popular outbound travel destinations for 2018 summer travel are: Thailand, Japan, Singapore, Russia, Spain, USA, Vietnam, Malaysia, UK, Italy, Indonesia, Australia, Germany and Canada. East Asia and Southeast Asia remain the most popular destinations. Influenced by the 2018 World Cup, Russia jumped from 10th place last year to 4th place in the top summer travel destinations ranking.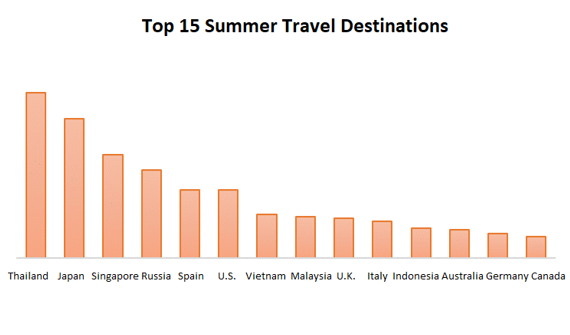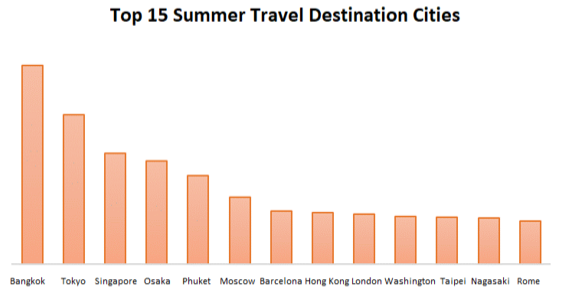 5. Educational Tourism
Bangkok, Tokyo and Hong Kong are the most popular destinations for educational travel in terms of short-term travel. For long term travel, Moscow, London, and Washington are the most popular places. The report predicts that the educational summer tourism more than doubled from last year. 30% of educational tour travelers come from the 9 million graduates this year, with a budget of more than 20,000 yuan per capita for overseas study tours.
6. Top 10 Surprising Destinations