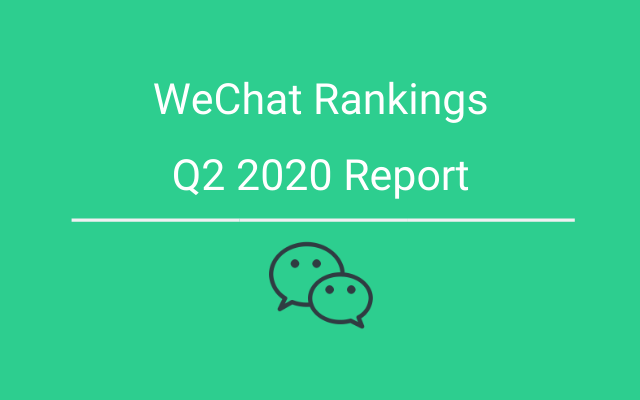 Executive Summary
Dragon Trail's WeChat Rankings Report for Q2 2020 examines and analyzes the performance of six categories of travel brands on WeChat: national tourism organizations (NTOs), destination marketing organizations (DMOs, referring to regional and municipal tourism boards), airlines, cruise lines, museums and attractions, and hotels. A period of time with no outbound Chinese tourism to speak of, Q2 2020 saw a reduction in active accounts and marketing content posted by international tourism boards on WeChat. However, average reading rates stayed fairly consistent in most categories. Much of the most popular content was news related to reopenings and the resumption of flights, showing strong interest in the recovery of international travel.
Introduction
This report focuses on an unprecedented three-month period of Chinese tourism marketing on WeChat, during which there was no outbound Chinese tourism to speak of. Despite numerous articles titled "See you soon" or "We're waiting for you," by the end of the quarter there were still no travel bubbles or air bridges between the Chinese mainland and anywhere else, international flights continued to be limited to one route per carrier per week, and almost anyone returning to China from abroad faced a strict 14-day stay in a quarantine center.
Yet there were glimmers of recovery by the end of the quarter, and especially high reading rates for these kind of articles reveal a hunger for news and the resumption of international travel. With the recovery of the Chinese market still a long way off for many destinations, Q2 offers a variety of examples of what travel brands have done to maintain engagement as the virus spread throughout the world.
One very positive finding of our quarterly analysis is that average reading rates for WeChat content published by international tourism brands generally stayed steady compared to the previous quarter – or even pre-pandemic levels. Some accounts did well with standard brand- or destination-related content, but the most-viewed posts in every category tracked was more news-focused, including announcements about reopenings and resumed flights, and updates on travel restrictions. This shows that Chinese consumers are turning to official accounts on WeChat for practical information, not just inspiration or incentives to start traveling again.
Post Frequency, Active Accounts, and Reading Rates
On the whole, there were 11.7% fewer active international tourism brand accounts on WeChat in Q2 2020 than in the previous quarter. The brands that were active posted less than in the previous quarter, and compared to Q2 2019. However, apart from cruise lines, average views per post either stayed equal to or increased compared to the same quarter in previous years.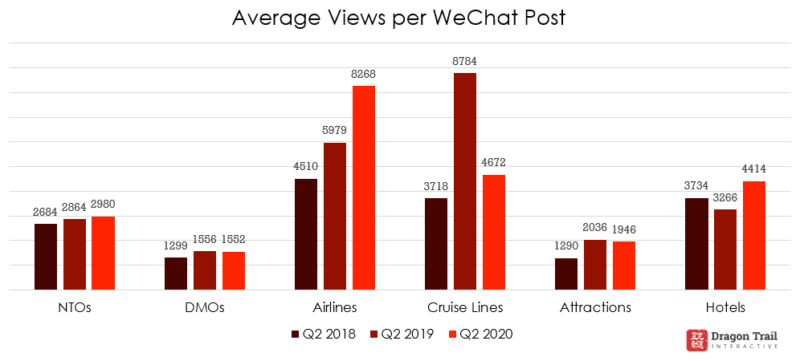 While the pandemic may have held back further growth in reading rates for tourism brands' content, the relative stability shows a loyal follower base and sustained interest in these destinations, attractions, and companies despite the suspension of outbound tourism.
NTOs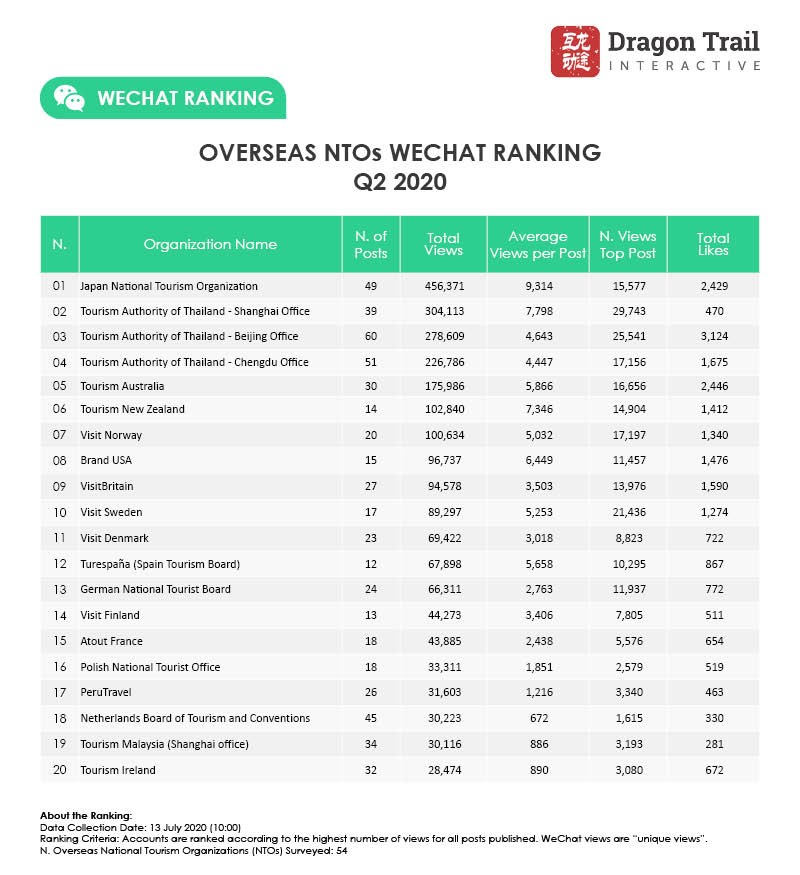 Leading the rankings for the 10th quarter in a row, Japan maintained nearly the same average views per article compared to both Q2 2019, and Q1 2020. The tourism board did not reduce the amount of content posted – in fact, they barely changed strategy or acknowledged the virus, apart from a few updates about the country's state of emergency. They posted multiple articles about cafés, as well as area guides, and articles on shopping, kimonos, spas, theme parks, and architecture. But the Japan National Tourism Organization's most popular post, with 15,577 views, was an announcement that travel restrictions would stay in place through the end of June.
The Tourism Authority of Thailand (TAT) did extremely well this quarter, with at least one of its three accounts* in the top three NTOs by total article views for each week of the quarter. The week of June 13-19, all three of the top NTOs were TAT accounts.
TAT's combined accounts posted more times than in Q1 2020, but compared to Q2 2019, there was an above-average reduction in content, compared to other NTOs. This shows that the tourism board's strong performance for the quarter is due to appealing content and interest from WeChat readers – not just as a result of a less competitive playing field.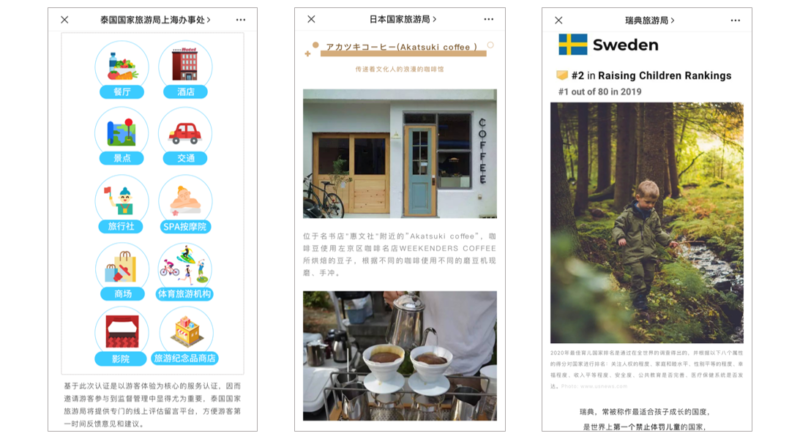 WeChat content from NTOs, Q2 2020. Left to right: An introduction to Thailand's new Safety and Health Administration, a post from Visit Japan on Tokyo cafes, and an article from Visit Sweden on raising children
Some of the most popular pieces of content were on the new Safety and Health Administration, launched by the TAT to regulate the safe reopening of the country's tourism sector. The Chengdu office also ran some Chengdu-focused promotions and posts – there are potential plans in the works for Thailand to open travel bubbles with specific regions of China with low infection numbers, and it looks like Chengdu might be one of them. TAT accounts also published strong content for both Mother's and Father's Day, some popular shopping-related posts, articles on tropical fruits, and area guides. The top NTO post of the quarter was TAT Shanghai's 15 May announcement that mainland China would be removed from the list of "dangerous disease zones," with 29,743 views.
The third-most popular NTO article of the quarter was Visit Sweden's post on raising children in Sweden, with 21,436 views. Historically, articles on schools and raising children in other countries always attract a lot of attention on WeChat, including a 2018 article from Visit Helsinki on a children's hospital, and a 2019 article from the Japan National Tourism Organization about kindergartens.
*Unlike most national tourism boards, TAT runs separate WeChat accounts for its Beijing, Shanghai, and Chengdu offices, rather than one centralized WeChat account.
DMOs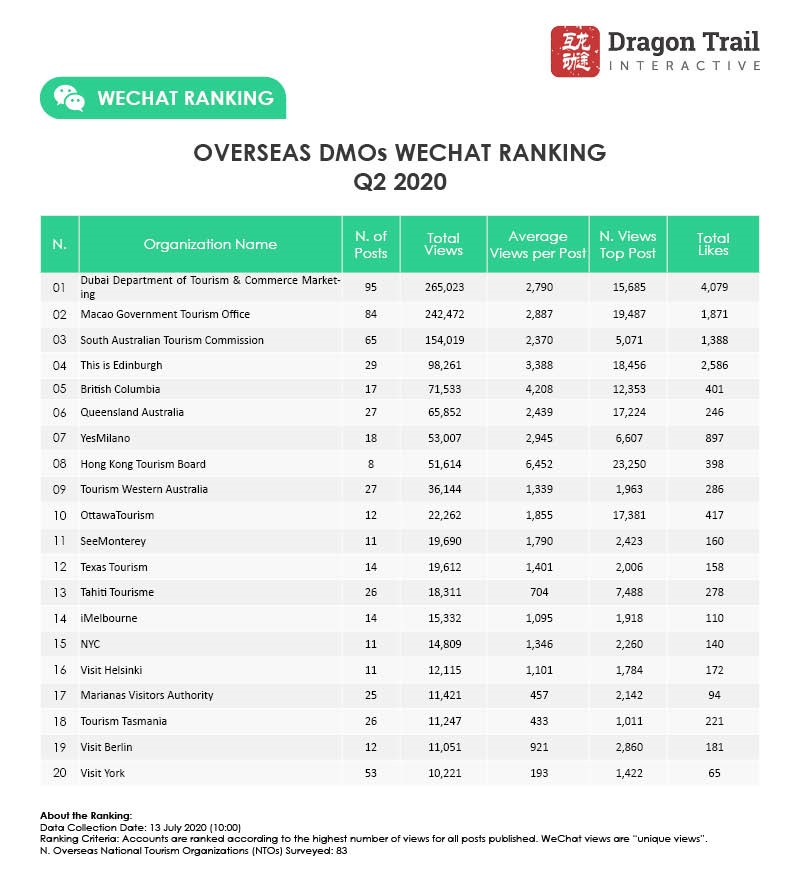 DMOs around the world have had their budgets and activities cut back due to the pandemic, and it is in this category that we can see the biggest difference in the amount of published WeChat content. The number of active accounts dropped more than 20%, from 67 in Q1 to just 53 in Q2. The number of articles posted by DMOs fell by nearly 32% from one quarter to the next, and by 37.5% compared to Q2 2019. The average views per post, however, have barely changed at all compared to the previous quarter or the same period a year earlier.
Ranked in 1st place for total number of article views – thanks in part to also having the highest number of articles published during the quarter – Dubai adjusted their content strategy this spring. Normally, the account regularly posts shopping-related content, but in Q2 there wasn't a single article about a shopping mall. Instead, the focus shifted to nature, culture, and outdoor activities, with frequent images of camels in the desert and other wildlife.
Ranked 2nd for total views was Macau. The city has seemed close to being able to open to tourism from the Chinese mainland since May, but as of mid-July, this is still on hold. The DMO's top post, with 19,487 views, was the early May launch of the Macau Health Code app, which seemed like it might bring about the return of tourism to the SAR. Other popular articles have included updates on quarantine rules and nucleic acid testing at the border, alongside promotions for "Macao Ready Go!" local tours, and more standard posts about iconic foods and local restaurants.
In third place, South Australia posted content with no obvious difference from the pre-COVID era. Topics included cute animals, a guide to beaches in Adelaide and Kangaroo Island, and local activities. Next was Edinburgh, which focused on city photography featuring classic views and sunsets. The Scottish capital also published the third most-viewed DMO post of the quarter, a UGC-powered article on followers' memories of Edinburgh, with 18,456 views. This kind of nostalgic content always performs well for Edinburgh, but perhaps resonates even more during a time when international travel is so limited.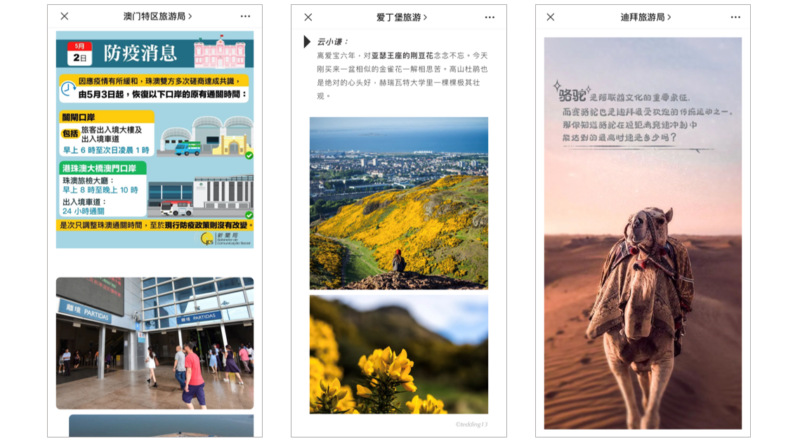 WeChat content from DMOs, Q2 2020. Left to right: Macau's new health code came into effect in May, Edinburgh asked followers for their memories of the city, and Dubai focused more on nature and outdoor activities
The most-read post of the quarter was from the Hong Kong Tourism Board with 23,250 views, a 17 March informational article about mandatory quarantine requirements for anyone entering Hong Kong. The tourism board has not posted on WeChat since the start of April.
Airlines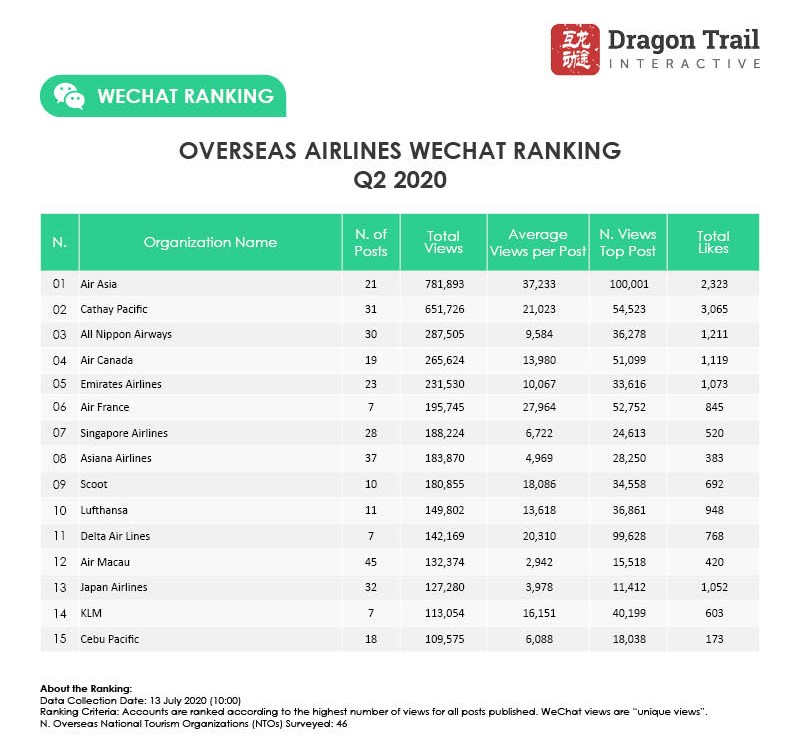 At the start of the quarter, most of the top posts from airlines were about cancellations and suspensions. While this continued to be a common note throughout the proceeding months, by the end of the quarter, the messaging had started to turn a corner, with Air France, Air New Zealand, Delta, and United, among others, announcing resumed flights with China. Lucky draws from airlines like AirAsia and Asiana Airlines have kept followers engaged, while Cathay Pacific (ranked 2nd) posted about hygiene protocols and gave travel recommendations.
The only airline post to surpass the 100,000 view mark – by far the most-viewed piece of content by the leading airline account – was AirAsia's announcement at the end of April that they had resumed domestic flights (in Malaysia). Delta's post at the end of June about resuming US-China flights came close, with 99,628 views.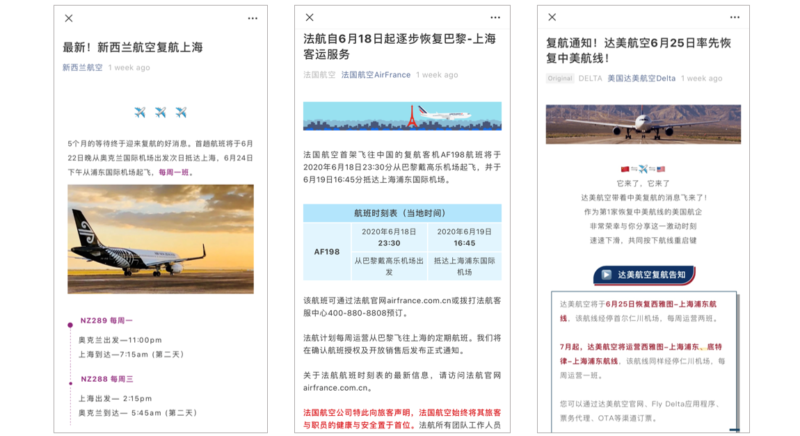 News of resumed flights got the most attention on WeChat in Q2 2020. Pictured (left to right): Air New Zealand, Air France, Delta
Average views for airline content soared in Q1 and continued to climb in Q2. While international leisure and business travel may be at a standstill, there are a few other factors at play: First, people are interested in news about when flights might start again so they can travel once more. Second, those who previously booked travel are likely to be using airlines' WeChat service accounts to check about cancellation and refund policies. And thirdly, there are many Chinese students and professionals around the world who have been unable to get home because of the sharply reduced volume of flights, and they will be watching news of flight resumptions very carefully.
Cruise Lines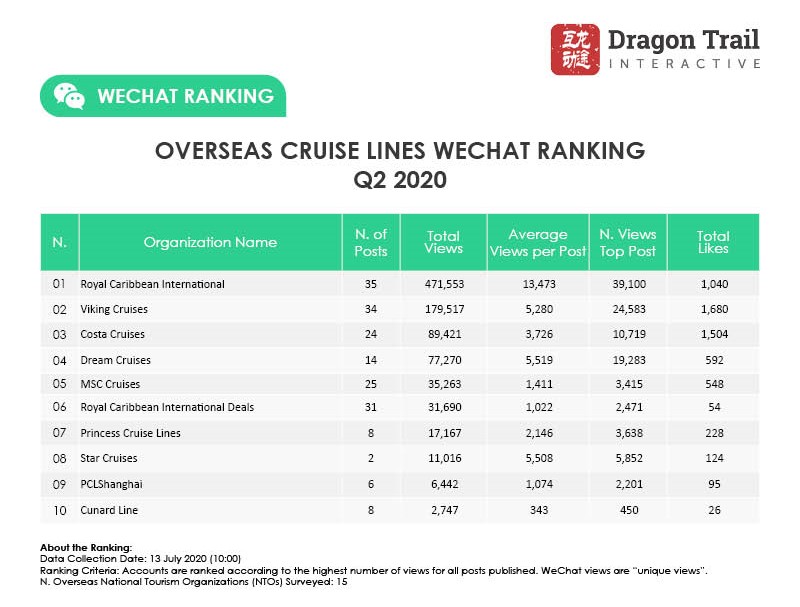 In 2019, views of cruise line content on WeChat surged, especially compared to other categories, showing strong interest in cruises and also the concerted efforts of cruise lines to attract more followers and views. In the first quarter of 2020, as cruises were cancelled and stories of virus-stricken ships made headlines, the average views climbed even higher. But in Q2, views of cruise line content plummeted in a way we haven't seen in any other category, offering a sobering look at consumer sentiment – and potentially a major reduction in advertising during this period.
Leading cruise lines in China like Royal Caribbean, Dream Cruises, and Costa Cruises, have made major pushes to keep selling even during this period. Royal Caribbean especially is rolling out new deals all the time: discounted tickets, buy-two-get-the-third-free, "put down a deposit to get bigger discounts." Costa is looking ahead and promoting itineraries for 2021.
Viking Cruises, on the other hand, has taken a different approach, publishing interesting content instead of sales promotions, with a focus on European culture: Their top articles included a post on psychoanalyst Carl Jung, food in Germany, classical music in Europe, painting, wine, and facts about the Danube River. As of the last update, they've suspended sailings through 31 August, but have used this period to brand themselves as more upmarket, and help travelers get to know Europe on a deeper level – all of which is very much in line with the cruise line's product and brand.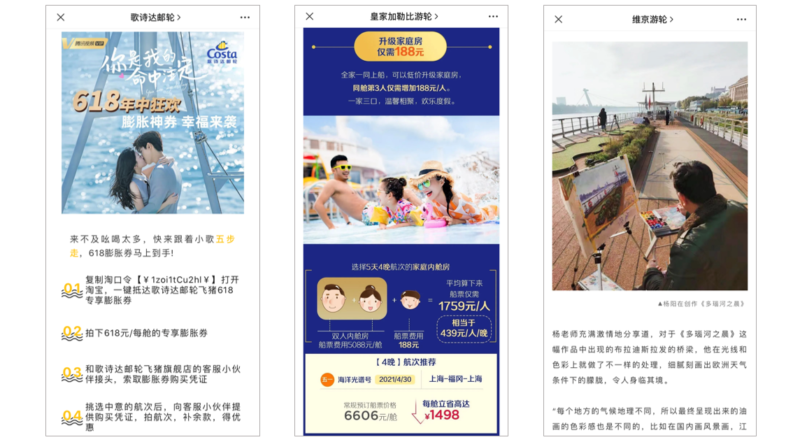 While leading cruise lines like Costa Cruises and Royal Caribbean pushed sales promotions, Viking Cruises focused on cultural topics in Q2 2020
The cruise line post with the highest views for the quarter was not a promotion, giveaway, or article about cultural content, however. With 39,100 views, Royal Caribbean International's late April news that Quantum of the Seas had finally brought her 353 Chinese crew home safely after 66 days at sea, was the story that got the most attention.
Museums and Attractions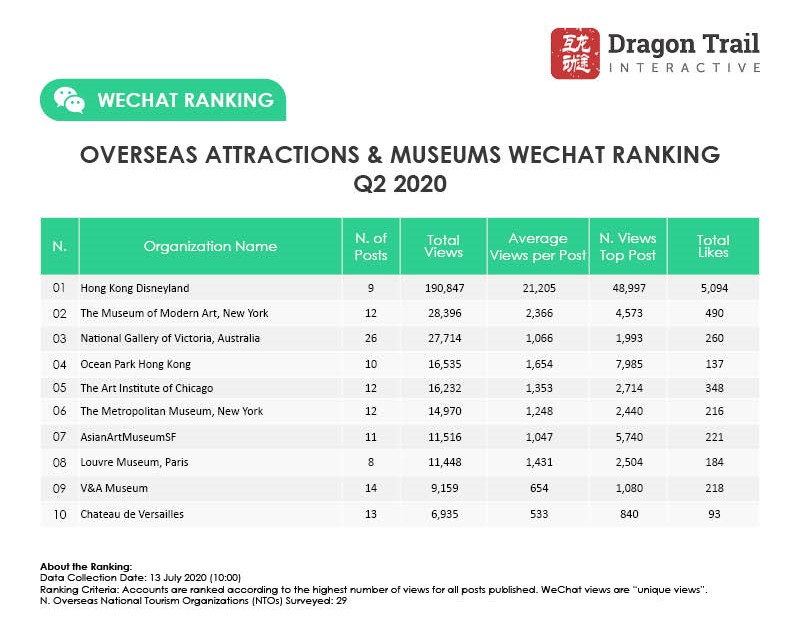 In Q1, museums and attractions around the world posted a little bit of content adapted for the COVID-19 era, acknowledging China's lockdown. But by Q2, many if not all of these museums themselves were closed down, and we saw a greater shift in the kind of content they put out. Hong Kong Disneyland, NGV, and the Art Institute of Chicago all gave virtual tours. MoMA published a coloring book. Disneyland showed followers how to draw Mickey Mouse. The NGV, V&A, and Getty Center all posted content from their art re-creation challenges.
As with airlines, we could see a slight shift by the end of the quarter, as some venues began to reopen: Hong Kong's Ocean Park and Disneyland in mid-June, and the NGV at the end of the month. Of course, Chinese not living in those destinations still can't visit, but it's a start.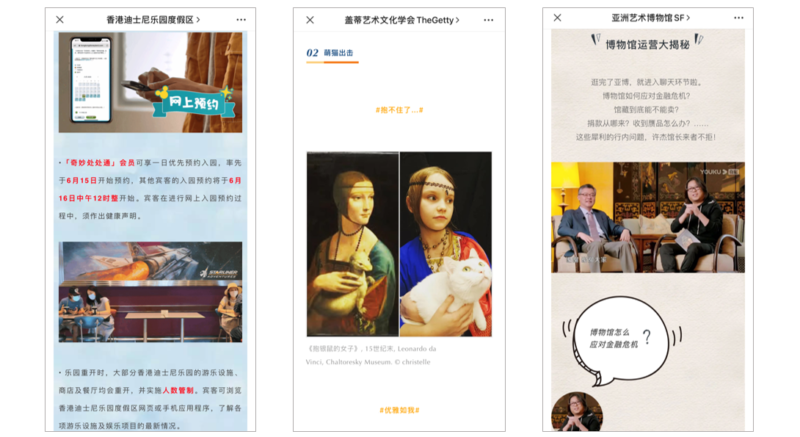 WeChat content from museums and attractions, Q2 2020 (left to right): Hong Kong Disneyland reopened, the Getty Center and other museums started art re-creation challenges, and the Asian Art Museum hosted Chinese composer Gao Xiaosong for a tour
While views of museum and attraction content fell in the first quarter of the year, the numbers rallied in Q2, though they're still a bit lower than this same period a year ago. Hong Kong Disneyland as always stands out significantly, getting nearly 50,000 views for the announcement of its reopening on 18 June. Ocean Park also received nearly 8,000 views for its reopening announcement in June, and San Francisco's Asian Art Museum got 5,740 views for a 24-minute video featuring Chinese composer Gao Xiaosong, on a guided tour with the museum's director.
Hotels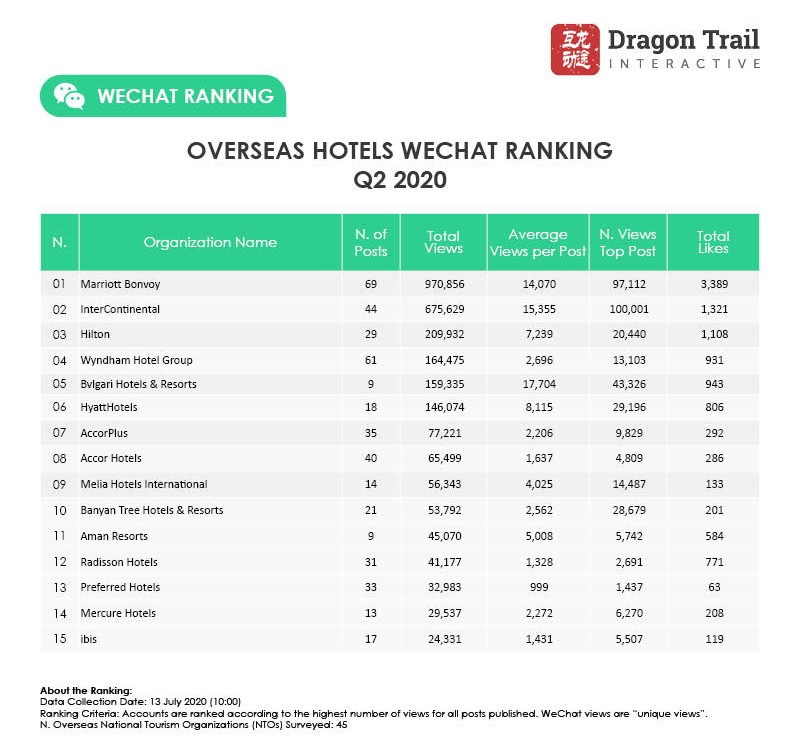 International hotels on WeChat are a different category from the rest because, largely speaking, they have properties in China. As China's domestic tourism market bounces back, they can actually make sales now. In Q1, hotels did a great job at engaging with and entertaining their Chinese audience on WeChat. In Q2, it was all about stimulating sales, with non-stop offers from IHG, Marriott, and Hilton, among others. These included discounted rooms, flight and room night packages, lucky draws, giving extra points, coupons galore, live streaming promotions with Ctrip and through Taobao, and even a discounted buffet from Marriott – a form of hotel dining we didn't think would survive the pandemic.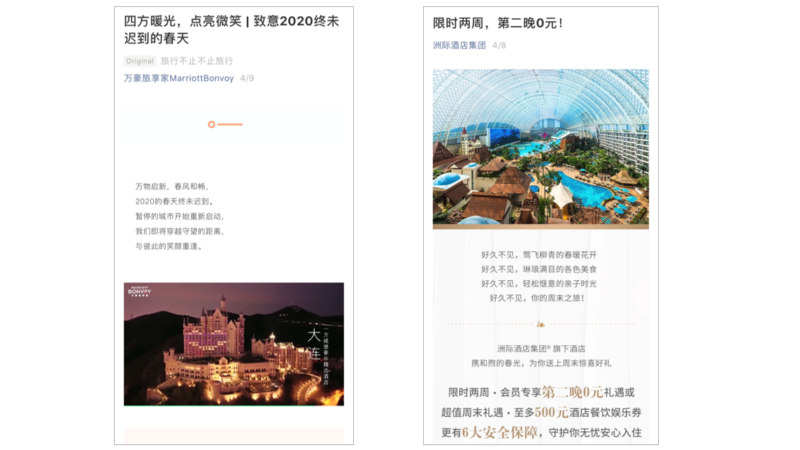 The most-viewed posts from international hotel accounts on WeChat in Q2 2020: April promotions from Marriott and IHG
IHG rose significantly in the rankings this quarter to second place, up from 8th in Q1 and 11th in 2019. They also published the quarter's most-read post, an early April buy-one-get-one-free offer, with more than 100,000 views. That same week, Marriott came close with 97,112 views for a lucky draw to win a hotel room coupon.