Dragon Trail's WeChat Rankings Report for Q3 2020 examines and analyzes the performance of six categories of travel brands on WeChat: national tourism organizations (NTOs), destination marketing organizations (DMOs, referring to regional and municipal tourism boards), airlines, cruise lines, museums and attractions, and hotels.
An increase in average reading rates for content published in Q3 2020 compared to the same quarter in 2019 offers encouragement for brands that have continued to stay active on WeChat during the pandemic period. As the only outbound destination to open to mainland visitors by the end of the quarter, Macau's account excelled among all tourism-related WeChat accounts for activity and attention, though Thailand also had a strong quarter. News about resumed flights stood out for airlines, and attractions managed to retain attention with interesting content, though the sharp decrease in reading rates for cruise lines compared to last year reveals the challenges faced by the industry.
Reading Rates
With the exception of Guangdong residents being allowed to visit Macau as tourists from August, there was no outbound tourism from China in Q3 2020, and the number of active accounts and articles posted on WeChat decreased significantly compared to the same period in 2019. However, comparing Q3 2019 with Q3 2020, this last quarter actually saw an increase in average views per WeChat article in every category except for cruise lines. This continued engagement offers encouragement for brands that have continued to stay active on WeChat during the pandemic period.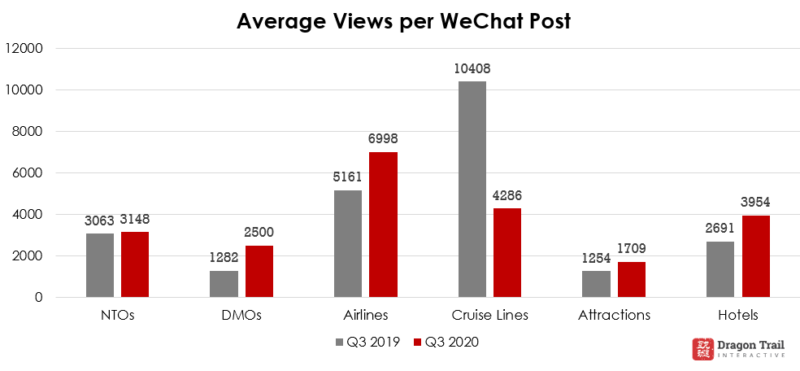 NTOs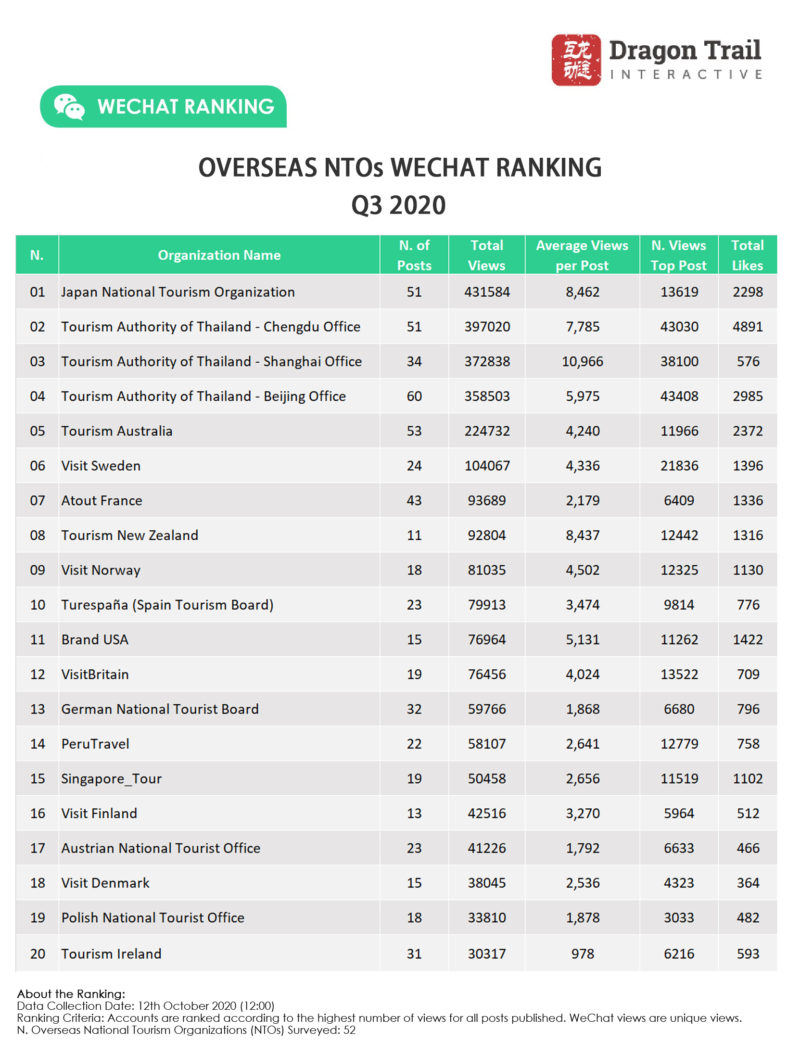 Compared to Q3 2019, there was barely any change in the average number of articles posted per NTO (22.7 in 2020, compared to 23 in 2019), and a 2.8% increase in average views per article.
Leading the category were the Tourism Authority of Thailand's three WeChat accounts, which occupied at least one of the top three places for each week of Q3, and on three weeks took up all three top spots. Their content was varied, including diverse topics like food, COVID-19 recovery, local markets, and white water rafting.
The Thai tourism accounts posted almost exactly the same number of times as they did in Q2 2020, but average views increased for all three accounts, with the most-viewed posts reaching much larger audiences. The top articles in Q3 were a giveaway of a week-long trip to Thailand to celebrate the TAT Beijing account reaching 660,000 followers, and a post on Chiangmai by TAT Chengdu. It's very possible that the tourism board promoted some of their content with advertising during the quarter, but Thailand is also a destination that Chinese tourists have their eye on for when travel there becomes possible again.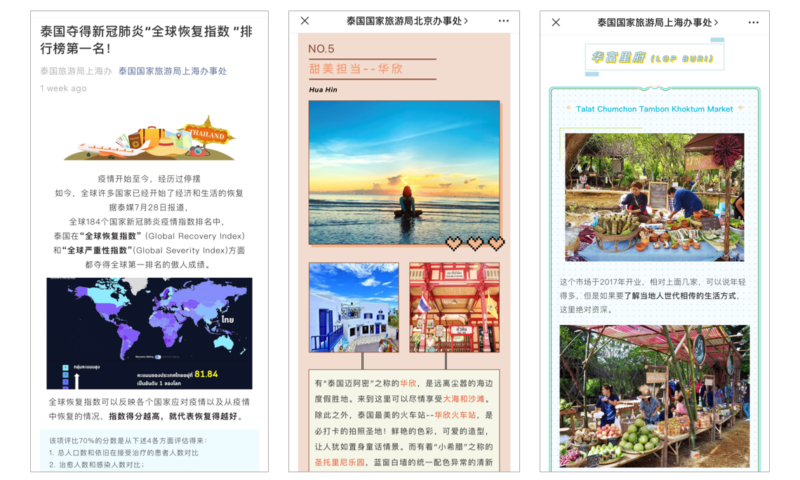 The Tourism Authority of Thailand's three WeChat accounts stood out among all national tourism boards in Q3 2020
The only other accounts to make it to the weekly top three for the quarter were Japan – which focused mainly on city and area guides, with some food-related content – and Tourism Australia (just twice).  Australia posted almost twice as often in Q3 as in the preceding quarter, but average views per post were down by 38.3%. Sweden, in 6th place, also posted more in Q3 by average views were down by 17.4%. The top article, an introduction to Stockholm, got 21,836 views. France, Norway, and Brand USA all saw some decline in average views per post. The overall top 20 list is fairly similar to Q2, topped with Japan, Thailand, then Australia, as well as Brand USA and Peru from the Americas, and 11 out of 20 from Europe.
DMOs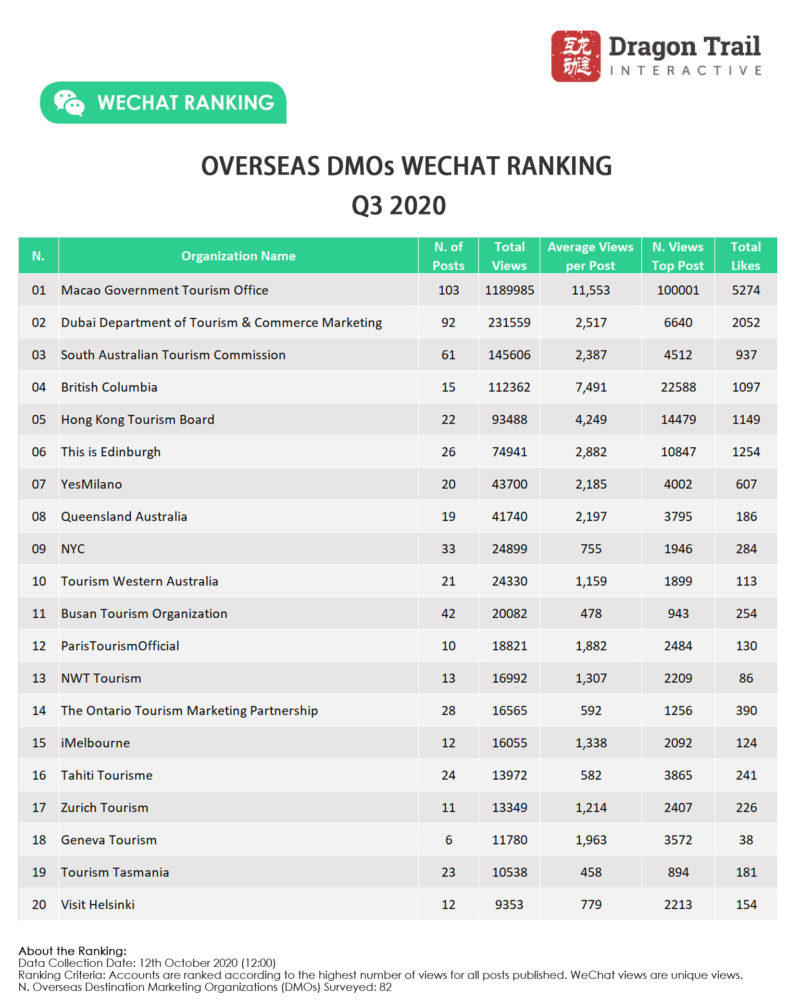 The star of Q3 2020 on outbound tourism-related WeChat is Macau, and its top posts tell the story of the first outbound destination to open to tourism from the Chinese mainland with no quarantine on return. The quarter started with news on lifting of quarantine for mainlanders who work in Macau, then progressed as Guangdong citizens could visit as tourists, and finally the SAR started issuing tourism visas to all mainland Chinese from September 23. This came with promotion of the "Macau Ready Go" program, hotel deals, giveaways of hotel discount vouchers, and a new guidebook.
Macau's WeChat content received nearly 1 million more views than all other active DMO accounts combined, and significantly more total views and average views per post than any NTO account. With 103 posts, Macau published more than five times more than average for active DMO accounts during the quarter, and 22.6% more than it did in Q2. Macau's WeChat presence helped to drive up average views per post by 61% for the entire DMO category from last quarter, with a 300% increase in average views per post and a 390% increase in total views for the account from Q2 to Q3.

Macau is the first outbound destination to open fully to mainland Chinese tourism, with no quarantine on return, and it stood out among all tourism-related accounts on WeChat in Q3 2020
British Columbia also saw a large rise in average views per post, increasing by 78% from Q2 to Q3. In late July, Destination BC had a couple of strong weeks with posts about Vancouver – just before Air Canada relaunched Shanghai-Vancouver flights in early August. Their most-read article for the quarter was a 29 July article on Vancouver being the world's most liveable city. Content about quality of life overseas generally does well on WeChat – a September 3 article on Victoria, British Columbia being named "World's Best Small City" also got above-average views.
One major shift in the DMO category in 2020 has been the reduction of US accounts at the top of the rankings. In Q3 2019, six out of the top 20 DMOs on WeChat were in the US, with two in Canada. In Q3 2020, the top 20 included three Canadian DMOs, but NYC was the only US account to make the list. Most of the 24 US DMOs we track stopped posting altogether or only published a few articles on WeChat throughout the quarter.
Airlines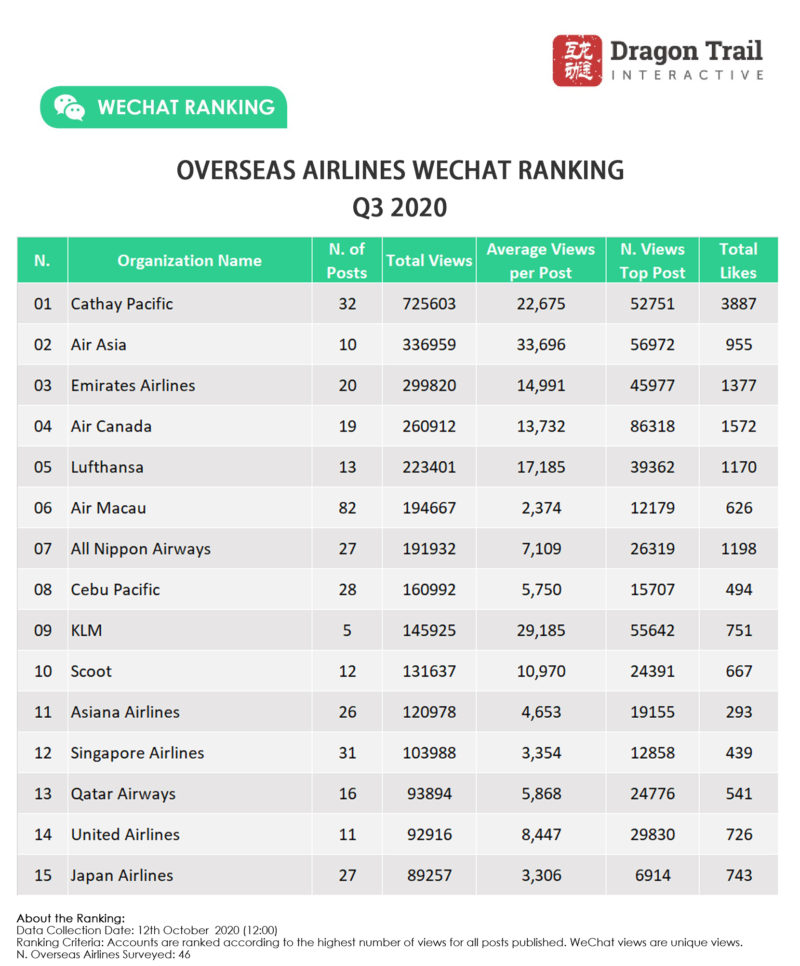 While it may not feel like international travel between China and the rest of the world has even started to recover, Q3 for airlines was all about resumed flights. These are generally limited to one or two flights per week per route, but they are still the start of reconnection. Airlines that restarted or added flights to and from mainland China in Q3 included Lufthansa, Emirates, KLM, Air Canada, United Airlines, Kenya Airways, Air France, British Airways, Air Macau, and All Nippon Airways. The other big news was the reopening of Hong Kong Airport to transfers to or from mainland China on August 15, which was publicized and explained by Cathay Pacific.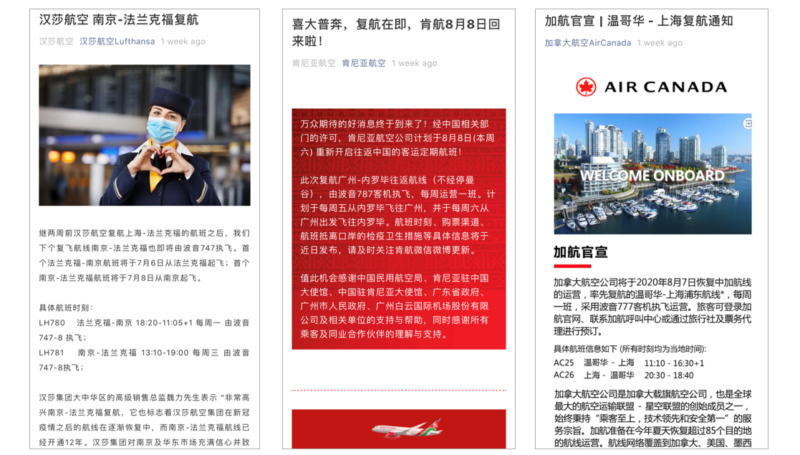 Articles on the resumption of international flights attracted lots of views on WeChat in Q3 2020. From left to right: Lufthansa, Kenya Airways, and Air Canada
Q3 saw a 15.3% decrease in average views per post compared to Q2, but the number of articles posted in this category was the same as the previous quarter, and the airline brands ranked in the top 15 didn't see any major changes either.
Cruise Lines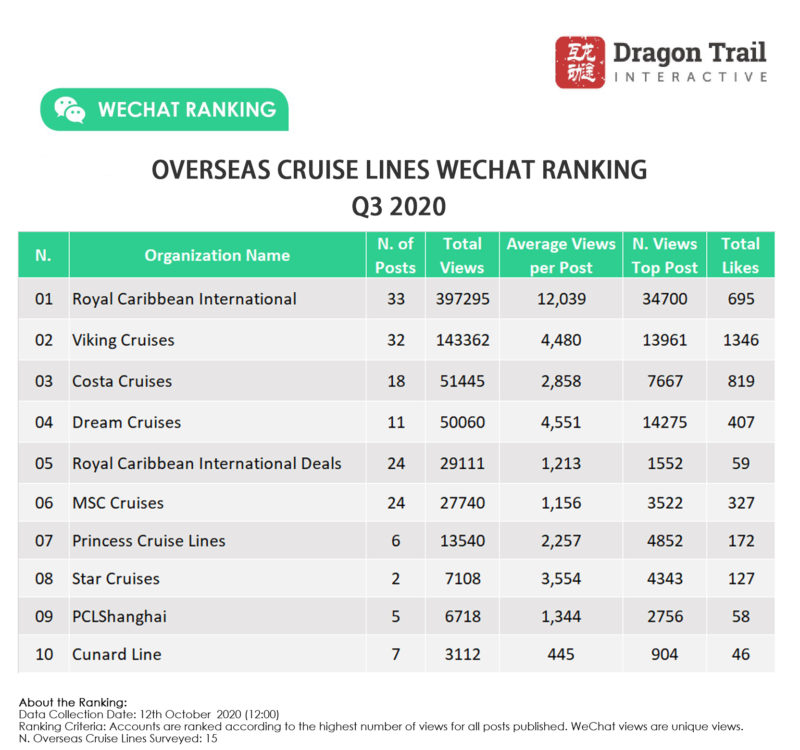 The rankings for cruise lines have stayed consistent from last quarter, with a small 8.3% decrease in average views per post for the category. Considering there are no international cruises leaving China, maintaining this level of engagement could still be seen as an accomplishment. However, average views per post in Q3 2020 were 58.8% lower than the same quarter in 2019.
Among cruise lines, both Dream Cruises and Costa Cruises started sailing again in Q3 and publicized this, more as a show of confidence rather than get bookings for those sailings. Costa's resumed cruises are only in Europe, where Chinese still cannot visit as tourists.
Viking Cruises restarted domestic Chinese river cruises, and also offered architectural tours of Shanghai, offering some products that their Chinese audience could enjoy. Meanwhile, they also ran a few live streaming sessions from Europe and published numerous guides to European destinations and culture. Royal Caribbean also live streamed in Q3 and promoted a wide variety of deals.
Almost all cruise lines in Q3 aggressively promoted early bookings, looking ahead to 2021. These included putting down deposits to get discounted prices, a 2021 price guarantee, free passengers when you make a booking, and even a somewhat strange deal from Costa at the end of the quarter to buy on-board pizza vouchers for just RMB1.
The other theme that all cruise lines had in common in Q3 was posts about their strong health and hygiene protocols – articles like these were published by Dream Cruises, Costa, Viking, and MSC.
Museums and Attractions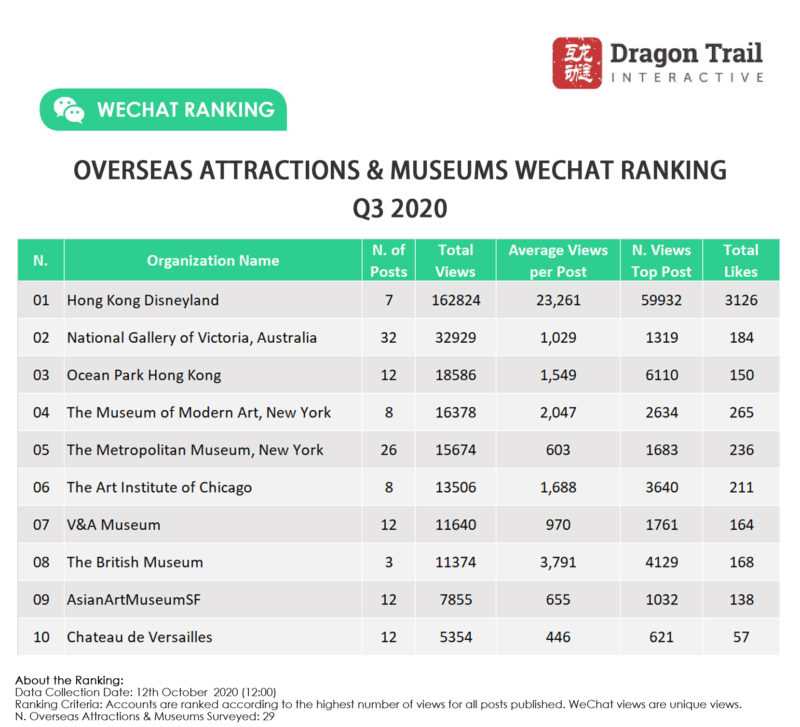 There were fewer active accounts on WeChat in this category in Q3 compared to Q2, with the notable suspension of activity from the Louvre's account – though the Parisian museum has stayed active on Weibo. Average views for museum and attraction content decreased by 12% from last quarter, but actually increased by 36.3% compared to the same period in 2019.
Melbourne's National Gallery of Victoria rose to second place for total views, with weekly roundups, content from their director, online exhibitions and events, and posts on the permanent collection. The museum's average views were similar to last quarter, but the museum posted more content. The British Museum, Metropolitan Museum, and the V&A all promoted e-commerce of museum-branded products.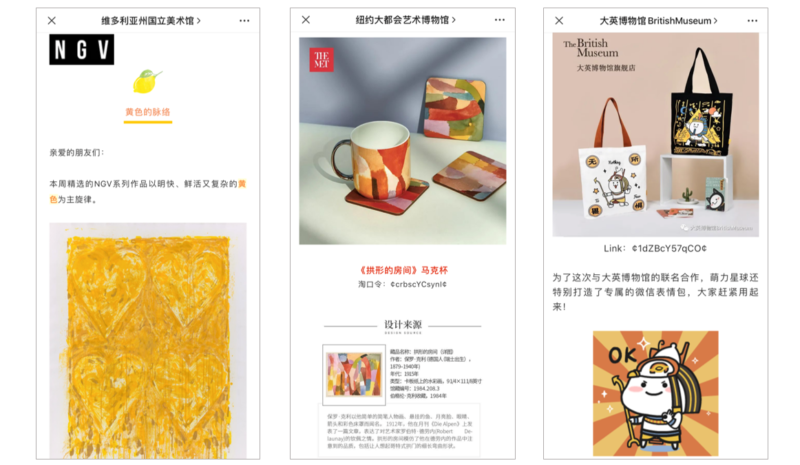 (Left to right): Director's picks at the National Gallery of Victoria, and e-commerce promotions from the Metropolitan Museum and the British Museum
At the start of the quarter, when Hong Kong went back into lockdown, both Hong Kong Disneyland and Ocean Park had to close a month into reopening, on July 15 and 14, respectively. By the end of the quarter, both had recently reopened for the second time. With Hong Kong still off limits for mainland visitors, both theme parks received nearly twice as many views for their closure notices than for their reopening announcements.
Hotels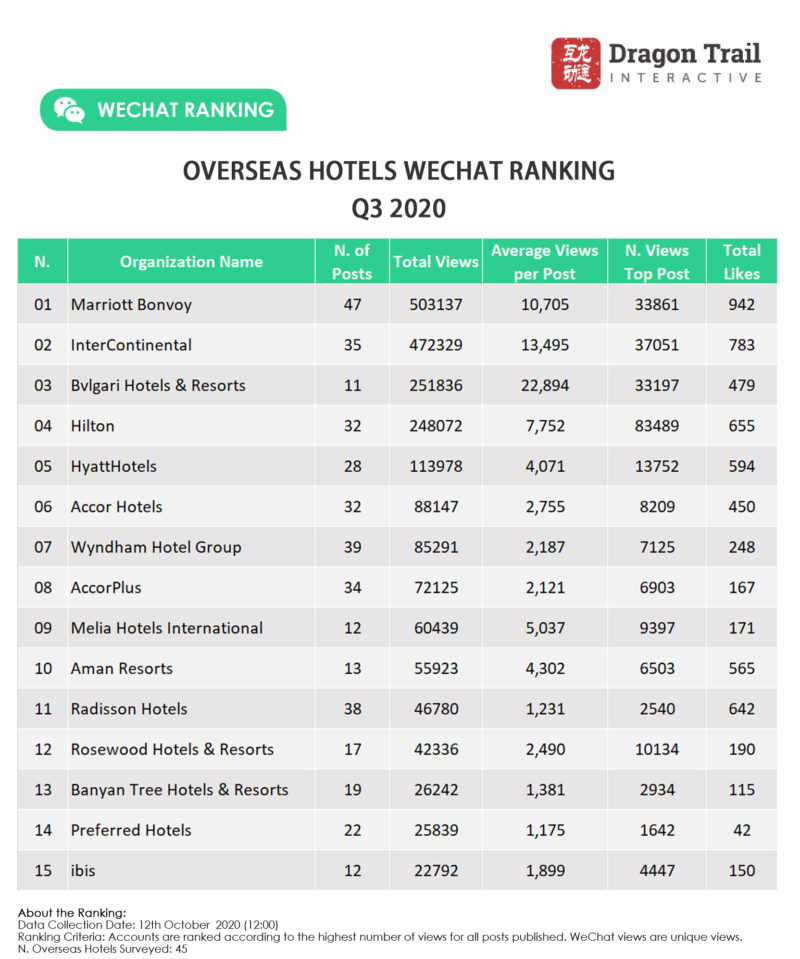 Average views per post for hotels were down by 10.9% compared to the previous quarter, but up by 46.2% compared to Q3 2019.
 International hotel groups rolled out lots of offers to their members in Q3, especially in terms of points promotions. InterContinental offered double points and weekend discounts. Hilton offered double points and double room nights, extending elite status for members. Hyatt offered triple points. Accor offered quadruple points.
Leading up to the National Day holiday at the end of the quarter, we also saw posts on new domestic properties, room night discounts, and Marriott's "Explore the world without leaving the country" campaign.