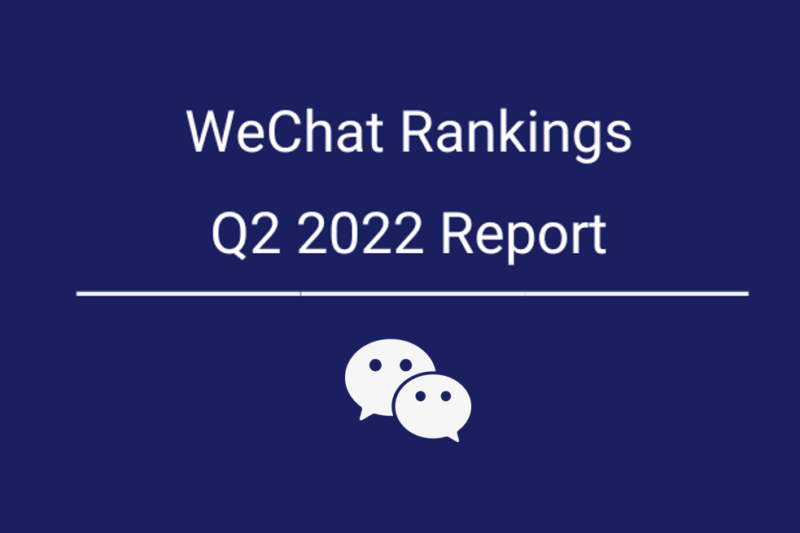 Dragon Trail's WeChat Rankings Report for Q2 2022 examines and analyzes the performance of six categories of travel brands on WeChat: national tourism organizations (NTOs), destination marketing organizations (DMOs, referring to regional and municipal tourism boards), airlines, cruise lines, museums and attractions, and hotels.
Q2 2022 was not a strong period by any means for Chinese travel, yet accounts that focused more on entertaining, inspirational content were able to maintain or even grow readership. At the same time, practical information drove views for the airline category especially, as well as potential visitors to Macau.
Readership
Q2 2022 was not a good period for Chinese travel by any means. The quarter began with Shanghai – one of the country's biggest travel markets – going into strict lockdown that would not be lifted for two months. Beijing citizens were advised not to leave the municipal area. Many other smaller Chinese cities faced their own lockdowns and internal travel restrictions. But at the same time, life under lockdown pushed people's lives to be more online than ever. How did all of this impact reading rates for travel-related content on WeChat?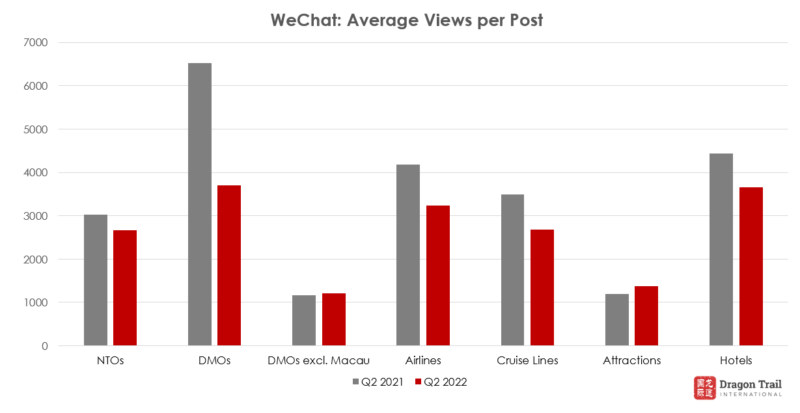 While practical information grabbed attention in many of the articles of the quarter with the most views, it was the kind of accounts that naturally focus more on inspirational content that fared the best. Average views per post for content published by museums and attractions rose year on year. If we take outlier Macau out of the picture, overseas DMO reading rates also saw a slight increase. While views of NTO content did decline, the drop was much less noticeable than for airlines, cruise lines, hotels, or Macau.
As restrictions ease across China, with government assurance that the tourism industry will be part of adjustments in the dynamic COVID policy to support the economy, and international travel starts to pick up slightly with added airline routes and new quarantine and visa policies, we'll see what the effects are in Q3.
NTOs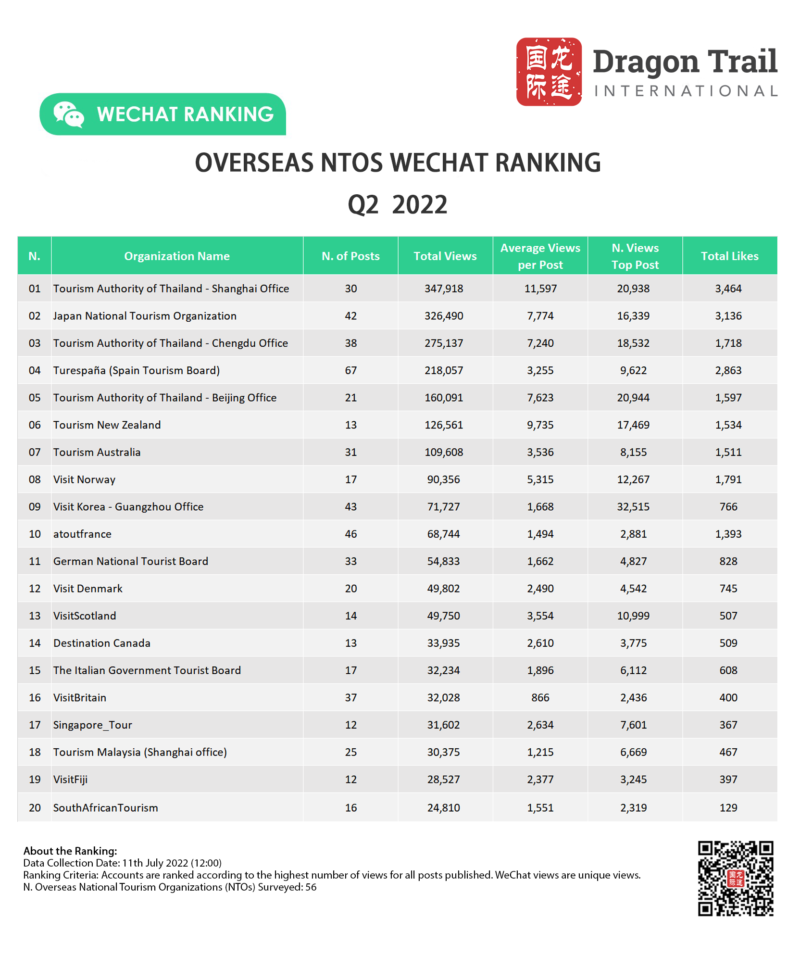 The top five national tourism boards remained the same as last quarter, with shifts in the rankings related more to the quantity of posts – which impacts the total number of views. Japan's average views per post actually increased between Q1 and Q2, but by posting less than half as many times as in the first quarter, the NTO ranked second behind the Tourism Authority of Thailand's (TAT) Shanghai office instead of in first place. Turespaña moved up from 5th to 4th position, due to posting almost twice as many times as the previous quarter.
The most-read NTO post of the quarter, with 32,515 views, was by Visit Korea's Guangzhou Office. To celebrate 30 years of diplomatic relations between South Korea and the PRC, the tourism board ran a spoken-Korean competition, where contestants recorded videos of themselves speaking Korean, and WeChat viewers got to vote for their top choice. This is a unique, engaging, interactive activity that we have not seen previously on WeChat, and something that could be emulated by other destinations.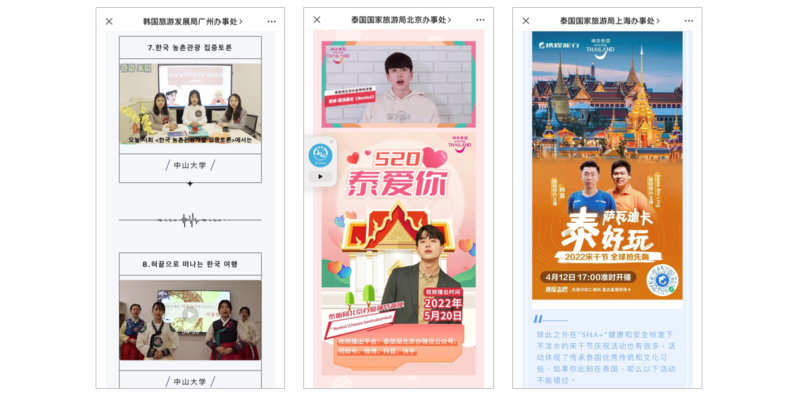 Left to right: Visit Korea's language competition; Tourism Authority of Thailand's 5/20 article; and Songkran Festival live streaming with Ctrip
TAT Beijing's top post, with nearly 21k views, was a video of Thai celebrities wishing viewers a happy 5/20 ("I Love You" Day), alongside content about romantic scenes in Thailand and a giveaway.
With 20,938 views, the TAT Shanghai office's top post of the quarter promoted events to celebrate Songkran Festival, including a live streaming with Ctrip.
DMOs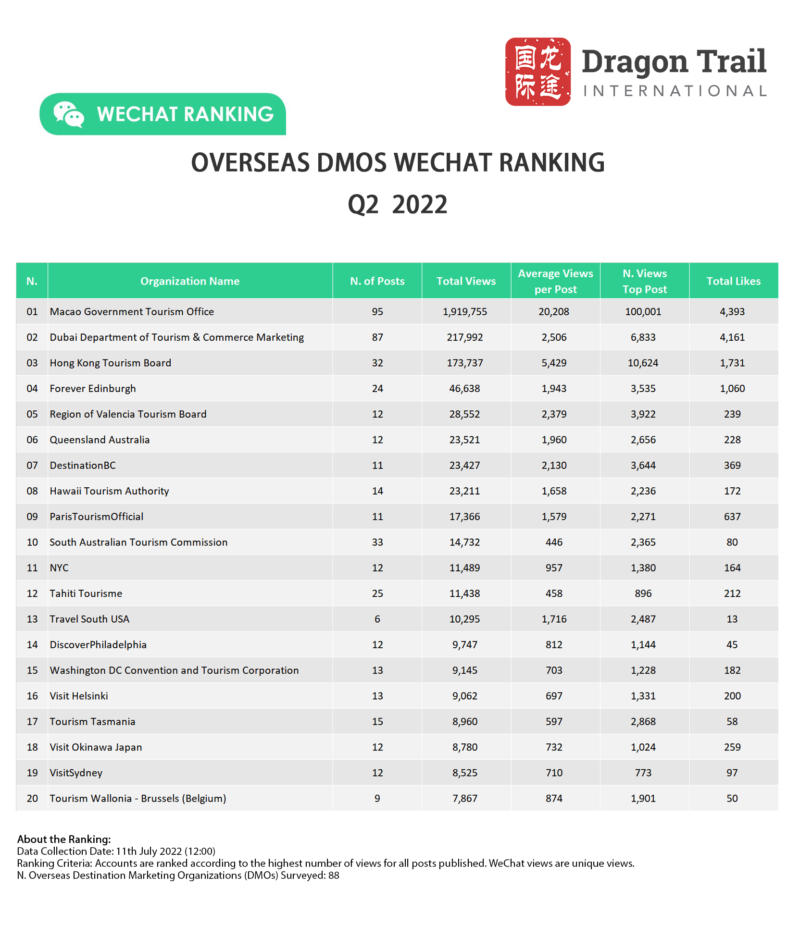 As usual, Macau is an outlier in the DMO category, accounting for 71.7% of all DMO article views. Macau posts nearly six times as many articles as the average DMO, and has by far the highest views per post. Compared to the same period last year, the tourism board's total views were down by 56% – although average views per post were actually almost twice as high. Rather than inspirational tourism content, though, Macau's top four most-read articles of the quarter were all about updates to testing requirements and border restrictions. The fifth was a summer travel promotion for the 618 e-commerce festival, and the sixth was a typhoon warning.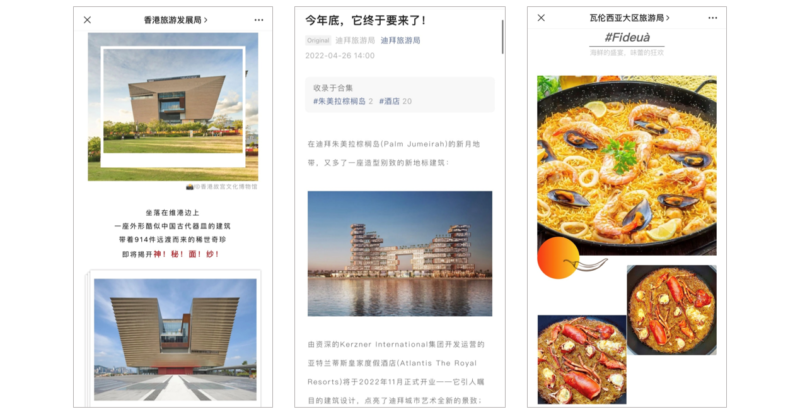 Left to right: A new museum in Hong Kong, a new hotel in Dubai, and seafood specialties in Valencia
Looking at other leading DMO accounts, Hong Kong's most popular article was about the opening of the new Hong Kong Palace Museum. Dubai's top article was about the upcoming opening of Atlantis The Royal Resorts later this year. The Region of Valencia jumped up two places to be ranked 5th for total views, and 4th for average views per post – its most-read article was a guide to local seafood dishes.
Airlines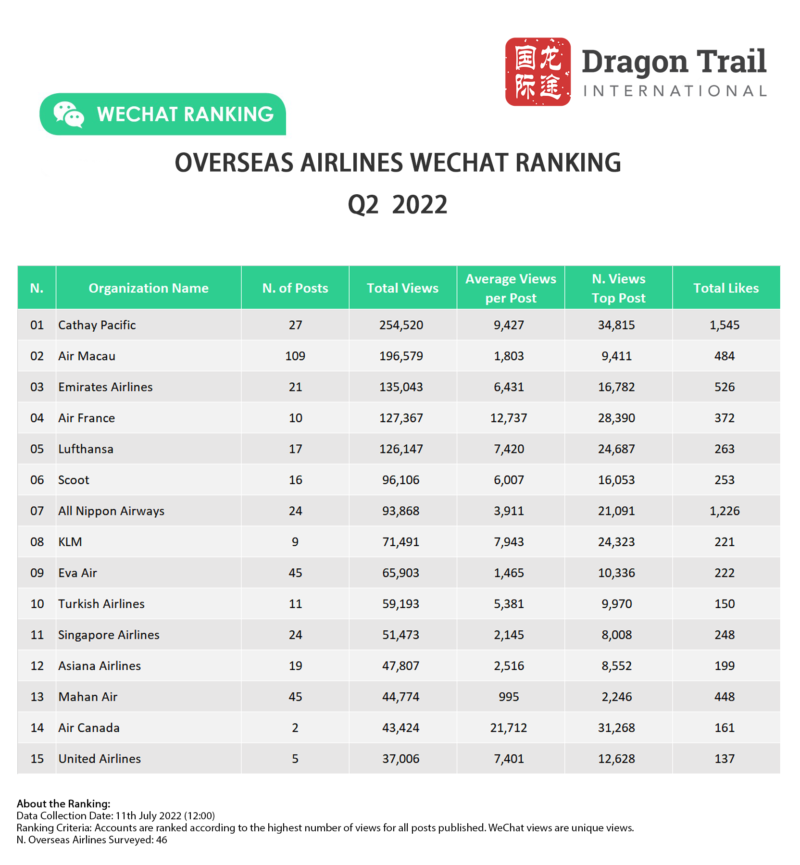 While most categories in our WeChat Rankings are fairly stable week to week, and quarter to quarter, the airline category shows the most fluctuation. This is strongly influenced by high readership for announcements about flight cancellations, travel rules – and on a more positive note, resumed flights. Top posts of the quarter include many from Cathay Pacific: The airline's May and June flight schedule, an article for students traveling overseas, a post about sustainability and green initiatives, and an article entitled "We've quarantined for 200 years for you." Other top airline posts include new entry rules shared by Air Canada, many cancellations from Air France, KLM, and Lufthansa – all related to China's aviation policy of cancelling flights in response to imported COVID cases on previous flights – and resumption of flights by All Nippon Airways and Korean Air.
Cruise Lines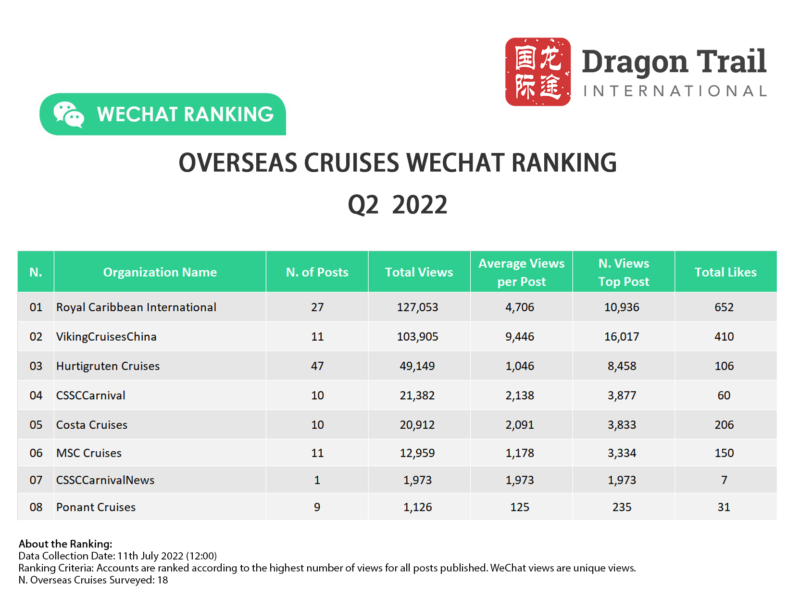 As the only cruise line in the rankings that is actually operating in China at present, it shouldn't come as a huge surprise that Viking Cruises stood out for the highest average views per post and the majority of the most-read articles in the cruise category. From early May, the cruise line has been promoting mini break cruises and a new five-day Shenzhen-Xiamen route. Royal Caribbean International's most-read article was about Mediterranean cruising and the launch of Wonder of the Seas, while Hurtigruten's most popular post introduced readers to Greenland.
Museums & Attractions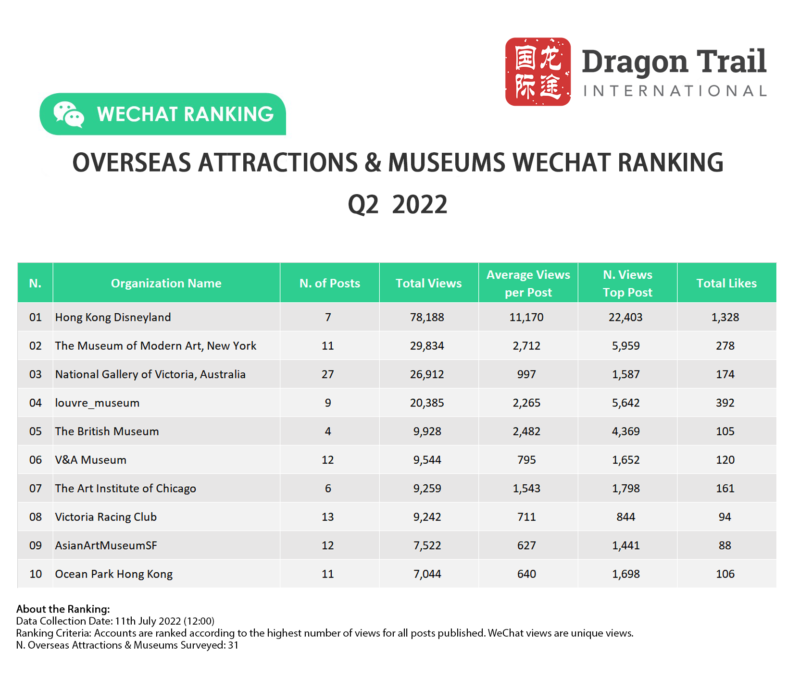 As usual, Hong Kong Disneyland led the Museums & Attractions category. Its most-read post announced the theme park's reopening in April, but all content was well received, including wallpapers and stickers for 5/20, a video of Donald Duck's birthday, and a celebration of Goofy's 90th anniversary.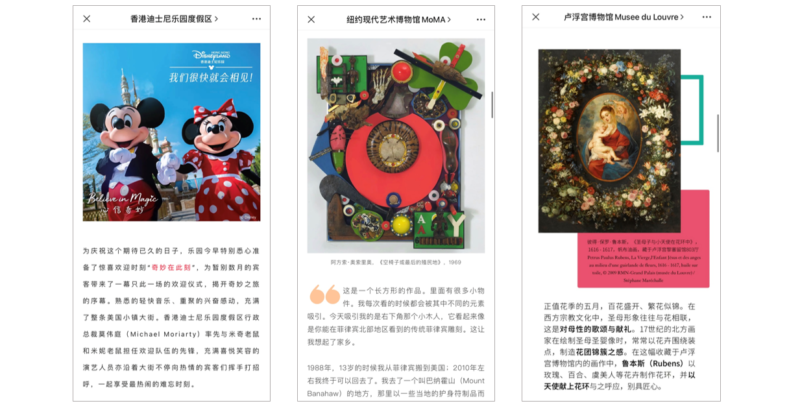 Left to right: Hong Kong Disneyland reopens; MoMA's Shifting Perspectives series; the Louvre's Mother's Day post
Among museums, New York's Museum of Modern Art got the most total views and the highest views per post. MoMA's top articles were an introduction to the Shifting Perspectives audio series and an in-depth look at Matisse's The Red Studio.
The second most-viewed museum article of the quarter was the Louvre Museum's Mother's Day post, featuring floral artwork from the museum's collection.
Hotels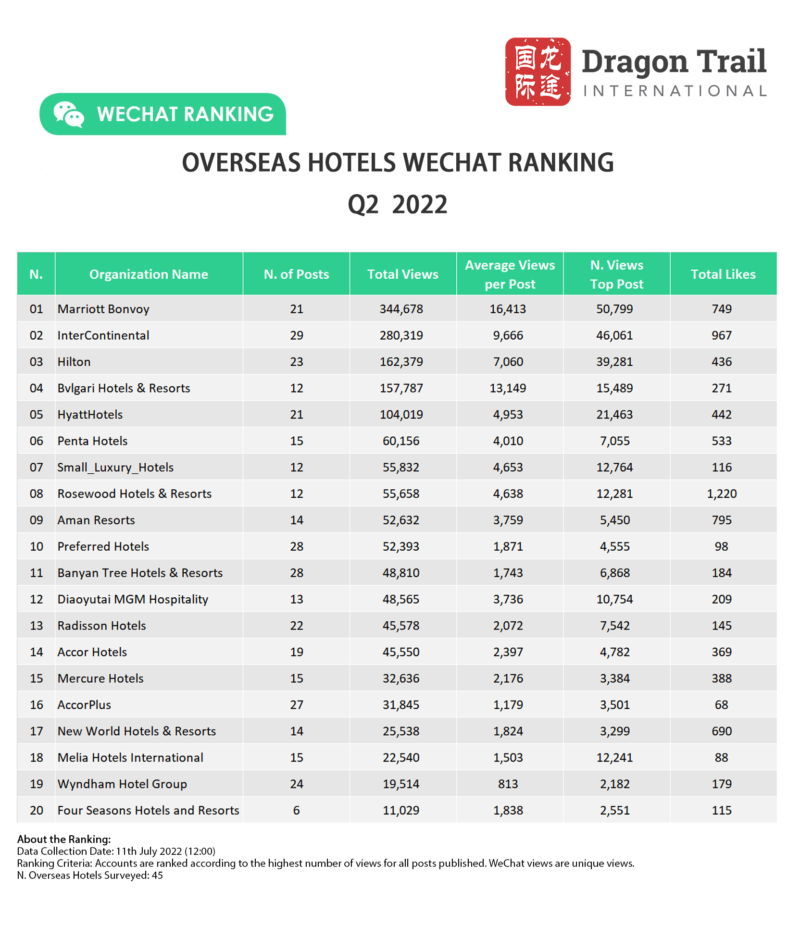 Marriott's WeChat marketing in the last quarter has been driven by new partnerships. Its top article was about a partnership with the internet game Honor of Kings. Tencent's King Pro League partnered with the hotel group to become the recommended venue for watching the e-sports events, as well as other events like meet-and-greets (read more here). Also popular was the recent launch of a joint Marriott- China CITIC Bank credit card at the end of June. Other leading hotel articles were about IHG rewards and a 5/20 digital red envelope promotion from Hilton.