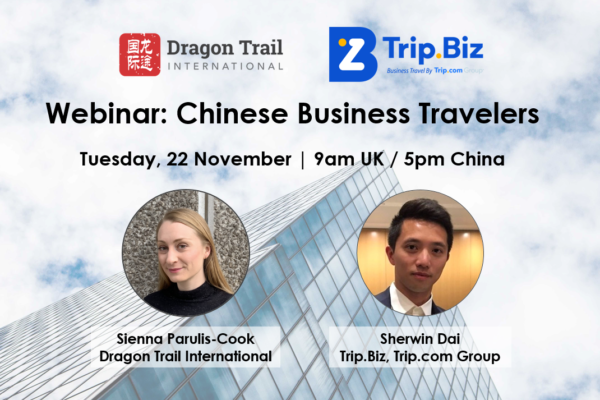 With a significant addition of international flights to and from China – especially in the APAC region – and new and proposed policy adjustments, the outlook for Chinese business travel is growing more optimistic.
In our November webinar, Dragon Trail is delighted to be joined by guest speaker Sherwin Dai, Director of Global Strategy at Trip.Biz – the corporate travel arm of the Trip.com Group. Mr. Dai will present findings from recent Trip.Biz whitepapers about the Chinese business travel market, and introduce opportunities for international travel brands to work with this growing business in the future.
Attendees will learn about what sets Chinese business travel apart from other global markets, what changes to expect for the post-pandemic Chinese business traveler, and why being well positioned to cater to this market is so important.
Speakers:
Sienna Parulis-Cook – Director of Marketing and Communications, Dragon Trail International
Sherwin Dai – Director of Global Strategy, Trip.Biz
Registration
Registration is required to access this free webinar, and a copy of the presentation will be shared with attendees.
Date: Tuesday, 22 November, 2022
Time: 9am London (5pm Beijing)
Register
About Trip.com Group and Trip.Biz
Trip.com Group is a leading global travel service provider comprising of Trip.com, Ctrip, Skyscanner, and Qunar. Founded in 1999 and listed on NASDAQ in 2003 and HKEX in 2021, Trip.com Group has become one of the best-known travel groups in the world, with the mission "to pursue the perfect trip for a better world".
Trip.Biz is a fast-growing travel management company (TMC) which is part of the Trip.com Group in China. It's listed as the number one TMC in mainland China.
Over the past 15 years, it has served 680,000 SMEs as well as 14,000+ large enterprises, including over 2/3 Fortune 500 companies and nearly 200 of the top Chinese Enterprises. By utilizing the advantage in access to strong resources, excellent service ability, professional products, and cutting edge technology, Trip.Biz has helped these companies travel more efficiently and reduce their travel costs by up to 30%.