Dragon Trail Interactive's Weibo Rankings Report for Q3 2020 tracks and analyzes performance for national tourism organizations (NTOs), destination marketing organizations (DMOs), airlines, cruise lines, museums & attractions, and hotels. Like the weekly rankings reports, the quarterly report builds industry benchmarks and uncovers best practices in digital marketing in the travel sector.
Our findings show that while most account categories struggled to maintain engagement with Weibo users and expand their follower bases in Q3 2020, hotels and NTOs did see positive results. For content, live streaming has joined celebrity endorsements and giveaways as a powerful tool to attract engagement.
Methodology and engagement rate
Dragon Trail Interactive has been tracking 233 accounts from six categories on Weibo to get an industry-wide perspective on international tourism account activities. In Q3, performance results were collected from the 173 active accounts posting from the week of July 4th to the week of September 26th, 2020.
To develop a method that factors in both follower size and engagement, we used engagement rate in our analysis. Engagement rate is one of the most common performance metrics in social media analysis, and will point us in the right direction to establish how to most effectively communicate with Weibo followers in the future.
Each category's engagement rate is calculated by dividing total number of engagements by number of followers. Total engagement is calculated by aggregating likes, comments, and shares for active accounts. Follower base is calculated by aggregating each active account's average weekly followers.
Engagement rate changes throughout 2020
In Q1, when COVID-19 first caused widespread lockdowns and travel restrictions, inquiries flooded in about flight cancellations and policy changes. The airline category was the busiest during this quarter.
In Q2, when a majority of destinations were in still in lockdown, attractions and hotels were the only categories generating increased engagement rate. Many attractions launched virtual exhibitions, and hotels aired live streaming sessions of online cooking classes.
In Q3, China allowed foreigners holding residence permits to return to the country, while working with other countries to open future travel bubbles. The NTO category got back on track this quarter. The hotel category saw a continued increase in engagement rate, while attractions and museums saw a decrease. The DMO, airline, and cruise categories remained low on engagement rate in Q3.

This is an overall picture of where each category stands in terms of engagement rate. What were accounts in each category doing in Q3 to sustain and increase engagement rates? What worked and what didn't?
Let's look at each category individually.
NTOs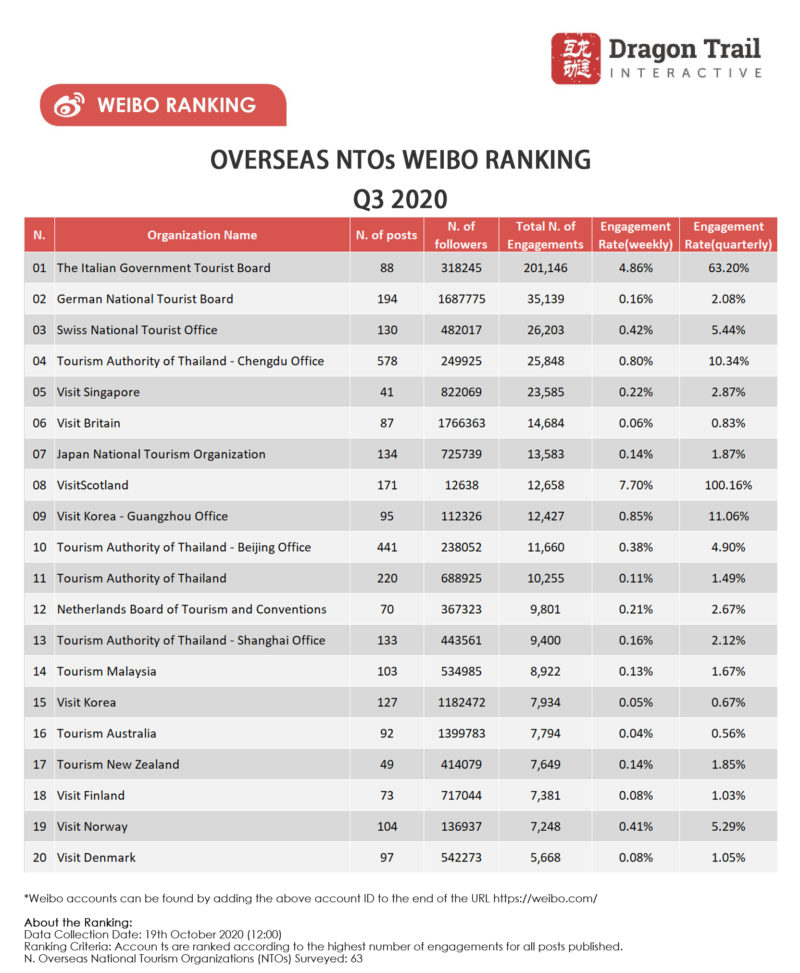 Out of 52 total NTO accounts tracked, 46 were active in Q3. Among these 46 active accounts, the top content published was a mix of live streaming sessions, giveaways, celebrity endorsements, and scenery images.
The top content that generated the biggest growth of engagement rate included a celebrity endorsement featuring actress-singer Fu Jing by The Italian Government Tourist Board, National Day sweepstakes by Visit Singapore, and a live streaming promotion related to the Korean drama, "Emperor: Eternal Monarch" featuring actor Li Minho, by Visit Korea – Guangzhou Office.
The strong boost for engagement rates seen for posts like these was most likely generated by heavy promotions. These promotions effectively drive up engagement in the short term. The next step is to strategically increase exposure in order to reach a healthy follower base in the long run.
Sustained growth of a follower base takes careful planning and creative content. It's harder to maintain growth in both follower base and engagement rate. In Q3, Tourism Malaysia and the Swiss National Tourist Office posted content that led to increases in both followers and engagement. These two accounts' continuous effort, paired with a high relevance to destination image, likely contributed to the healthy growth in their Weibo performance.

Left: Sweepstakes by Tourism Malaysia in partnership with AirAsia; Right: Scenery promotion by Swiss National Tourist Office.
Hotels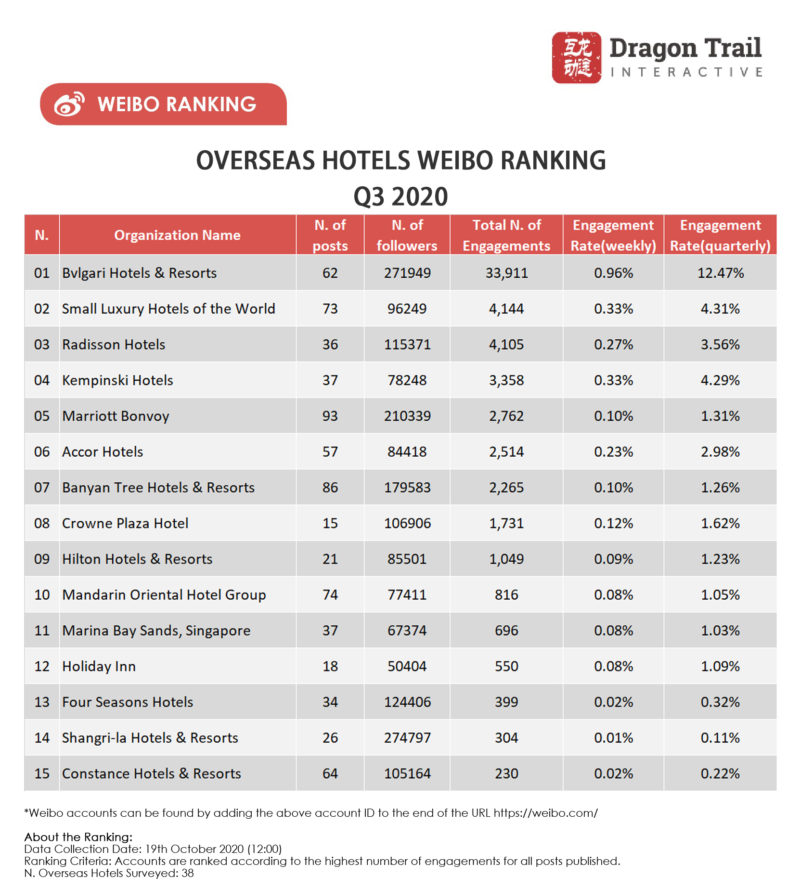 Out of 38 hotel accounts tracked, 27 remained active in Q3. Compared to previous quarters, hotel accounts continued to generate a higher engagement rate among followers. Top content published included limited-time coupons, sweepstakes, celebrity endorsements, live streams, and Chinese Valentine's Day promotions. While the hotel accounts are foreign brands, many have properties in China and are thus relevant to the recovery of domestic tourism.
The top content for boosting engagement rates were live streaming by Small Luxury Hotels of the World, live streaming featuring travel KOL Nono (@抬头看风景nono) by Kempinski Hotels, and a summer coupon promotion by Hilton Hotels & Resorts.
The accounts that continuously posted content that grew follower numbers and engagement were Radisson Hotels and Bvlgari Hotels & Resorts. Heavy celebrity endorsements by Bvlgari Hotels & Resorts were strong enough to drive up KPIs in Q3 during the two weeks of promotion. For Radisson, a combination of hashtags, call-to-action links, and images helped increase both engagement rate and followers.

Promotional posts by Radisson Hotels  
Attractions & Museums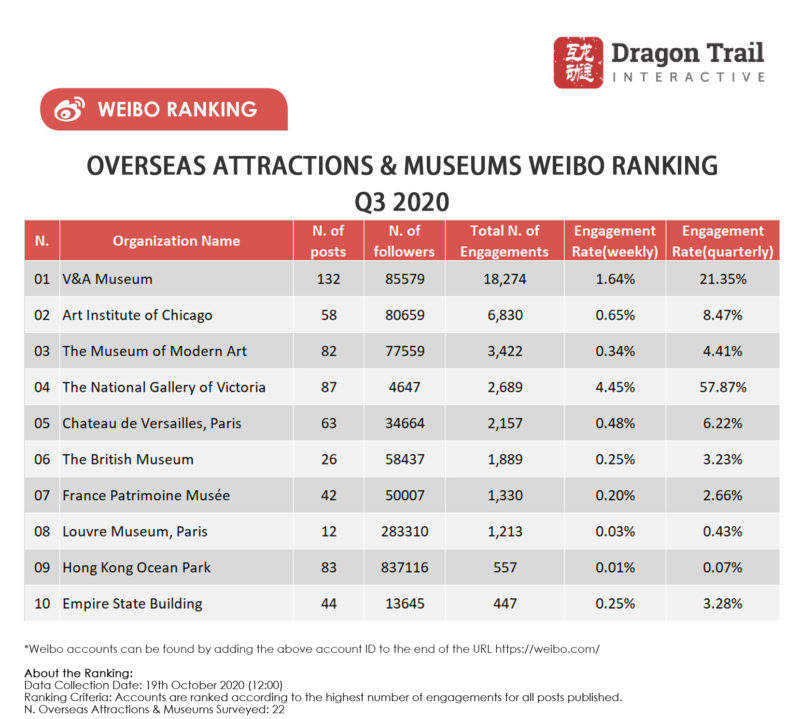 Out of 22 attraction and museum accounts, 16 were active in Q3. Engagement rate for the category dropped to 1.5% in Q3 from 2.2% in Q2. The top content published included live streaming, e-commerce promotions, fashion design inspirations, costume contests, and videos of art restoration processes, as well as upcoming immersive exhibitions.
A mix of different creative content has helped attractions and museums accounts to grow their follower bases. Top accounts that grew both follower numbers and engagement rates were The National Gallery of Victoria, The British Museum, and V&A Museum. However, with global travel bans still in place, maintaining engagement levels for overseas attractions and museums remains a challenge.

(Left to right): Costume contest by The National Gallery of Victoria, art restoration video by V&A Museum, e-commerce promotion by The British Museum.
DMOs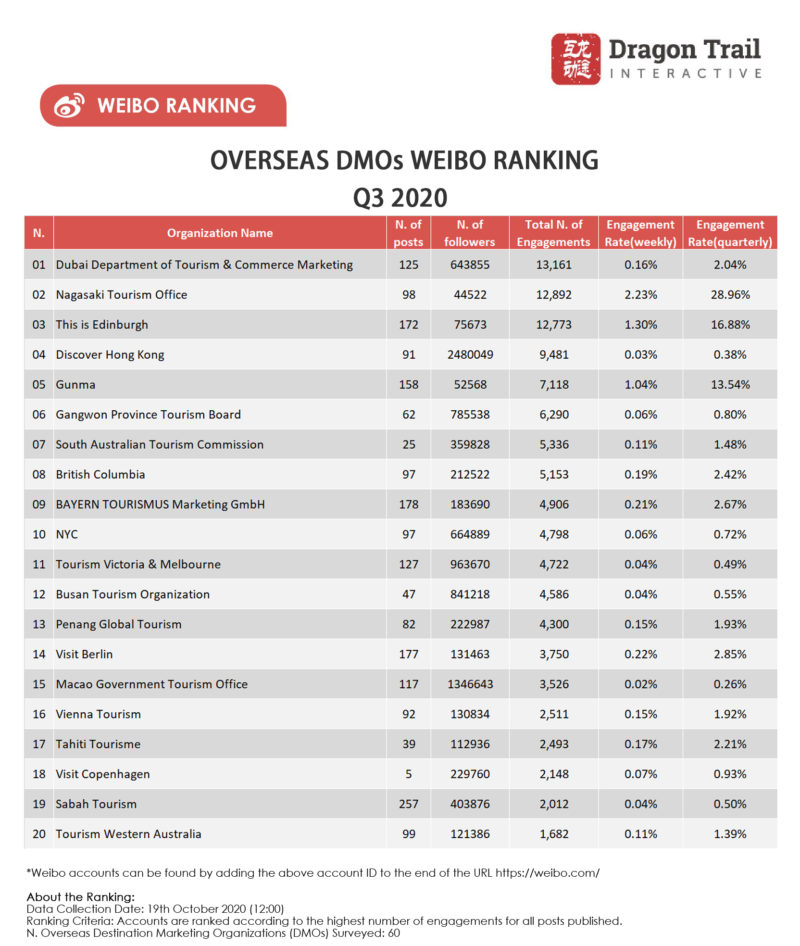 Out of 60 DMO accounts tracked, 43 were active in Q3. The DMO category maintained the same engagement rate in Q3 as the previous quarter. Given the large number of DMO accounts and posts published in Q3, engagement levels were not high enough to improve the engagement rate from Q2.
Top content for boosting engagement rate were a celebrity endorsement featuring "It's Okay to Not Be Okay" actor Kim Soo-hyun by the Gangwon Province Tourism Board, and live streaming sessions by Penang Global Tourism and Nagasaki Tourism Office. The hit Korean TV series "It's Okay to Not Be Okay" featured prominently in Gangwon Province's Weibo content throughout the quarter, and was also included in marketing from Korea's Asiana Airlines.
The Macao Government Tourism Office was the only DMO account that saw an increase in follower base as well as engagement rate, mirroring its strong performance on WeChat for the quarter. Macao resumed tourism with mainland China on September 23, but even before, the account was publishing contests and information about offline events to sustain interest and engagement from followers.

Macao Government Tourism Office resumed travel with mainland China with requirement of a negative COVID test result
Airlines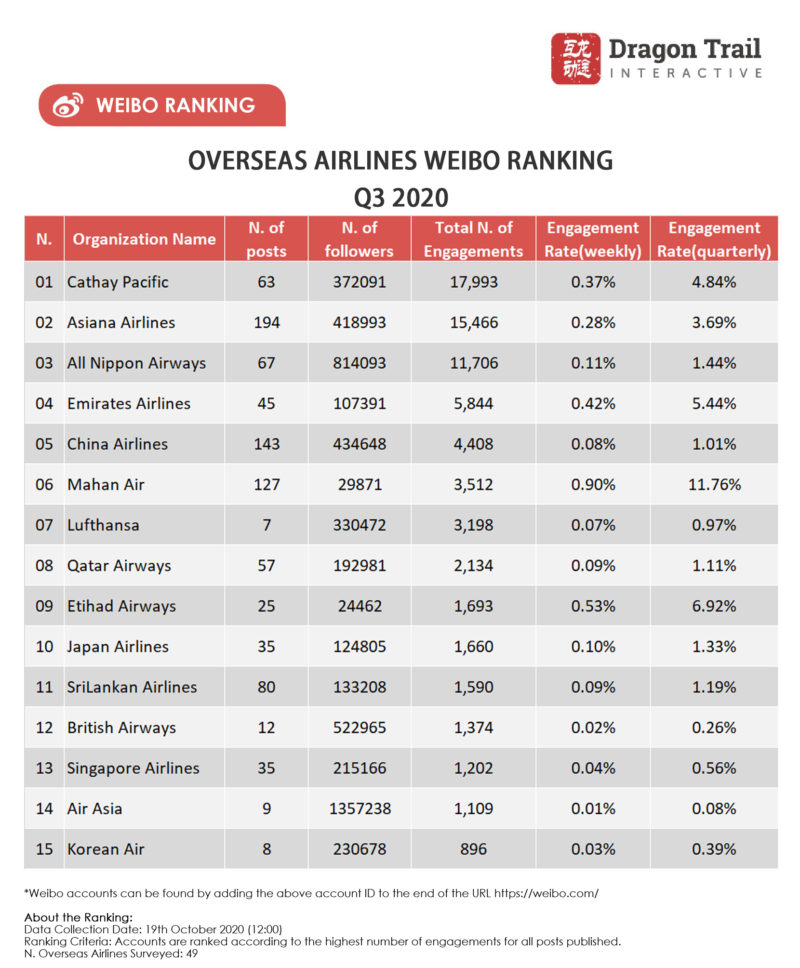 Out of 49 airline accounts tracked, 32 were active in Q3. The airline category's engagement rate increased marginally to 0.8%.
Top content published were giveaways, resumed flight information, holiday wishes, aircraft fun facts, and offline events. Giveaways and resumed flight information were most effective at boosting engagement rate, such as British Airways' announcement of resumed flights between London and Shanghai, and a giveaway from Mahan Air.
Similar to DMO accounts, only a few airline accounts – Asiana Airlines and Cathay Pacific – were able to increase their follower base while also boosting engagement rate in Q3. Both accounts posted continuously every week, leading to a stable increase in followers and engagement.
Cruise Lines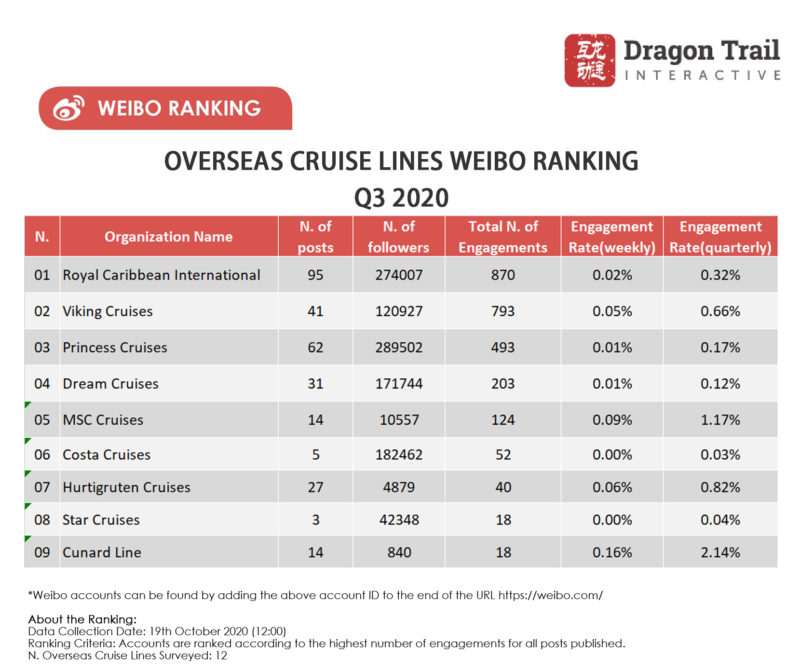 Nine out of 12 cruise accounts were active in Q3. Compared to Q2, when only seven accounts were active, Q3 saw additional posts from Costa Cruises and Hurtigruten Cruises. However, the two cruise accounts did not generate high engagement from their large follower bases, which led to a slight decrease in category engagement rate to 0.2% in Q3.
Top content published were videos of a cocktail-making lesson and pandemic control measures, giveaways, contests, and celebrity endorsements. Although some accounts were able to generate engagement through call-to-action content, most did not see an increase in followers. Facing the challenges of the pandemic, cruise accounts are focused on staying relevant to their existing followers who are still eager for the resumption of cruise travel.
To be continued…
This pandemic is hitting us all, and even though Chinese domestic travel had mostly recovered by the end of Q3, we are in this together with all of our global partners.
The quarterly Weibo rankings report is published a month after each quarter, so stay tuned for the next update at the start of 2021. Until then, stay positive and safe.