NTOs:
N.1 Destination Canada: Tips on travelling around Canada by RV.
N.2 Tourism Australia: Travel guide for Qi Xi Festival, Chinese Valentine's Day
N.3 Japan National Tourism Organization: A different side of Hokkaido in each season.
DMOs:
N.1 Macao Government Tourism Office: The 29th Macao International Fireworks Display Contest is cancelled due to a typhoon.
N.2 Los Angeles Tourism & Convention Board: How to run into celebrities in LA.
N.3 Hong Kong Tourism Board: The best pineapple buns you can find in Hong Kong.
Airlines:
N.1 Air Asia: Tickets from RMB 204.
N.2 Cathay Pacific: Tickets to the US from RMB 2,400.
N.3 All Nippon Airways: Tickets to Japan from RMB 990.
Cruise Lines:
N.1 Royal Caribbean International: Giveaway tickets campaign.
N.2 Star Cruises: Miss. June Dally-Watkins, Australia's queen of etiquette holds classes on board.
N.3 Royal Caribbean International Deals: Things to do on a Royal Caribbean cruise.
To follow our weekly ranking, subscribe to our monthly newsletter or visit our LinkedIn account, or read our company's blog.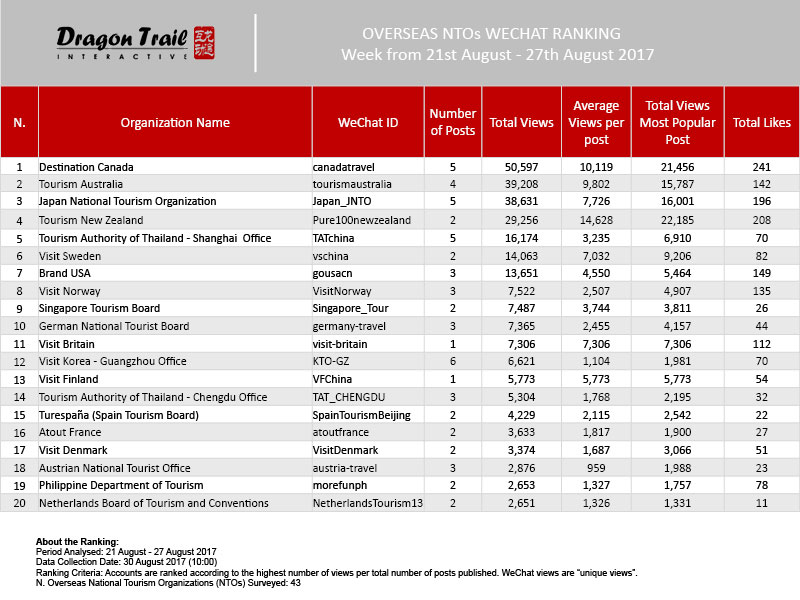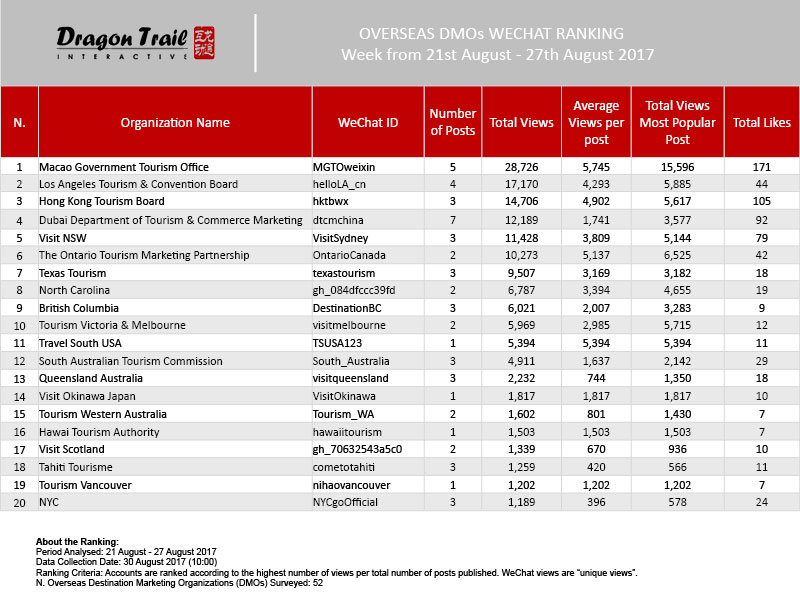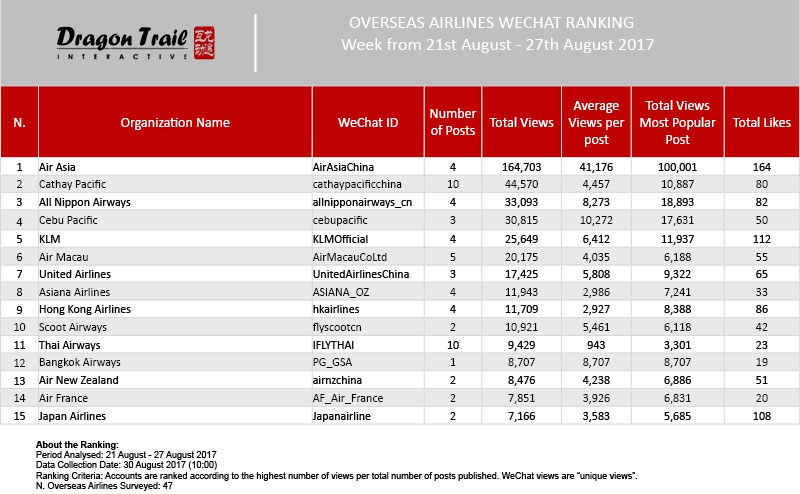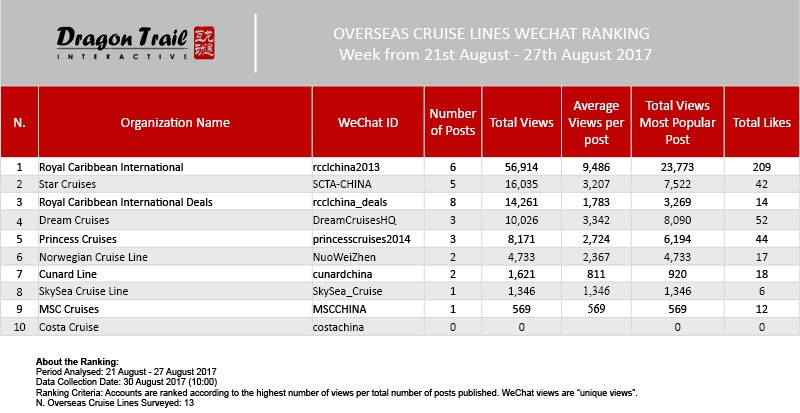 Cannot find your organization on the list?
If you do not see your oganization on the ranking, feel free to get in touch with us and we will let you know where you are positioned. If your organization account has not been surveyed, provide us with your account ID, name and your contact details and we will make sure to add it in our database.
Contact us at michaela.mentasti@dragontrail.com
About the data:
The data is jointly collected and compiled by Dragon Trail Interactive and Dingla, a B2B travel marketing platform assisting foreign organizations build long term travel trade relationships in China.
About the Ranking:
Ranking criteria: Accounts are ranked according to the highest number of views per total number of posts published. WeChat views are "unique views".
N. overseas National Tourism Organizations (NTOs) surveyed: 43
N. overseas regional and city Destination Marketing Organizations (DMOs) surveyed: 53
N. overseas airlines surveyed: 47
N. overseas cruise lines surveyed: 13