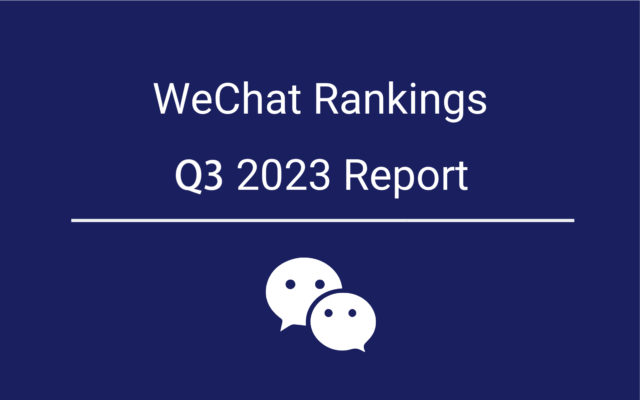 Dragon Trail's WeChat Rankings Report for Q3 2023 examines and analyzes the performance of six categories of travel brands on WeChat: national tourism organizations (NTOs), destination marketing organizations (DMOs, referring to regional and municipal tourism boards), airlines, cruise lines, museums and attractions, and hotels.
How has WeChat marketing performance fared for international tourism brands during the third quarter leading up to China's Golden Week? Our analysis reveals a consistent performance in the NTOs, DMOs, and hotels categories, in comparison to the preceding two quarters. Cruise lines and airlines experienced a decline in readership, while attractions witnessed a substantial growth. Hotels and attractions actively engaged in the promotion of holiday-related products and services, catering to Chinese Valentine's Day, the October holiday, and Halloween. Airlines and cruise lines managed to capture substantial readership by focusing on content related to discounted tickets and the launch or resumption of cruise and flight routes connecting China to international destinations. For NTOs and DMOs, the emphasis revolved around promoting the cultural, historical, and natural beauty of their respective destinations. Particularly, content related to destination entry policies garnered notable popularity.
Reading Rates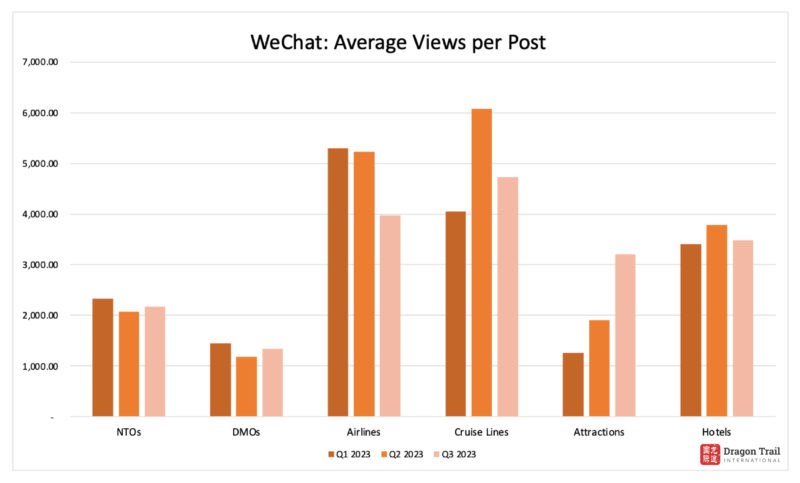 NTOs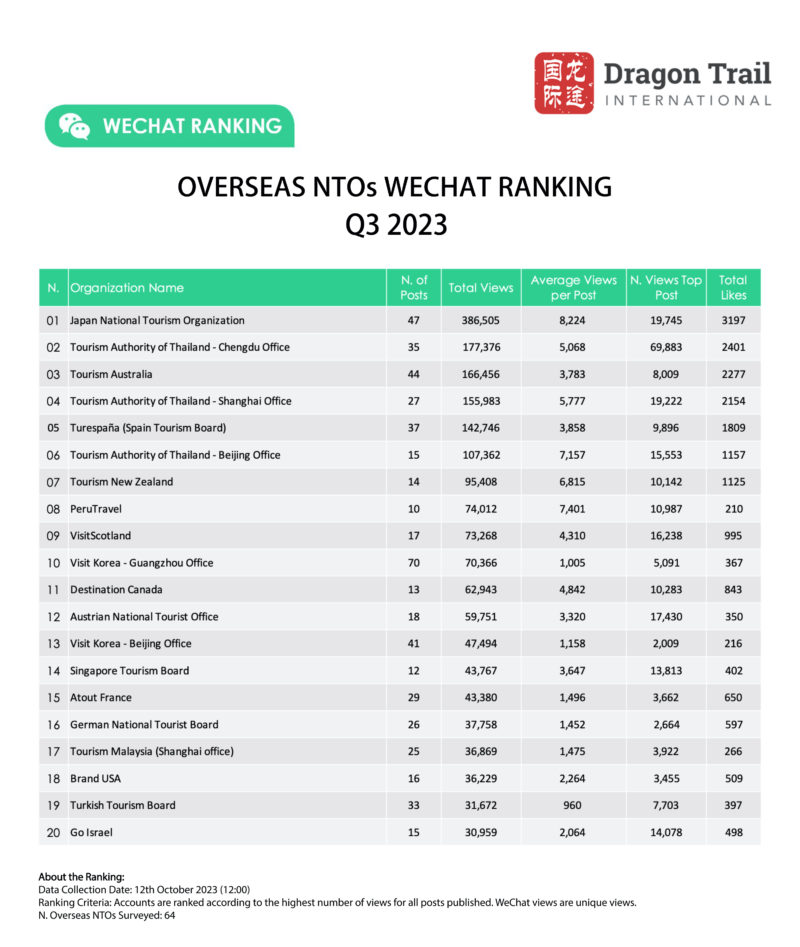 In Q3, NTOs demonstrated a slight increase in readership compared to Q2, with an average of 2,169 views per article, representing a growth of 5.1%. However, Q3's performance still remains below the Q1 figure of 2,326 views per post, indicating a marginal decline of -6.7%.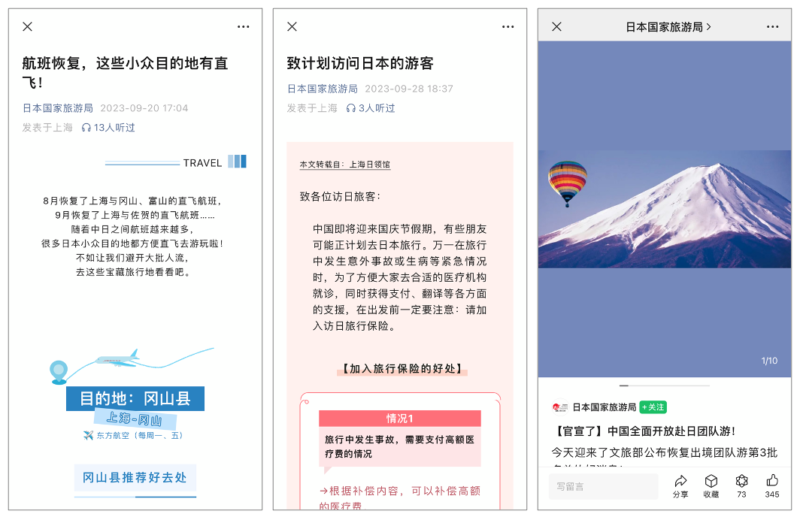 (Left to right) The resumption of flights connecting China to Japan, travel insurance recommendations for Chinese tourists planning their trips to Japan, and the full opening of group tours from China to Japan
The Japan National Tourism Organization claimed the top spot for total article views in the third quarter of 2023. Their most-viewed article focused on the resumption of direct flight operations from shanghai to less-popular destinations in Japan, such as Okayama and Saga. This WeChat article garnered over 19,700 views, with numerous comments reflecting a strong interest in traveling to Japan, particularly to Okayama and Mount Fuji. Other popular posts from the organization included travel guides, food recommendations, and introduction to tourist attractions.
Q3's most-read NTO article, with 69,883 views, was published by the Tourism Authority of Thailand – Chengdu Office on September 18. Their article covered Thailand's new policy to grant visa exemptions to Chinese tourists starting on September 25, 2023. This article received four times as many views compared to other articles published in the same period. Another popular article focused on the same visa waiver program for Chinese tourists, published by the Tourism Authority of Thailand – Shanghai Office, underscoring Chinese travelers' keen interest in this new policy.
Although Tourism Australia did not have any articles that stand out in terms of number of views, it still ranked third in total article views. Most of its articles revolved around showcasing Australia's stunning natural scenery, such as forests, beaches, mountains, valleys, and more. Of note, the tourism board invites its viewers to see Australia through the eyes of Ruby the Roo (Tourism Australia's new tourism ambassador– a computer generated kangaroo), who is eager to explore the world outside.
Notably, Turkey made its debut in the top 20 of ranking for the first time. According to our previous blog article on the October Holiday News Roundup, Turkey has experienced a 225% surge in popularity among Chinese travelers based on a trip.com's report. This development might be a lead indicator that Turkey could expect a growing influx of Chinese tourists in the months to come.
DMOs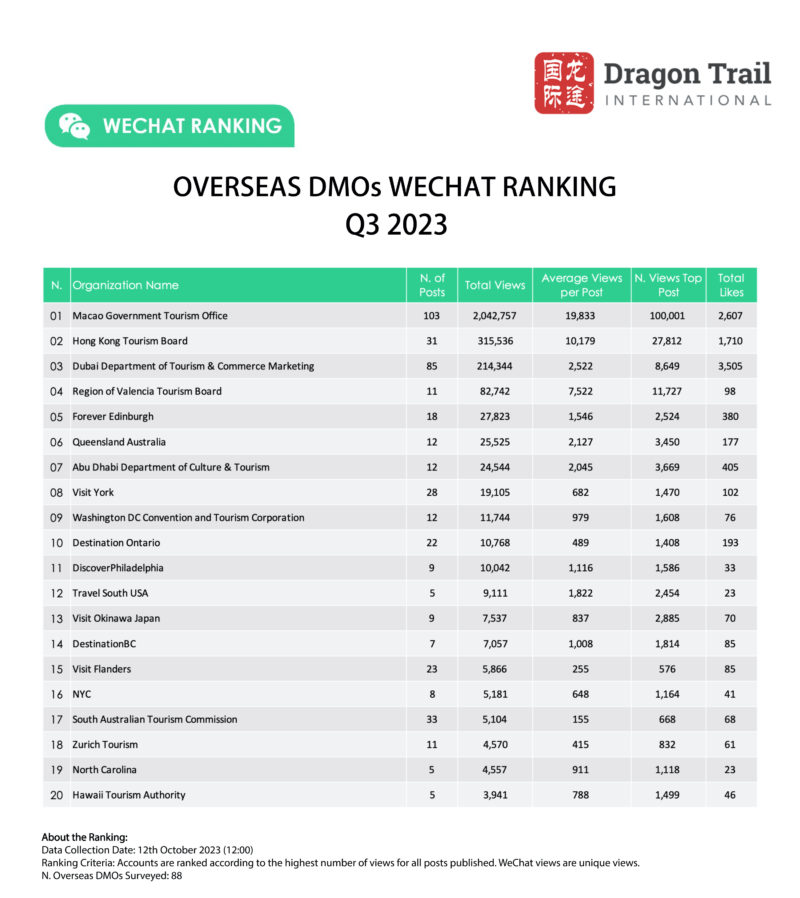 DMOs reported an average of 1,338 views in Q3, showing a significant increase of 13.5% from Q2. Despite this Q3 development, DMOs still underperformed when compared to the Q1 figure of 1,452 views, indicating an overall readership decline of -7.8%.
The Macao Government Tourism Office stood out as the leader in terms of the highest article views. The tourism board garnered more than 2,042,757 article views in total, accounting for 52.17% of all views in the DMO category. Remarkably, all of the top 10 articles in this category were attributed to the Macao Government Tourism Office, accumulating a total of 1,808,612 views. Macau's top articles highlighted food recommendations, upcoming events (including live concerts and fireworks shows), iconic installations, shopping guide, and weather updates.
Outside of Macau, the most-read DMO article of the quarter came from the Hong Kong Tourism Board. Their top article centered on one of the most trending topics in China: "City Walk". This post provided specific and detailed guide for city walk routes where one could savor authentic Cantonese delights and experience the 'slow life' in a bustling city. Eight additional articles on "City Walk" collectively reached a total of 25,339 views. The rest focused on maps or routes offering tourism and consumption tips.
Airlines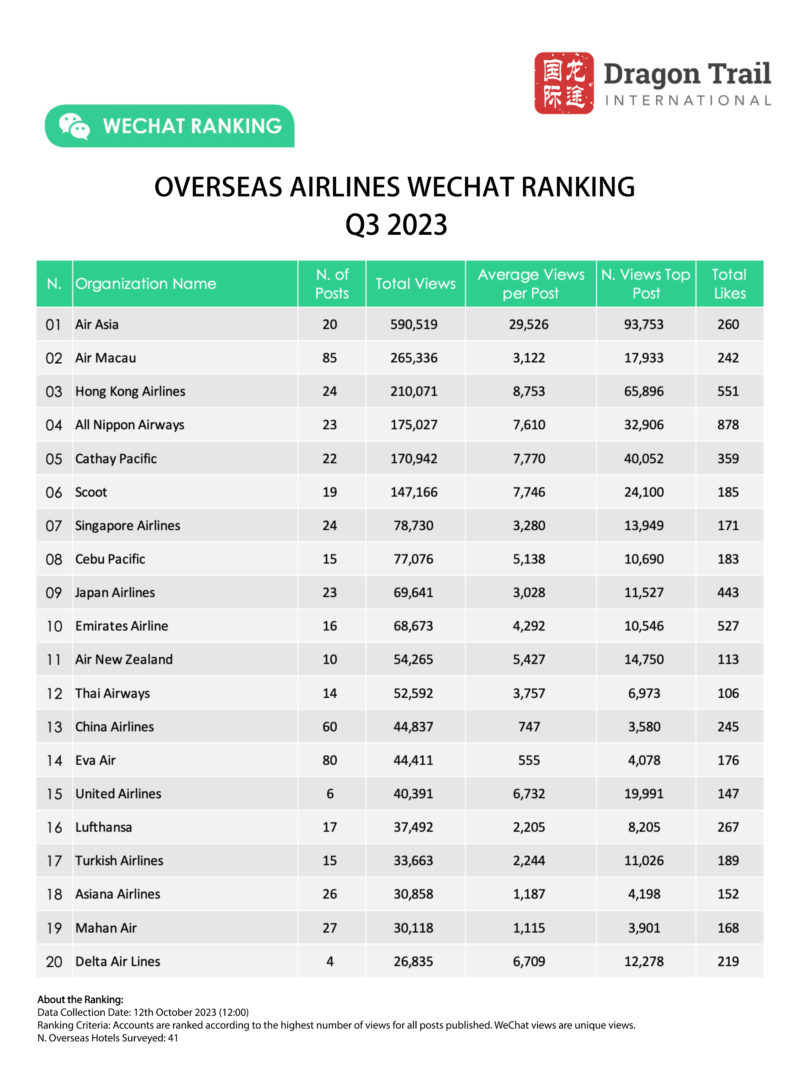 Q3 recorded an average of 3,997 views for airlines, marking a -24.1% decline compared to Q2. While airlines experienced a strong start in Q1, Q3 witnessed substantial decrease of -25% over the past two quarters.
Overall, readership for airline content exhibited a significant drop. Notably, Cathay Pacific experienced a -73.0% decrease, followed by British Airways and Air Canada at -65.3% and -55.5% respectively. Cathay Pacific, in particular, suffered the most prominent drop in readership, with an average of 7,770 views in Q3 compared to 28,811 in Q2.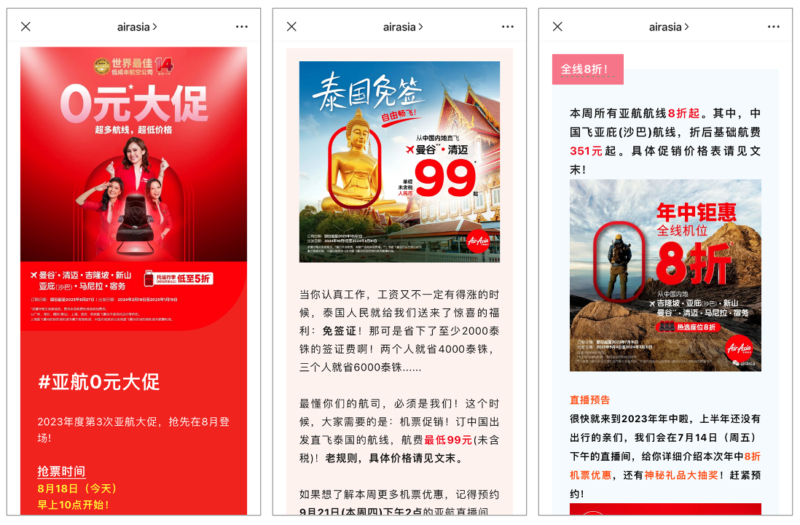 Air Asia's top articles on free-ticket promotion and discounted tickets. 
Of note, seven of the top 10 most-read articles in the airlines category were from Air Asia. These articles primarily featured promotional content, including free seats and limited deals on flights to Malaysia, the Philippines, and Thailand. Other top airline content focused on discounted tickets, food and activity guides, cabin crew recruitment, and information on resumed and newly-operating international routes connecting China with the rest of the world.
Cruise Lines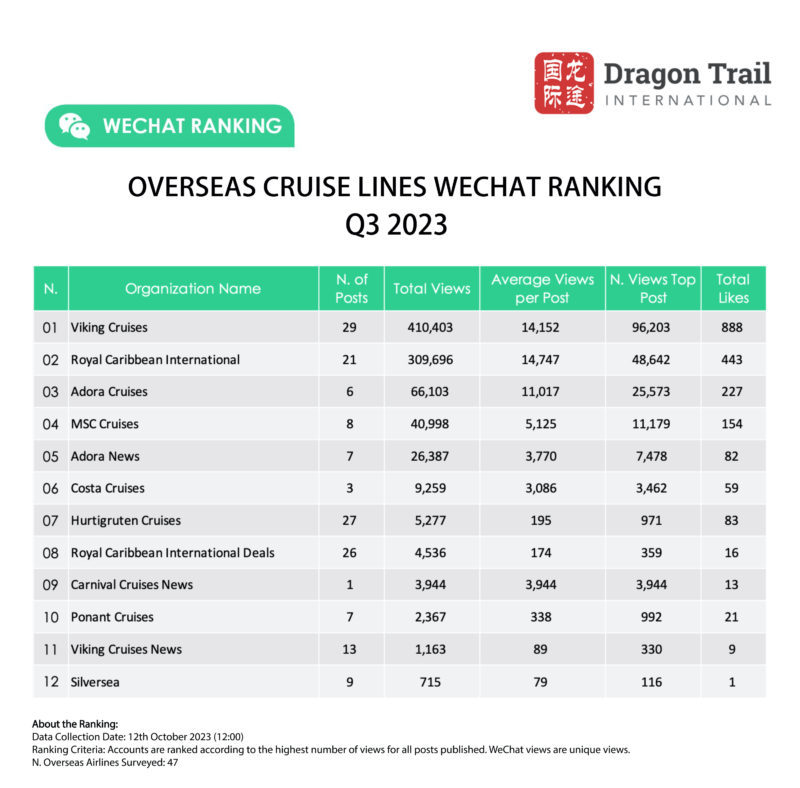 In Q3, there was significant -22.6% decline in views compared to Q2. However, compared to Q1, there was a 16.78% increase.
The majority of readership in cruise line content was driven by Viking Cruises and Royal Caribbean International, amassing 410,403 and 309,696 total views, respectively. Viking's readership nearly doubled compared to the previous quarter, with its top article reaching 96,203 views. The most popular article discussed the launch of a new cruise route for winter 2023, targeting travelers seeking exotic visa-free exploration. This 8-day cruise journey connects Shenzhen with Vietnamese destinations like Halong Bay and Danang before concluding in Hong Kong, while also highlighting attractions and experiences in these locations.
Notably, "Adora Magic City" emerged as China's first domestically built luxury cruise ship, set to sail on January 1, 2024. Both Adora accounts (Adora Cruises and Adora News) publicized this, emphasizing its blend of Eastern and Western aesthetics, Silk Road-themed interior design, and the convergence of art and history.
Museums and Attractions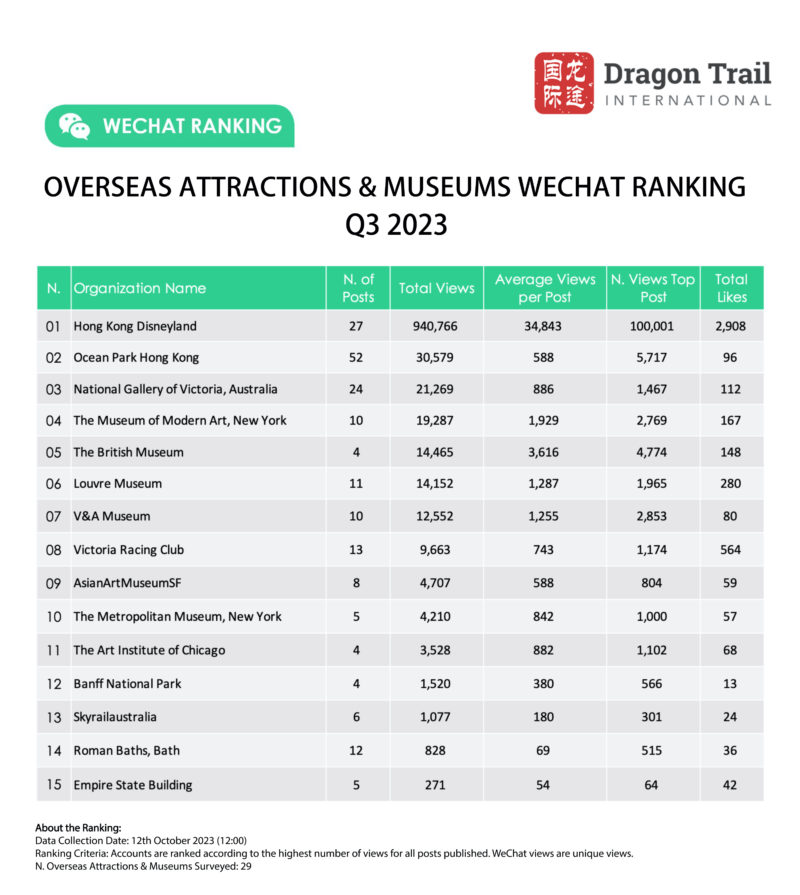 Q3's readership in the attractions category exhibited a significant increase compared to Q1 and Q2, marking a 40.6% growth compared to Q2 and 60.8% compared to Q1.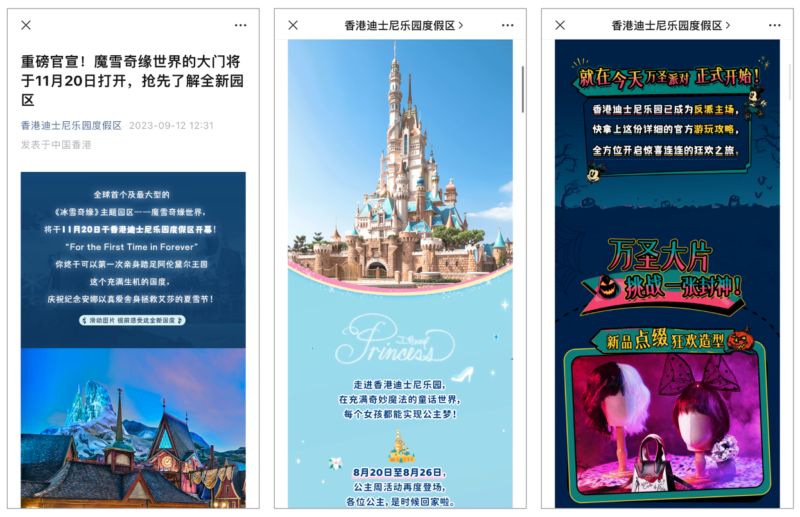 (Left to right) Opening of Frozen-themed park, "Princess Week" at Hong Kong Disneyland, and Halloween celebration
As has been the trend, the top content in the Museum and Attractions category primarily came from Hong Kong Disneyland, accounting for 87.2% of the total readership. This content included articles on new activities, such as the launch of the world's first Frozen-themed land. Halloween celebrations, LinaBell's one-year anniversary at the park, and StellaLou's 6th "Friendversary".
Hotels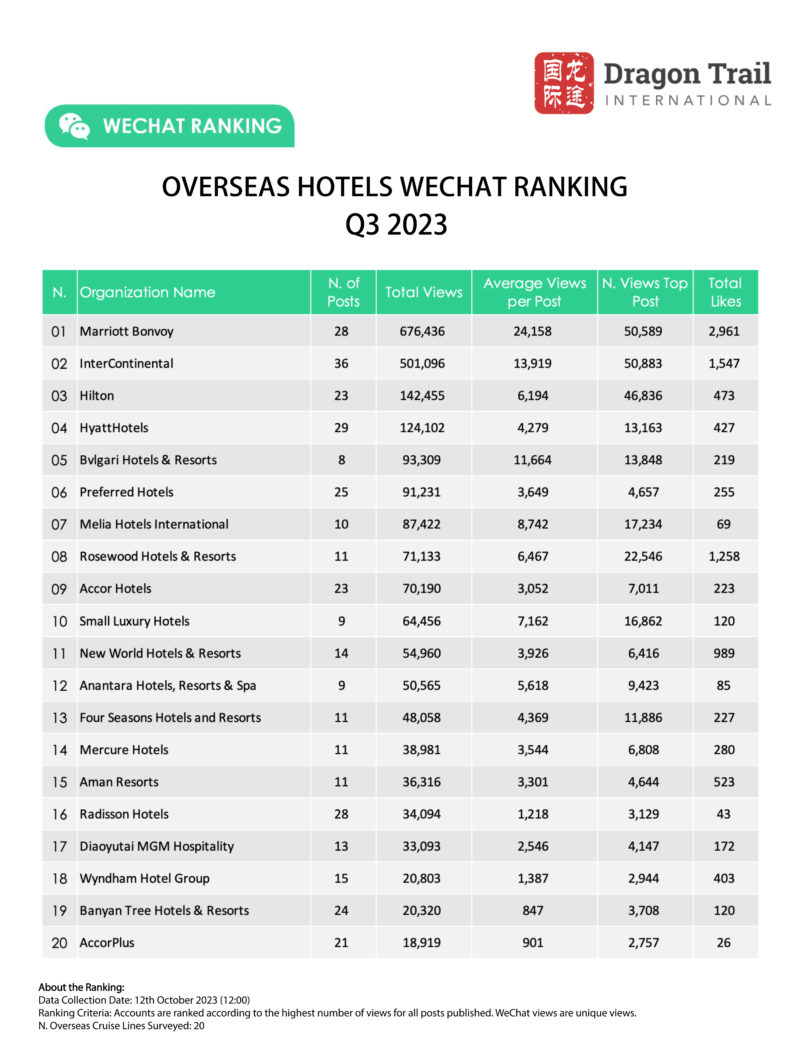 Hotels maintained a consistent performance in Q3, with a minor peak observed in Q2, which was subsequently followed by a moderate decline in Q3.
Notably the most popular articles in the hotels category were attributed to Marriott Bonvoy. These articles encompassed a wide range of topics, including family-friendly hotels, hotel recommendations, discounted stays, information about the Rolex Shanghai Masters bidding event, and a special mooncake gift box.
In addition, many hotels actively engaged in the promotion of their services and products in line with Chinese Valentine's Day on August 22 and Mid-Autumn Festival on September 29.