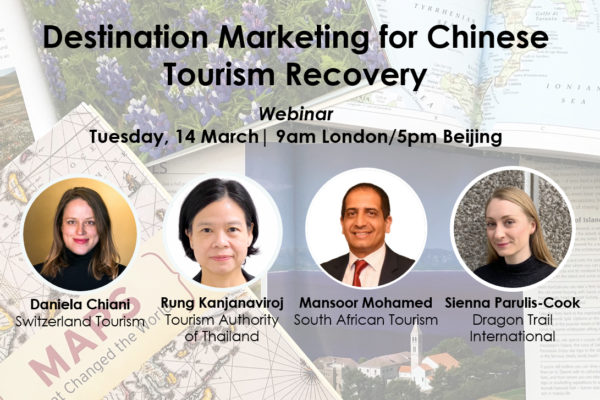 Chinese tourists are returning to the world in 2023. What are destinations doing to attract this valuable market after three years? In Dragon Trail's March webinar, we're inviting three of the world's leading NTOs for Chinese marketing to join us and discuss their work in the recovery period
Speakers:
Daniela Chiani – Director Greater China, Switzerland Tourism
Rung Kanjanaviroj – Director, Tourism Authority of Thailand Chengdu Office
Mansoor Mohamed – Hub Head Asia Pacific, South African Tourism
Sienna Parulis-Cook – Director of Marketing and Communications, Dragon Trail International
Registration
Registration is required to access this free webinar, and a copy of the presentation will be shared with attendees.
Date: Tuesday, 14 March, 2023
Time: 9am London (5pm Beijing)
Register