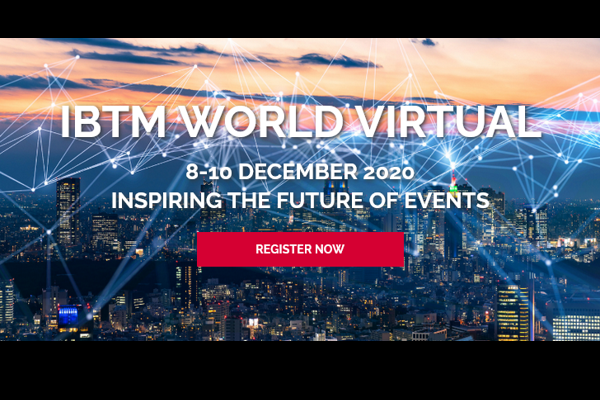 Event details
Date: 8-10 December
Time: Live panel session at 8:35am GMT on 10 December. Meetings available 8-10 December.
Online
Type of Event: Conference
Speaker: George Cao
Leading global MICE event IBTM is going virtual this year, with digital resources to help you liaise with leading suppliers, get inspired with the latest industry updates and trends, and prepare to thrive in 2021 and beyond. As an Event Partner, Dragon Trail will be exhibiting and taking part in the knowledge program.
Our team is available across different time zones to meet during the event – please find Dragon Trail Interactive's booth on the IBTM platform to arrange a meeting, or contact us directly.
Dragon Trail's CEO, George Cao, will be moderating the "Taste of Asia" panel session, broadcast live on Thursday, 10 December, 8:35-9am (GMT). The session will then be available on demand on the virtual platform for two weeks.
Taste of Asia
The COVID-19 pandemic has fundamentally changed the way we live, work and play — and the business events industry, among the hardest hit, is now at a strategic crossroads. How do we move forward from here?
What you will learn:
– Gain insights on how Singapore is safely resuming business events with foreign delegates via Safe Travel Lanes
– What are the key enablers to facilitate the resumption of travel?
– The Events Industry Resilience Roadmap – a key public-private partnership
Speakers:
– Aloysious Arlando, President, Singapore Association of Convention & Exhibition Organisers & Suppliers (SACEOS)
– Dr. Edward Koh, Executive Director, Conventions, Meetings and Incentive Travel Singapore Exhibition and Convention Bureau (SECB)
Please click here to register for IBTM World Virtual and find more information on the event.