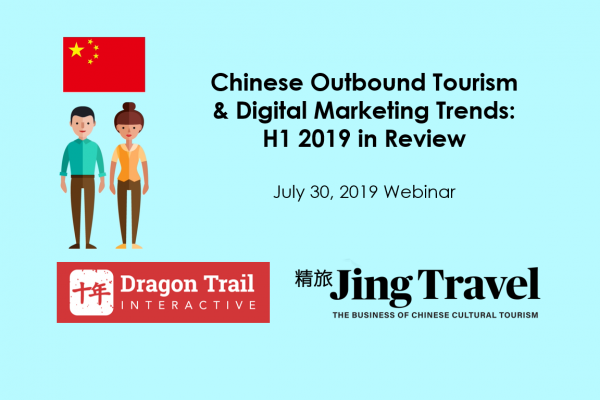 Event details
Date: Tuesday, 30 July, 2019
Time: 9am London (4pm Beijing); 5pm London (9am Los Angeles)
Type of Event: Webinar
Speaker: Sienna Parulis-Cook
This month, Dragon Trail is partnering with Jing Travel to present the biggest developments in Chinese outbound tourism, digital trends, and WeChat travel marketing since the start of 2019. We'll look at the biggest news stories and top destinations for Chinese outbound tourism this year, as well as the most important travel marketing and digital trends. The webinar includes an overview of Dragon Trail's WeChat rankings for the travel industry during the first half of 2019.
Registration
The webinar will be held at two scheduled times to fit both Europe/Middle East/Africa and Americas time zones, and will be followed by a Q&A session. Registration is required to access this free webinar, and a copy of the presentation will be shared with attendees.
1st Webinar Session– Recommended for residents in Europe and Asia
Time: 9am London (4pm Beijing)
Register

2nd Webinar Session– Recommended for residents in the Americas
Time: 5pm London (12pm NYC, 9am Los Angeles)
Register
About Jing Travel
Jing Travel, the sister site of Jing Daily, the leading business publication covering luxury trends in China, is the ultimate resource for cultural institutions looking to attract a larger slice of the Chinese outbound-travel market. Their editors and global network of writers are uniquely positioned to deliver the insights and data needed to capitalize on this rapidly growing and lucrative travel segment.