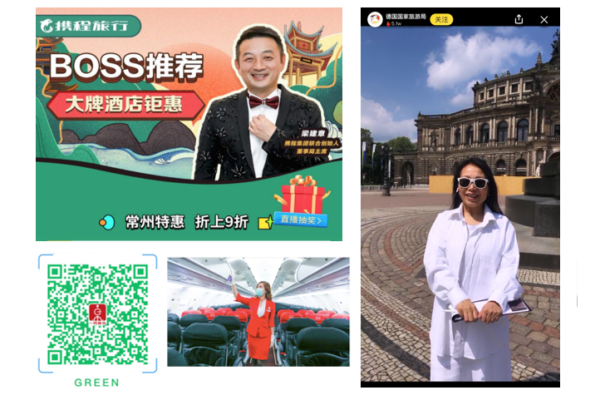 Event details
Date: Wednesday, 17 June
Time: 9am London (4pm Beijing); 5pm London (12pm NYC; 9am Los Angeles)
Type of Event: Webinar
Speaker: Sienna Parulis-Cook
In the second of a two-part webinar series, we will build on knowledge about digital tools for Chinese tourism and travel marketing, and look at how the COVID-19 crisis has changed online marketing and the way that Chinese consumers use digital tools for tourism.
The webinar will include examples of the most effective approaches to digital marketing and communications used by international tourism brands in China during the height of the crisis, as well as new developments that have been catalyzed by the virus. This includes increased digitalization for tourism booking and management in domestic Chinese tourism, and the significant rise of live streaming for tourism sales and marketing, both inside China and for overseas destinations.
Examples from China's domestic tourism market and travel industry, as well as early-adopter overseas brands, will help attendees to think about how their own digital strategy could be adjusted during the recovery phase for Chinese and global tourism.
Registration
The webinar will be held at two scheduled times to fit both Europe/Middle East/Africa and Americas time zones, and will be followed by a Q&A session. Registration is required to access this free webinar, and a copy of the presentation will be shared with attendees.
1st Webinar Session– Recommended for residents in Europe and Asia
Time: 9am London (4pm Beijing)
Register

2nd Webinar Session– Recommended for residents in the Americas
Time: 5pm London (12pm NYC, 9am Los Angeles)
Register