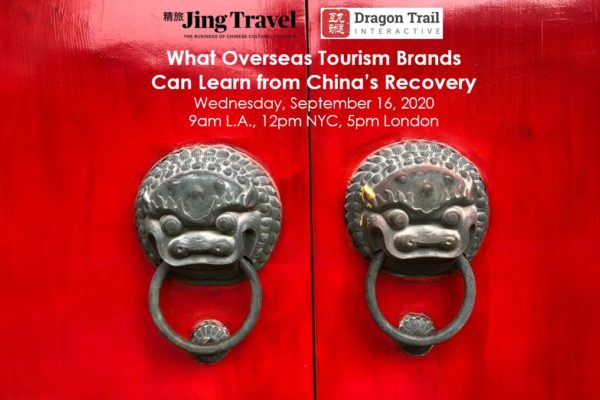 Since late spring, China's domestic travel market has been a positive example of how tourism can recover post-COVID-19. As overseas destinations look ahead to welcoming back Chinese visitors, we share what Chinese destinations, cultural attractions, hotels, airlines, and other travel businesses have done to inspire Chinese to hit the road – and what practical tips we can learn from their example.
Dragon Trail Interactive will be joined by Managing Editor of Jing Travel, Peter Huang, to discuss how China's domestic travel brands kept potential visitors engaged during lockdown, enticed them to start traveling again, and used digital solutions to manage traveler safety and comfort. We will also identify which strategies are now most applicable to tourism brands and businesses overseas, as the world prepares to win back Chinese visitors at the end of 2020 and beyond.
About Jing Travel
Jing Travel, the sister site of Jing Daily, the leading business publication covering luxury trends in China, is the ultimate resource for cultural institutions looking to attract a larger slice of the Chinese outbound-travel market. Their editors and global network of writers are uniquely positioned to deliver the insights and data needed to capitalize on this lucrative travel segment.
Registration
The webinar will be followed by a Q&A session. Registration is required to access this free webinar, and a copy of the presentation will be shared with attendees.
Time: 5pm London (12pm NYC; 9am L.A.)
Register