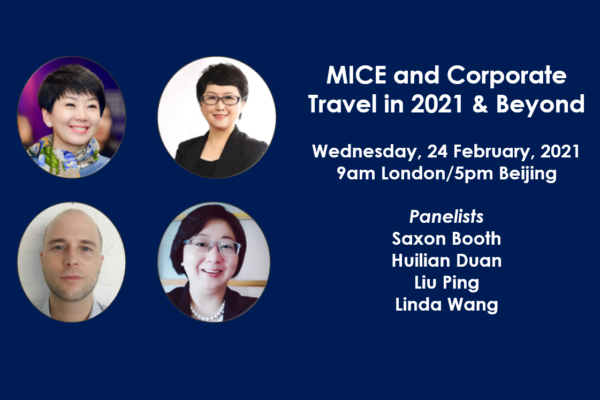 Event details
Date: Wednesday, 24 February
Time: 9am London (5pm Beijing)
Type of Event: Webinar
What's the future of business travel in 2021 and beyond? Where can we expect recovery to come from, and how do the events and travel industries help that to happen? What new opportunities are there for product development? To what extent will virtual events become the long-term "new normal"? In this webinar, we bring together industry experts to look to the future by sharing the Chinese experience over the past year, and taking a hard look at the biggest challenges facing the MICE industry, as well as the best strategies to overcome these.
Panelists:

Saxon Booth – Director of Business Development, Dragon Trail International
Huilian Duan – Vice President, Sales & Marketing APAC, Martim Hotels; President, HSMAI (Hotel Sales & Marketing Association International) Greater China
Liu Ping – President of SITE China Chapter; Founder of China Star
Linda Wang – Founder & Managing Director at Destination Asia China
Host/Moderator:
Sienna Parulis-Cook – Associate Director of Communications, Dragon Trail International
Registration
Registration is required to access this free webinar, and a copy of the presentation will be shared with attendees.
Date: Wednesday, 24 February, 2021
Time: 9am London (5pm Beijing)
Register