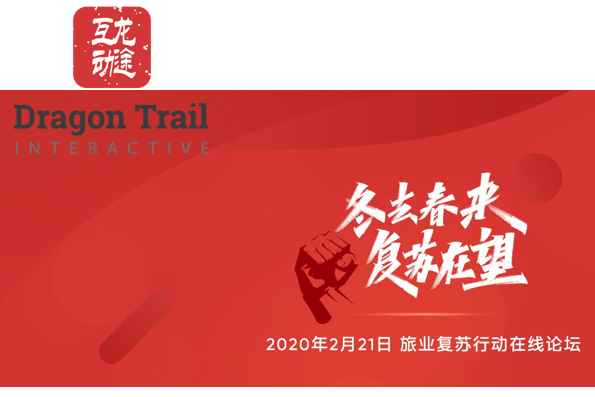 Event details
Date: Friday, 21 February
Time: 9:30am-3:30pm (Beijing time, GMT+8)
Type of Event: Summit
Speaker: George Cao
In 2003, SARS upended global travel and kept people indoors. During Chinese New Year 2020, the spread of the novel coronavirus in China has created significant challenges for the global tourism industry and especially for the Chinese travel trade.
While the public health and travel situation are still unfolding, tourism brands and businesses need to start thinking about a recovery plan now, in order to support industry partners in China and be ready for the inevitable bounce back. To help facilitate this, Dragon Trail Interactive will hold an online summit, Tourism Recovery Action Online Summit, on February 21. This event will help attendees develop plans and strategies for getting through this difficult time by sharing insights and experience from leading travel professionals.
The summit will be held in Mandarin and is accessible via WeChat. Anyone in the tourism industry is warmly invited to join, including travel agents from both traditional agencies and OTAs, tour operators, travel media, suppliers, tourism boards, cruise lines, hotels, and other tourism businesses.
This summit is hosted by Dragon Trail Interactive, through its CTA Live and TNTM platforms.
Agenda:
09:40–09:50 Opening remarks by organizer
09:50–10:30 Looking back at SARS, how they passed through the crisis
09:50–10:30 Panel discussion and Q&A: What can we do to get through the suspension?
Panel discussion 1: Tourism Recovery Action — Policy
Panel discussion 2: Tourism Recovery Action — Outbound
Panel discussion 3: Tourism Recovery Action — Cruises
14:00-14:45 Lifting the travel ban: who will emerge as a dark horse?
14:45-15:30 Responding to the crisis: Success stories from other countries
Speakers:
Xiao'an Wei, Chief Expert of World Tourism Cities Federation
Bin Feng, Founder and Chairman of UTour Group
Han Yan, Deputy Secretary General of World Tourism Cities Federation
Kate Chang, Regional Director of China for the Los Angeles Tourism and Convention Board
Chunmei Li, Chief Representative of Visit Sweden in China
Najia Gao, Chairman of America Int'l Travel Services Inc.
Dr. Zinan Liu, President of China and North Asia Pacific Region of Royal Caribbean International
Ruiling Huang, President of MSC Cruises China
Yong He, CEO of HCG Travel Group
Yun Cai, Co-founder of Unique Way
Sveinn Birkir, Director Of Communications, Íslandsstofa – Promote Iceland
Roy Kriezman, Consul, Tourism Affairs, China, Israel Ministry of Tourism
Mansoor Mohamed, Hub Head Asia Pacific, South African Tourism
George Cao, CEO & Co-founder of Dragon Trail Interactive
Susan Li, Content Director of Dragon Trail Interactive
Scan the QR code below to join the summit WeChat group and register for the summit