– 1 million+ impressions and more than 12k followers across Facebook, Instagram, Twitter, LinkedIn, and YouTube
– Exhibitor Magazine's World Expo Award – People's Choice Award
– 1,100+ media articles
– 9.7k+ website users in six months
– 1.5+ million pavilion visitors
Our full-service digital marketing included launching and maintaining the website peruexpodubai.com, building a mobile app, and establishing profiles and running tri-lingual coverage on five different social media. For these channels, we created infographics, grids, reels, stories, and live streams, and maintained interaction with our online audience. We also used social media promotion to secure Peru's pavilion the People's Choice Award at Exhibitor's Magazine's World Expo Awards.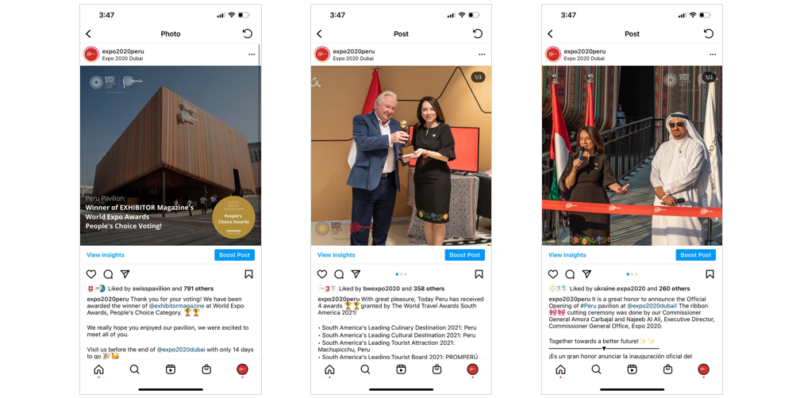 Highlights from PromPeru's Expo 2020 Instagram account, run by Dragon Trail
A physical presence in Dubai allowed us to run 21 live streams across Facebook and Instagram, film a virtual tour, and create fresh, original content on events and exhibitions hosted at the pavilion.
To spread the word further, we worked with nine influencers in the MENA region to promote the pavilion. With follower numbers ranging from 44.6k to 969k, the influencers reached a fan base of over 1.5 million, with nearly 100 Instagram posts and stories.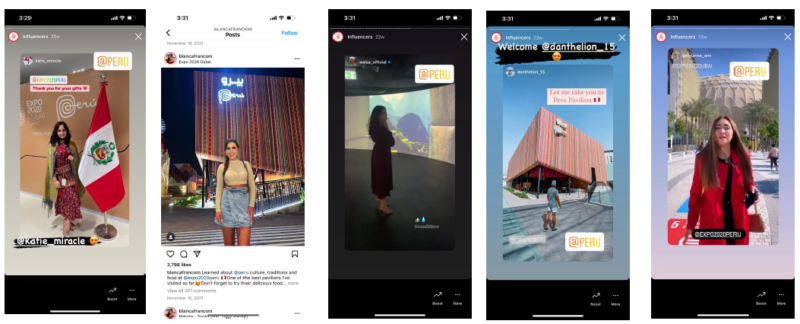 Influencer coverage on Instagram for PromPeru at Expo 2020 Dubai
Complementing the Pavilion's event program digitally for a global audience, Dragon Trail hosted four webinars, including a virtual tour of the pavilion, and seminars on Peru's exports, investments, and gastronomy. We also established a newsletter database, with mailings in English and Spanish to subscribers on four continents.